Jack Stroudley looks at former Chelsea and Arsenal winger Willian and if he's the right fit for Fulham.
With the devastating news coming through that Manor Solomon has picked up a lengthy injured and with Harry Wilson already on the sidelines, the signing of a winger seems imminent. We're reportedly close to Justin Kluivert, but we aren't stopping there. The internet is abuzz with rumours that we're looking at former Chelsea and Arsenal winger Willian on a free transfer.
Embed from Getty Images
The transfer will reportedly be a one-year deal with the former Brazilian international allegedly earning around £30,000 a week during his time at SW6. There's been much debate online whether he would actually be a good signing, so I thought I'd do some research to see if Willian is the right fit for Fulham.
The fact file
Embed from Getty Images
Unlike some of the signings this summer most people will already know a fair bit about Willian so I'll keep this part short and sweet! Willian came through the Corinthians youth system and made his debut for the first team in 2007, he impressed during his time in Brazil playing just under 30 times over two seasons before being sold to Shakhtar Donetsk for €14 million.
Willian played in Ukraine from 2007-2013 and helped Shakhtar win four league titles, five cups as well as the UEFA Cup. On a personal note, he was awarded the Ukrainian league best player for the 2010-11 season (he also played for Shakhtar when they were knocked out of the Europa League by Fulham.)
Willian made 11 appearances for Russian club Anzhi Makhachkala before signing for Chelsea in 2013. The former Brazilian international played at Chelsea for seven years and made well over 200 appearances during his time across the road winning two league titles, two cups and one Europa League. Willian then made the move to north London for a season at Arsenal before heading back to Corinthians in 2021.
A deeper dive
Embed from Getty Images
During his time at Corinthians, Willian has played in a few positions across the attacking line, but has played most regularly and performed the best on the left hand side indicating he will be covering Manor Solomon during his time out injured but could also play on the right if necessary.
I thought I would look at his last Premier League season for Arsenal and break down his stats to see what he was good at and what necessarily wasn't his strongest attributes.
An OK pass completion at 79.3%
Someone who is good from dead ball situations (particularly corners)
A player in the top 15% of wingers for chance creation
Extremely poor defensive stats
Likes a lot of touches in the attacking third, not as active in the middle third and not active at all in the defensive third
Very impressive progressive carry stats being in the top 10%
Not clinical at all, being in the bottom 4% for shots on target per 90
The graph below shows all of his shots while playing at Arsenal, from this we can see someone who isn't clinical and won't take many shots (particularly in the box) his only goal came from a set piece with an xG of 0.05.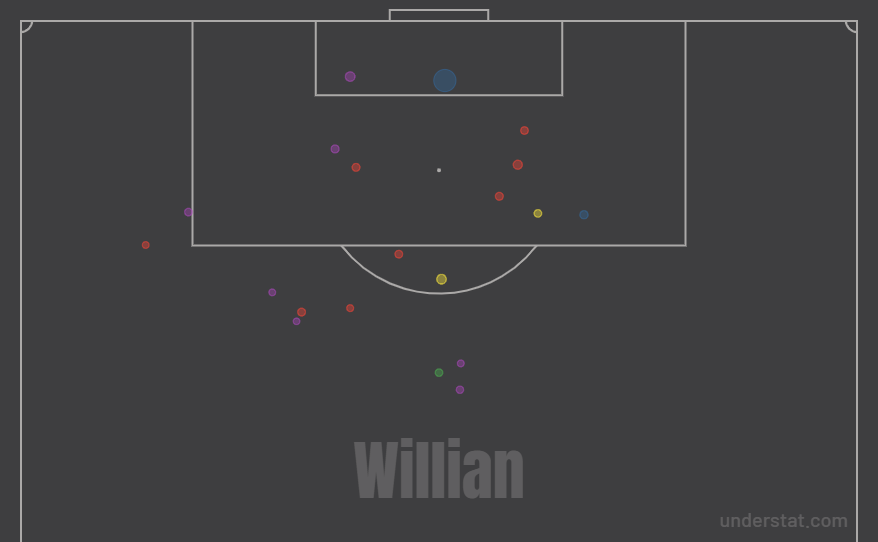 Yes or no?
Embed from Getty Images
While his shooting stats leave a lot to be desired, I think Willian is a fairly smart piece of business. With injuries at the moment, we are in need of depth at both left wing and right wing and Willian is somebody who can play on both sides. A player with eight years of Premier League experience for two top sides who is also willing to be on £30,000 a week it seems a bit of a no-brainer to me.
I've seen a lot of people online comparing this signing to Andre Schurrle and while that question currently remains unanswered I think Willian is someone who would be prepared to be a squad player when the likes of Solomon and Wilson return, I also think we could do a lot worse for squad depth than a former two-time Premier League winner.