What happened to our U18 Premier League winners?
7th June 2022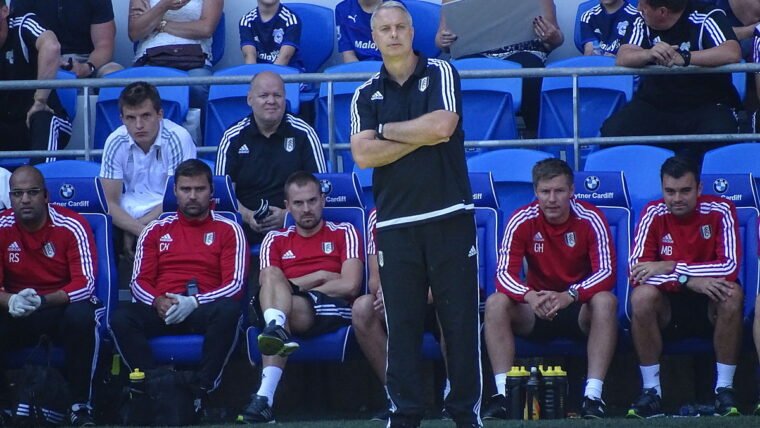 Sam Burne James asks: what happened next to the academy boys who were crowned 2011/12 Premier Academy League champions?
2012: the Diamond Jubilee, the London Olympics and Paralympics, and a ninth place finish – tied on points with Liverpool – for Fulham.
It was also the year that Fulham's Under-18s won the last Premier Academy League title, before its restructure. The players beat Blackburn Rovers on 12 May in the league's final, a decade ago last month. They're now all in their late 20s, theoretically their sporting prime – so where are they?
Starting XI
Connor Roberts
The goalkeeper had a quiet game, with Fulham's match report saying he wasn't forced into a save until the 81st minute. Not a Fulham Academy product in any sense, Roberts was on a short-term loan from Everton, and went on to a senior career in the Welsh leagues.
Alex Brister
Epsom-born Brister, only mentioned in passing in the official match report, was at Fulham from age nine, but left two years after the triumph, having spent a season on loan with FC Honka of Finland. A subsequent season in Norway's second tier with Notodden was his last as a professional.
Embed from Getty Images
Sean Kavanagh
Third time lucky; Kavanagh is a player who actually went on to play for the seniors. The highlight of his 21 run-outs was his solitary goal for the club to beat in-form Norwich in 2014, but he rarely shone in the heavily underwhelming, pre-Jokanović Championship era. After lower league loans, Kavanagh returned to his native Ireland in 2018, and remains with Shamrock Rovers.
Lasse Vigen Christensen
The Dane, who joined the club earlier that year, gets no mention in the match report, but we would soon become very familiar with LVC. Starting in January 2014, he notched up 68 appearances and was one of the brighter sparks in that otherwise forgettable period. Not long after new boss Jokanović blocked his passage to the Rio Olympics for Denmark, he was shipped out to Burton Albion. He's now back in his homeland, and was recently a league winner for Brøndby.
Embed from Getty Images
Jack Grimmer
The Scot had also joined the club earlier that year. He would play alongside Kavanagh, LVC and other academy peers in the 2014/15 Championship, notching up 13 league appearances. After loan spells with Shrewsbury Town and Port Vale, he joined Coventry, then Wycombe Wanderers, with whom he lost to Sunderland in the League One play-off final last month.
Josh Pritchard
The centre back, only on the pitch due to the suspension of namesake Josh Passley, would never make a senior appearance for the Whites. Formerly of Man United's academy, he had loans in Norway and Finland, then appeared to have established himself at Gillingham, before departing suddenly and, aged 24, ending his career with Sweden's Assyriska.
Ryan Williams
The scorer of our second goal against Blackburn, Williams already had five appearances for Portsmouth when he arrived at Fulham in early 2012. After two 2014/15 league appearances for the Cottagers, the Australian native made the English lower leagues his home, eventually returning to Pompey.
Ronny Minkwitz
The German midfielder, our captain that season, arrived at the club in 2010 from Stuttgart. Injuries disrupted his development, and having never stepped out for the club's seniors, he now plays in the Swiss fourth tier for FC Wohlen.
Embed from Getty Images
Cauley Woodrow
The scorer of our opening goal that day in 2012, Woodrow had signed from Luton Town in March 2011. He opened his senior goal tally for as a youthful line-up started the final game of the 2013/14 Premier League season, with relegation already confirmed.
Despite that early promise, Woodrow never set the world alight, but still bagged 12 goals in 66 Fulham appearances, and has since established himself at Championship level with Barnsley. Having missed much of their recent relegation with injury, rumours are he may be on the move.
Omri Altman
Another player to have never played a senior minute for the club, after Altman's two-year stay at Fulham he returned to his native Israel, and more recently has played in Portugal and Cyprus. Notably our only ever Israeli, an accolade he seems likely to retain, pending our ponderous efforts to net Manor Solomon.
Mesca (Buomesca Tué Na Bangna)
Born in Guinea-Bissau before growing up in Portugal, Mesca joined us from Chelsea in 2011. A Portuguese youth international, his full debut came against our blue neighbours in our 2013/14 relegation season. It was his only appearance for the club, making him a member of our one-hit wonder club. After a loan at Crewe Alexandra he has carved out a career in Cyprus' top league. His brother Bruma is a full international with Champions League minutes.
Substitutes
Charles Banya
An 89th minute replacement for Williams, Lambeth born Banya joined at 13 but never took to the pitch for Fulham's first team. He has since played for a string of home counties non-league sides.
Solomon Sambou
Another late sub, Gambia-born Sambou had also been with us since 13 and was the baby of the squad, just 16 on the day. He later scored in our 2014 FA Youth Cup Final loss to Chelsea, playing alongside Marek Rodak, Patrick Roberts and (French) Moussa Dembélé, with opponents including Ruben Loftus-Cheek and Dominic Solanke. Sambou also never played for Fulham, moving on to non-league football in 2015.
Embed from Getty Images
Muamer Tanković
The Swede didn't make it onto the pitch against Blackburn, but later three got Premier League games in 2013/14. He has since played top-tier football in the Netherlands (for AZ), Sweden (Hammarby) and now for AEK Athens in Greece, and has been capped by Sweden.
Corey Gameiro
Another Aussie, and Cauley Woodrow's replacement after 82 minutes, Gameiro left the following year and headed back to Australia. Among his clubs was Central Coast Mariners from 2018 to 2019 – while injuries meant he never turned out, he was briefly a team mate of Usain Bolt, during the sprint champion's brief but much vaunted trial period.
Daniel O'Reilly
Our last unused sub, O'Reilly also never played for Fulham. The Dubliner then bounced between the Irish leagues and English non-league clubs, before joining Scottish Championship club Hamilton Academical at the start of 2022.
Manager
Embed from Getty Images
Kit Symons
A defender in the early Al Fayed era, Kit Symons returned to Fulham in the first of various roles in 2009. Like some of those in his academy line-up in 2011/12, he stepped up to the first team, becoming first team manager and presiding over 14 disappointing months from 2014 to 2015. He has since reunited with Fulham and Wales teammate Chris Coleman as his assistant in roles in China and Greece, and for the national side.
What does it all mean?
It is to some degree impressive that six of the above 16 played first team minutes, with two (LVC and Woodrow) surpassing 50 games. But arguably, we could have done even better. After all, this was a youth squad packed with international talent attracted by the bright lights of top-level football – but by the time they reached their debuts, we were a level lower down, arguably meaning more of these boys of 2012 ought to have established themselves.
It's also notable that just three of these players – Brister, Banya and Sambou – had been with the club before the age of 15. Even if the academy contributed significantly to the development of their peers, these are the only three of whom we might one day have sung that they were "one of our own".
On which note, what this look back at the class of 2012 should do is remind us how joyous it is to see truly home-grown players well and truly make the grade. These are relatively few and far between, with Ryan Sessegnon, Fabio Carvalho and Marcus Bettinelli the most successful recently – and before them Sean Davis, who I would argue is often overlooked in the discussion of our best players of all time.