Should Fulham extend Seri's contract this summer?
Written by Rhys Daly on 13th May 2022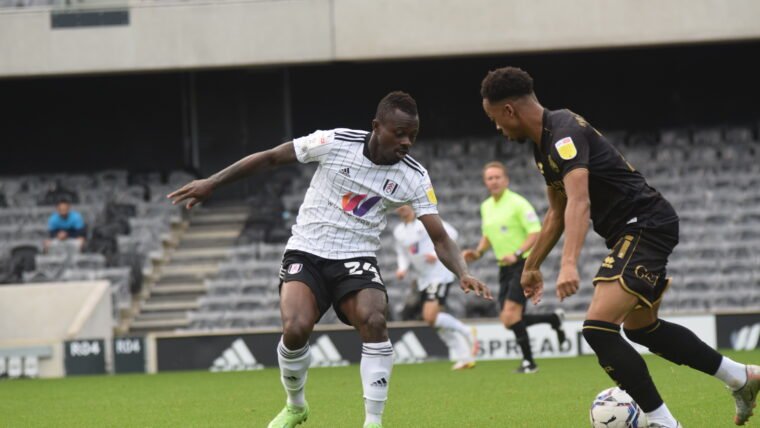 Jean Michael Seri says he wants to stay, but is a contract extension in the best interests of the club? Rhys has the answers.
We've got Seri, Jean Michael Seri… but for how long?
He's out of contract this summer as the initial four-year deal he penned in the July of 2018 comes to an end – but the club hold a one-year option over the midfielder.
Since his arrival alongside Maxime Le Marchand from Nice, Seri has played in 69 first-team fixtures across his first and most recent seasons, spending the intermediate 24 months on loan at first Galatasaray and later Bordeaux.
Embed from Getty Images
Putting the work in
Many Fulham fans, including myself, were surprised to see Seri brought into the side following the arrival of Marco Silva in the summer, and he has gone on to win the favour of the Cottage faithful with midfield performances that have helped us dominate second-tier fixtures.
It was less of a surprise to see that his passing and dribbling abilities were in excess of that required to win individual battles in the Championship, and the player himself is now in limbo over where he'll play his football in 2022/23.
As detailed in the 2018 announcement over his arrival, Fulham have the option to extend the contract of Seri for another campaign, which at the very least will ensure he doesn't leave on a free this summer.
Embed from Getty Images
"Yes, I want to stay," Seri told The Athletic last month. "I want to stay to help the team, at least one year in Premier League, and we will see what will happen."
Seri didn't seem overly confident that the club would take up on their option, and with the news that both Tim Ream and Neeskens Kebano have had their contracts extended – news on Seri hasn't arrived.
Silva said after promotion was confirmed that he was keen to talk to players individually over their future in West London, with five days now passing since the final day of the season.
Embed from Getty Images
Redemption
Although financially it makes little sense to let Seri leave on June 30, despite a probable increase in his wages following promotion, has he earned a starting spot next season?
The 30-year-old scored once and added six assists across his 33 Championship outings in 21/22, 26 of which came from the start.
Seri also said last month that it would be "unacceptable" for him to have left without doing something for the fans, saying he was grateful for supporter affection.
Embed from Getty Images
So how did he perform last time in the Premier League? As with all pretty much every member of the playing squad under Slavisa Jokanovic, Claudio Raneri and Scott Parker in 2018/19, he struggled.
Joining as part of the infamous spending spree that summer, Seri featured in all but four of our 38 fixtures, losing on 21 of those outings.
The highlight of his season came with his goal of the month effort against Burnley in late August, which handed Jokanovic his only win before being sacked in November.
Embed from Getty Images
Seri showed little signs of improvement alongside his colleagues under Ranieri before being dropped by Parker, leaving his previously bubbling reputation in tatters.
And although he impressed during periods of his recent loan departures, there's a lot to be said for the dedication that got him back into the good books of our fans.
It is also rare for a player to publicly ask their club to keep them on for another season after a positive campaign of performances, and if it was my decision the extension would've be done alongside the previous two.
That being said, there is still plenty of time for Silva and co to find a replacement, should they be that way inclined – and Seri would be leaving with positive thoughts from the majority of fans, which is something that had looked highly unlikely.