A tribute to Fulham's three-time promotion winners
Written by George Rossiter on 3rd May 2022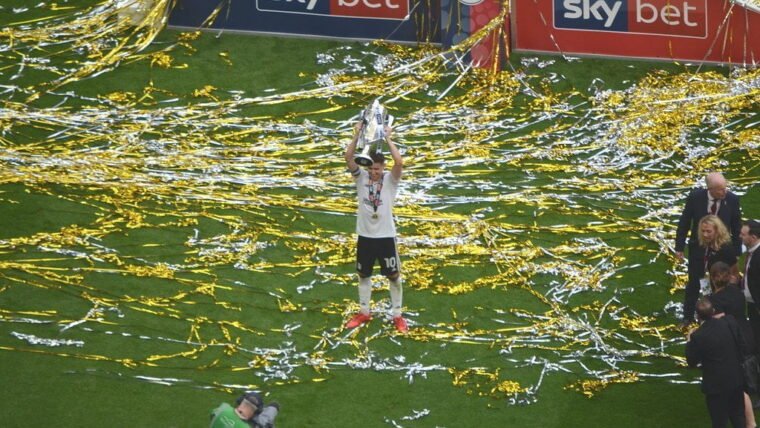 George Rossiter doffs his cap to this unique group of players – the promotion triple crown winners.
Leuven, Nottingham, Montereau, Smederevo, and – if you've listened to This'll catch on, you'll know – "we kinda like he's from Missouri". Five players from five hugely different locations who found a home in SW6 and went on to contribute, together, towards three wonderful promotion seasons for the Whites.
Tom Cairney, Tim Ream, Denis Odoi, Neeskens Kebano and even Aleksandar Mitrovic in the winter window of the 2017/18 season, all came to Craven Cottage at a time when the club aspired to find its way back to the Premier League after a few turbulent seasons in the second tier, but who could've imagined the rollercoaster ride we'd go on since then.
Whether fans have had doubts over injury records, ability or how well the boys could cope at the pinnacle of English football, what cannot be doubted is the effort the five of them have gone to to make sure Fulham got back to the Premier League on all three occasions, despite the adversity they faced between them.
A leading duo
Ream and Cairney joined from Bolton Wanderers and Blackburn Rovers, respectively, in the summer of 2015. Now, seven years later, with around 500 competitive appearances for the club combined, the pair are established leaders in the group, and established heroes to Fulham fanbase. These are two players who came to Fulham with reputations as solid Championship players, and are now known as stalwarts at the top of the division and invaluable assets during both play-off and automatic promotion campaigns.
Ream's ball-playing ability and calmness at the back has led to him playing a big part of multiple solid Fulham centre-back partnerships in recent years, including the likes of Tomas Kalas, Michael Hector and now with Tosin Adarabioyo.
Embed from Getty Images
And who can question the contributions of the skipper, Tom Cairney? Our captain, our leader, our legend. The memories of the late long-range goal against Leeds at the cottage, the superb strike at St. James' Park, and ultimately one of the greatest Fulham moments ever at Wembley, with the play-off winning goal rolled past Sam Johnstone into the Aston Villa net. Despite injury issues and relegations, the skipper's reputation has never regressed, and I refuse to believe there's a Fulham fan out there who isn't excited to see our midfield maestro have a proper crack at the Premier League in 2022.
Flair and sophistication
Then came the summer of 2016; it was a huge overhaul of a transfer window after multiple years of underachievement. Some signings, such as the likes of Jozabed and Ragnar Sigurdsson, did not have the desired effect. But two that did were the wonderfully unique and infectious personalities of Neeskens and Denis. Our little dancer from Congo and our crossbar-riding hero from Belgium. While not playing as consistently as others during their stints at the club, the two became firm fan favourites in an instant with their antics off the pitch and their performances on it.
Denis instantly showed his desire to entertain on the opening day of the 2016/17 season, with his famous piece of skill, taking the ball past Newcastle full-back Paul Dummett with his back. Equally, as part of a constantly rotating front line including Ayite, Aluko and Chris Martin, Congolese winger Kebano played a huge part in one of the most entertaining and attacking Fulham sides of recent memory, even if promotion wasn't to come that season.
Embed from Getty Images
While Odoi often saw his play time reduced due to competition and Kebano spent a loan spell away with Middlesbrough, both consistently fought their way back into the side, and both have prospered this season from it. While Neeskens has his best season in a Fulham shirt, Denis was fantastic in place of Kenny Tete until his January move to Club Brugge, which has seen him play in midfield, as well as earning a spot in the Ghanaian national side, which will now likely see our Denny take part in the 2022 World Cup in Qatar, where he'll face a group including Cristiano Ronaldo and Luis Suarez. You absolutely love to see it.
Embed from Getty Images
Our goal king
And now to the late, late hours of the winter deadline, on the first day of February 2018. After multiple reports of moves to Anderlecht and Bordeaux amongst other clubs, along comes a man who was convinced to join the club after a text conversation of some sort with fellow Serb, Slavisa Jokanovic. Aleksandar Mitrovic joined on an initial loan deal, and who knew that five seasons down the line, we would be talking about a bonafide club legend. Vital goals in both play-off winning campaigns was quite something, but what can you say about this year? Records smashed, goalscoring of which a generation, certainly mine, has never seen the like of at the Cottage. An iconic chant, an iconic celebration and now an iconic name associated with our football club, Mitro's contributions have been simply remarkable.
Embed from Getty Images
Whether it be through antics on the crossbar at Wembley stadium. Whether it be the calls of 'REEEAAAAMMMMMM' from the Hammersmith End. Whether it be Luca Toni celebration against almost every team in the league. Whether it be the Neeskens Diary. Or whether it be the first ever winning Fulham goal at Wembley. We have grown to love, appreciate and admire the contributions and love that these five have given to this football club, and for that, we should all be forever grateful. Just please boys, let us not have to do this for a fourth time in 2023/24!