Ranking Fulham's last 10 managers
Written by Charles Jones on 25th April 2022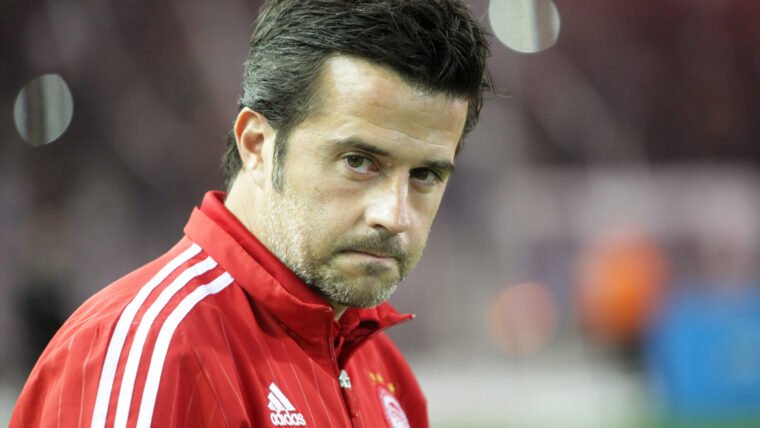 From Rene to Ranieri, Charles has had a go at ranking our last 10 gaffers from best to worst.
Marco Silva has worked wonders with this Fulham team, and after going up against our former boss Scott Parker, it's a good time to reflect on the managers that have been and gone at Craven Cottage.
The Khans haven't been afraid to sack a manager or two in their time. In fact, since the 2013 takeover, Fulham have had no fewer than eight managers in nine years.
From the weird to the wonderful, we're going to look at, assess, and rank the last 10 Fulham bosses.
10. Felix Magath
Embed from Getty Images
Where better – or worse – to start than with Felix Magath?
Alarm bells should have immediately been ringing when Fulham appointed a manager with nicknames such as 'The Last Dictator' and 'Saddam' in the midst of a relegation battle, but, to be fair to Magath, he arrived with a very good CV having won the Bundesliga with Wolfsburg and Bayern Munich in the past.
However, by 2014, the game had moved on, Magath's tactics were outdated, and his man-management methods were, quite simply, bizarre.
From telling Brede Hangeland to rub cheese on his leg, to playing Dan Burn at right-back in the game that would ultimately see us relegated, Magath's tenure was one strange twist after another.
The German left us rock bottom of the Championship, and he may go down as the worst manager in English football history, never mind Fulham's.
At least Felix bingo was a fun game.
9. Claudio Ranieri
Embed from Getty Images
Claudio Ranieri may actually be the best manager on this list.
Much like Magath, the Italian arrived with one hell of a CV. He'd recently won the Premier League with Leicester City, and had managed teams such as Juventus, Atletico Madrid and Inter Milan.
Unfortunately, it was a case of the wrong place at the wrong time for Ranieri. His uplifting and jokey mannerisms weren't suited to a squad that couldn't even go through a yoga session without fighting one another.
Fulham's 2018/19 season was one to forget, but the worst football was certainly played under Ranieri.
8. Rene Meulensteen
Embed from Getty Images
Perhaps the most unfairly treated manager on this list, you would be forgiven for forgetting that Rene Meulensteen had even managed Fulham.
Sir Alex Ferguson's former deputy was hired and fired under bizarre circumstances, joining initially as Martin Jol's assistant, before taking over three weeks later, and he was sacked four days after Felix Magath arrived as his successor.
Meulensteen took charge of just three league wins as Fulham boss, and while things were looking up at the time of his departure, it's fair to say that he didn't do the best of jobs.
7. Kit Symons
Embed from Getty Images
A brilliant servant for Fulham as a player, coach and assistant manager, Kit Symons' tenure as gaffer was, sadly, rather poor.
He managed to steady the ship after the disaster that was Magath, but he was never going to take us any further than that.
If it weren't for moments of individual brilliance from Ross McCormack on a weekly basis, Symons very easily could have taken us down to League One.
6. Martin Jol
Embed from Getty Images
Another accomplished manager on this list, Martin Jol did a fine job at Fulham to begin with, but he most certainly outstayed his welcome.
The Dutchman's skin was saved on the final day of the 2012/13 season as a win against Swansea secured us a 12th-placed finish, but had we lost that game, we'd have finished 17th and Jol surely would have gone.
The writing was on the wall at that point, and a poor start to 2013/14 would eventually play a massive part in our first relegation to the Championship.
5. Scott Parker
Embed from Getty Images
Our opponent over the weekend, Scott Parker is one of the most divisive and polarising managers in Fulham's history.
On one hand, he did help us get promoted at the first time of asking in 2019/20, and he won a place in many of our hearts with his post-promotion interview at Wembley.
However, on the other hand, that Fulham squad probably should have boarded HMS Piss the League in August (sound the horn) and never looked back, and he had us playing some of the most boring, turgid and mind-numbing football we've ever seen as we were relegated from the Premier League – we scored nine home league goals all season for goodness sake.
Yes Scott, we get it, the game is about fine margins, but far too often your incarnation of Fulham didn't manage to edge those vital moments you love to speak about so much.
4. Mark Hughes
Embed from Getty Images
Scotty P got a bit of a cold reception on Saturday, but it's nothing compared to what Mark Hughes would get if we came up against Bradford City anytime soon.
Hughes is, by and large, despised by the Fulham fanbase due to the way he departed the club. The Welshman cited a lack of ambition before jumping ship to QPR where he was backed with signings such as Djibrill Cisse, Julio Cesar, Bobby Zamora and Ji-Sung Park before being sacked within 11 months – ambition indeed.
However, as for his time at Fulham, in his one season at the club the Whites managed an eight-placed finish and we ended up level on points with Liverpool.
Based purely on results, it's hard to really complain with Sparky's tenure.
3. Marco Silva
Embed from Getty Images
Our current, and arguably most entertaining, manager, Marco Silva earns a place on the podium on this list.
What more can we say about Silva that we haven't been saying for months. The football is gorgeous, the joy is back at the club and we are going to win the league while scoring more than 100 goals.
This has been the most enjoyable Fulham season for years, and if Silva can establish us in the Premier League, he'll move even further up this list.
2. Slavisa Jokanovic
Embed from Getty Images
23 undefeated – what more needs saying? Slavisa Jokanovic revolutionised Fulham, and, in a way, his efforts are still being felt at the club to this day.
Jokanovic took over with relegation to League One looming, but within a season, we were in the play-offs and on the rise.
2017/18 was the most spectacular of campaigns. Fulham went half a season unbeaten under the Serbian and it all culminated in that day at Wembley with that goal from Tom Cairney.
While Silva may have bossed the Championship with a squad that should be walking the league, Jokanovic had to build from the ground up, and what he built was truly beautiful.
Sadly, a summer of poor recruitment, instability and tactical naivety meant that Slav wouldn't survive beyond November in 2018/19, but his work in the second-tier was absolutely brilliant.
1. Roy Hodgson
Embed from Getty Images
It was never going to be anyone else, was it?
From The Great Escape to the Europa League final, Roy Hodgson's tenure at Fulham was almost the perfect fairytale story.
We had some of our finest ever moments under Hodgson, from Diomansy Kamara's heroics vs Manchester City to a 4-1 win against Juventus at the Cottage. and if it weren't for one long-haired Uruguayan striker, Uncle Roy probably would have been due a statue outside the ground.
A true Fulham legend, Hodgson may well go down as the greatest manager in our history.