What do Fulham's latest financials mean?
Written by Farrell Monk on 31st March 2022
In the wake of yet more eye-watering financial results from the Whites, Farrell crunches some the numbers to ask what it means.
The latest financial accounts stretching to the end of our last Premier League campaign in June 2021 have just been released, reporting a £93million loss. But just like any scoreline, this only tells part of the story.
The latest accounts show that Shahid Khan has sunk more than half a billion pounds of his personal wealth into Fulham. The £93m loss now takes Khan's operating investment to £300m in just eight years, at average of £37.5m per season. However, again this isn't the full picture. The total cash spent on the club is far greater. The losses exclude the original purchase of the club and other capital investments such as the Riverside Stand project. By way of comparison, Crystal Palace's cumulative losses are £65m. Norwich's are a positive £10m.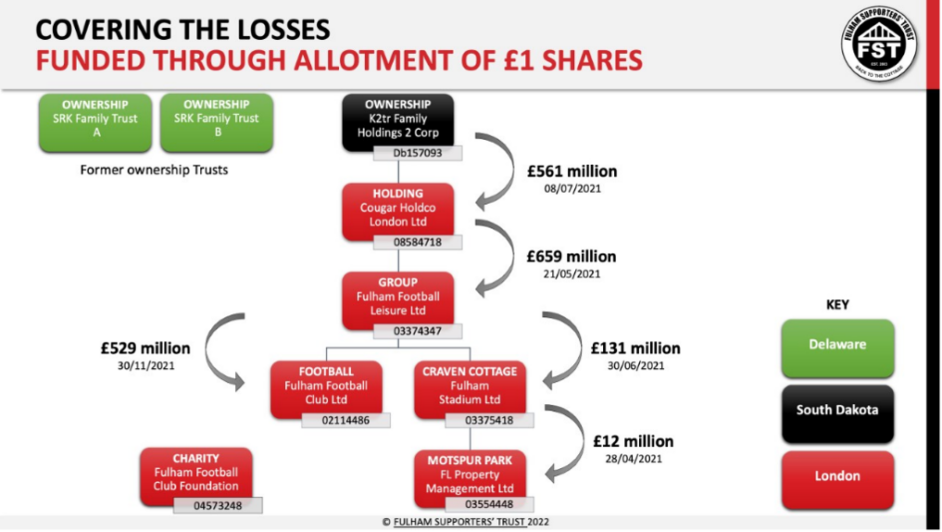 Why so much?
In the 2020-21 season, Fulham were prudent in their transfer approach. No less than nine loan signings were made which would have carried relatively small loan fees. The most we spent on one player was Anthony Knockaert at around £10m. He made zero league appearances that season.
The most significant factor is, of course, wages. In 2019/20 alone, for every £1 Fulham earned, the club spent £1.25 on staff salaries. This does consider the £42.6m parachute payment, which represented three-quarters of our income. That figure came down slightly the following season, where Fulham spent all its turnover on wages.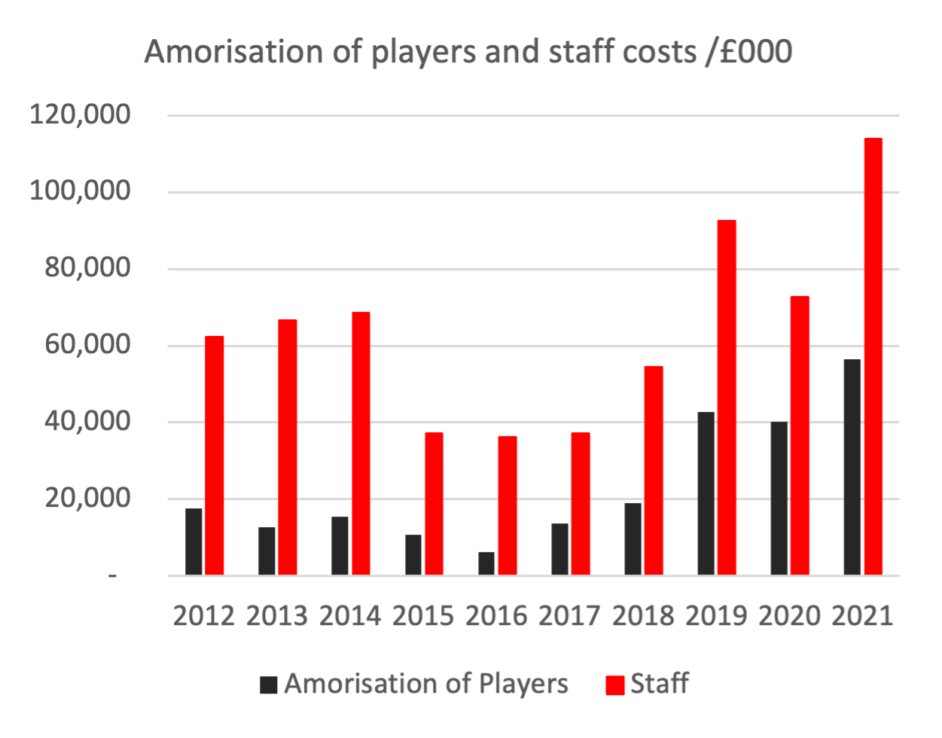 The way transfer fees are handled in the accounts also have a significant impact. If a player signs for a transfer fee of £40m on a four-year contract, then every year £10m will be added to that year's cost. In effect, the transfer splurge of 2018/19, with which many of those players remain in Fulham's squad. Anguissa, Seri, Mawson, etc are still having their transfer fees added to the costs. This is known as player amortisation and in 2020/21 that figure was £56m alone, representing well over one quarter of our £210m costs. This goes some way to explaining why our losses are so inflated the past few years.
Financial Fair Play – off the hook
In December 2015 the Whites were punished for breaching FFP after reporting losses of £27m for the previous season, which were £21m over the limit at the time. It resulted in a transfer embargo for the remainder of the 2015-16 season.
The good news is that Fulham are only subject to a fine, not a transfer embargo, if/when (delete as appropriate) the club is promoted to the Premier League. Although technically within the laws of the Football League's FFP regulations, they would not apply the club across leagues. Hence why when Fulham was hit with an embargo, it was for the season after they returned to the Championship.
In the Premier League, clubs are allowed to make adjusted losses* of up to £105m, if guaranteed by the owner. Fulham can start to offload some of those large transfers from the ill-fated 2018/19 campaign and this should reduce the effect of player amortisation. This would give us some purchase power in the transfer market in preparation for another stab at top-flight safety.
"Sustainability"
There's a scene from Snatch where the character Turkish, a manager of bare-knuckle boxers, is describing Brick Top, a leading gangster in the area.
"You just got to make sure you don't end up owing him. Because then you're in his debt. Which means, you're in his pocket. And once you're in that, you ain't ever coming out."
How does this relate to Fulham's latest set of financial accounts?
Shahid Khan deserves some gratitude for guaranteeing Fulham's long-term future at Craven Cottage, among other things. No other club our size would have been able to hold onto Mitrovic for example. However, in my mind, it's a method to inflate the balance sheet of the club and increase the value of the asset to eventually sell on.
Khan has continued to push the sustainability agenda, especially with the £131m investment into Craven Cottage and the delayed "game-changing" Riverside Stand. Average losses of £50m in the last four seasons does not look great. To be clear: "sustainability" is a long way off. Fulham Football Club is solely reliant on its owner.
Despite the worthwhile strategy of growing non-matchday revenue, there's no chance the Riverside Stand will bring in an extra £50m worth of profit every season. Liverpool's 20,000-seater main stand opened in 2016 and their matchday revenue grew by £11m.
This is where my worries lay about the direction the club has been heading for several years, in a commercial sense. Given our dependency on our generous owner, the club continues to push the line that we need to raise ticket prices or charge £1,000 for an uncovered corner season ticket to achieve "sustainability". Any extra revenue is wiped out instantly by player wages or transfers, decisions far outside of fan control. The ownership can spend on anything however they like and expect loyal supporters to foot the bill.
All it takes is for Khan to decide to sell up and the continued bankrolling ceases. We've seen this time and time again, most recently with Derby County. The club is in debt to the owner – albeit figuratively if not wholly financially – to the tune of £600m. And that continues to grow.
A club like Fulham needs to become sustainable. The current approach shown by the latest accounts shows that there is some way to go before that happens. Shahid has deep pockets – that much is clear. I fear that with the current approach, our club is in his pocket – and if the bubble bursts, it might be too deep to get out of.  
*Adjusted losses remove activity related to, youth and women's football, community work, costs of COVID and other accounting adjustments. Our friend Cottage Analytica has produced an excellent resource on the subject here.