The FST's view on the Riverside Stand
Written by Tom Greatrex on 28th March 2022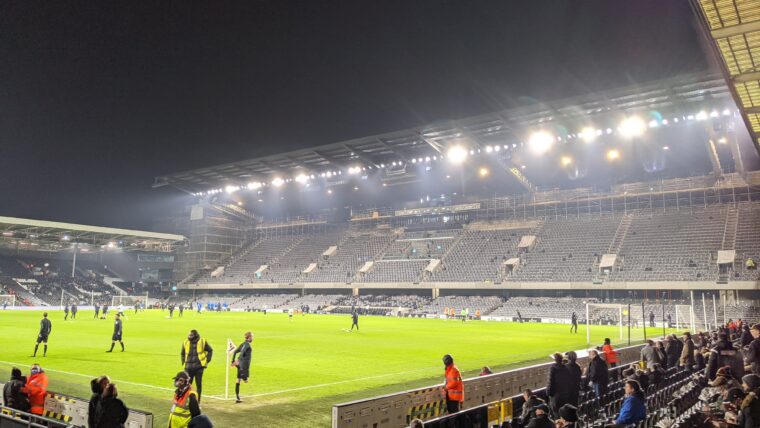 In a piece re-published from the FST website, Chair Tom Greatrex explains the trust's stance on the recent Riverside Stand news.
Judging by the volume of messages the Trust has received over the last week, the recent announcement by the Club of season ticket prices and plans for the lower tier of the new Riverside Stand next season certainly created a depth of feeling. The stand looks very impressive and almost complete from pitch-side, although we are aware there remain significant fit-out works to be undertaken inside before full capacity can be allowed. We have now had confirmation that works have been delayed, and it will be only the lower-tier open for the beginning of the 22/23 season, making approximately 2,000 seats available in the new stand.
Ever since season ticket holders were relocated from the Riverside to the Putney End for the start of the 2019/20 season, we have been repeatedly asked to confirm with the Club that displaced supporters will have first priority to move back to the new stand when it is opened. The Club has continually confirmed Riversiders who maintained a season ticket in the intervening period will have priority. With the first opportunity to move into the new Riverside Stand now available, the Club has honoured that commitment for next season, but the plans have raised a number of questions and concerns.
Throughout all of our recent conversations, the Club has been very clear that this is a one season only exercise whilst there are only 2,000 lower-tier seats available, and that plans will be different once the stand opens completely in 2023/24. No choices made during this renewal period will impact priority next time, as long as a season ticket is maintained somewhere in the ground.
Embed from Getty Images
The Trust view
There is no doubt that the Riverside Stand is an impressive addition to our ground and, when fitted out and fully open, has the potential to be the "game changer" in terms of additional income streams and expanded capacity that owner Shahid Khan has proclaimed. The big picture is that with a capacity of just shy of 30,000 and facilities able to generate revenue every day of the week, there is no need – ever – for the threat of Fulham being removed from our historic home to rear its head again. 
It was disappointing that despite the Trust having in previous years done a lot of work on ticketing and pricing, and we would argue with a good feel for what is tolerable and reasonable, there was no consultation on the prices announced for the lower tier ahead of time. While Fulham has said that the flat rate price of £1,000 for 19 games is for one season only, they should not be surprised that the response has been far from warm. If they had asked us, we would have been able to predict it pretty accurately. Perhaps that is why they didn't – perhaps they knew too, but wanted to test the market beyond our existing supporters regardless.
Removing concessions for older fans throughout the stand, a flat-rate price and not announcing pricing elsewhere in the ground at the same time have unsurprisingly been the issues of concern. We struggle to understand how supporters can make an informed decision without knowing their pricing options. It would also assuage the concerns many have expressed to us that £1,000 for that limited number of seats might indicate significant price rises elsewhere. We know these points have been relayed to the decision-makers at Fulham, both in the UK and US, we don't know whether they will decide to act upon them.
As frustrating as all of this is, in some ways next season is not the predominant issue. It is when the stand fully opens. Whatever division we are in, Fulham will have a home capacity of around 26,000 to fill. There are not 26,000 Fulham fans who can afford north of £1,000 for a season ticket. Fulham have a good record on prices of season tickets – and especially for children – that has been maintained over many years. It is one of the factors that has helped our fanbase grow from the 5,000 or so average crowds 25 years ago, and encouraged more younger and local fans to come along. That is something which the Club should guard against losing – while on a matchday balance sheet there isn't much difference between a one-off attendee when we host Liverpool and a season ticket holder, over the medium term there is.
Embed from Getty Images
The Fulham fanbase is not stupid. We know that when the new stand is fully open the best seats will be the most expensive in the ground, and out of the reach of many. We know that getting revenue in from the facilities in the stand will positively impact on the financial fair play position of the club. We know that the capital cost of an expensive and complex build has to be repaid. We know that the investment from the owner over several years has been generous and extensive. We also know that our fanbase come from all walks of life, young and old, wealthier and less so, and we are part of the same Fulham family we have heard a lot about this season. We know that getting the balance right on ticketing, pricing and filling the ground is as imperative to the success of the club on and off the pitch. 
We hope that the club realise that too, and by taking into account the views, experiences and situations of supporters more fully they can make the right decisions. If they do, everybody wins.
Following the latest announcement, members of the Trust board have been in regular dialogue with the Club to present supporters' views, ask questions and try to understand the reasoning of what lies behind the plans. Here's a summary of the questions raised by Trust members and the answers we have received. 
Price
The flat rate of £1,000 (adults) and £500 (under 18s) is more than most Riversiders have paid before. In fact, the only season ticket price above £1,000 in the Riverside before now was in blocks VL, WL and W in season 2018/19, and even then only for new purchasers once promotion had been confirmed via the play-offs. A 2018/19 renewal in those same centre blocks was £839 pre-promotion, with the lowest Riverside season ticket renewal priced at just £299 in the corner blocks SL and ZL.
Whilst £1,000 isn't a huge jump four years on from £839, it certainly is for those who were paying £299, a price which was significantly cheaper than most of the Hammersmith End. So, it's not a surprise that we have received a lot of feedback from supporters who say they just can't afford £1,000 and that £500 for under 18s means that they won't be able to bring their families.
Across several meetings, the Club have told us that these prices have been set on a one-season basis only and reflect the very limited supply of seats. They recognise the price differentials mentioned above but feel that the prices are fair for one season. They have been clear that nobody has to move this season from the Putney End and that the priority for displaced Riversiders who have maintained a season ticket to move back to the fully opened stand in 2023/24 will be honoured regardless of seat choices made next season.
It remains the view of the Trust that season tickets and match tickets should be priced such that football is affordable and accessible for all those who wish to attend, albeit we accept certain parts of the ground will always be more expensive than others.
No young person or over 65 concessions
We received a lot of queries relating to the lack of concessions for young supporters (18-21) and over 65s in the new stand. This is a departure from the previous pricing policy in the Riverside, where concessions were available in all blocks, although it is noticeable that some other clubs have adopted this policy for their higher-priced tickets; Brighton, for example, offer no concessions in the highest-priced middle blocks of their main stand.
Again the Club have told us that, given the limited number of seats available in the Riverside Stand next season only, they consider the pricing model to be fair and are not open to making any changes. They reiterated that this is a one-season only model and expect concession pricing to be available as usual in other parts of the ground.
Information about the other three stands
The largest number of queries the Trust received following the Riverside announcement related to what was not said: there is no information yet about season ticket prices in the other three stands despite season tickets in the Riverside going on sale in April. We have highlighted that announcing the whole season ticket plan would have two big advantages for supporters. 
Firstly, for those considering moving to the Riverside, it would allow a direct comparison to be made and inform decision making. We think this is a reasonable request. Secondly, announcing what we expect will be fairly priced 2022/23 season ticket prices in the rest of the ground will go a long way to allaying concerns that the £1,000 price in the Riverside stand heralds a big price rise across the board. We have always said that Fulham's season tickets are well priced and fair, and that the offer for under 18s has always been particularly family-friendly. We hope and expect this will continue.
We are disappointed that despite our requests, the Club have said that they want to wait until May to release the prices for the rest of the ground, as they want to wait until our League status for next season is confirmed. We will continue to press for the prices for next season to be released as soon as possible.
Embed from Getty Images
Facilities and opportunity to view in person
A number of supporters have said that if they are to consider paying an increased price for their season ticket next season, they would like confirmation of the facilities available and would like to see them in person before buying. The Club has been very clear on this point – the stand is still a building site and it is not possible for in-person visits to take place during this renewal period. Again, they have stressed that this is a one-off situation for this season as the stand is not complete and expect arrangements to be different during the 2023/24 renewal period where it is hoped there will be an opportunity for individuals to view in person. 
With regard to views from seats, it is worth looking at the 3D virtual seat view tool the Club included in its announcement [LINK]. It does seem to provide a very accurate representation of the view from existing seats so should give a similarly accurate view from the new seats. Of course, nothing replaces seeing the seat in person, but the Club say that this is just not possible for safety reasons.
We have also asked what facilities will be available to season ticket holders, particularly given that these have yet to be built. The Club have only been able to confirm basic details at present, that there will be food and drink facilities both inside and outside the 'lower concourse'. They have confirmed that they expect the Riverside offering for next season will be similar if not better than what was on offer during the last season in the old stand.
Seat moves
We have been asked to confirm whether seat moves to other parts of the ground will be available for displaced Riversiders and, indeed, whether any Putney End season ticket holders will be asked to move for other reasons. The Club have told us that there is a possibility that some P4 season ticket holders may have to move to accommodate a slightly larger away section next season given the overall increase in capacity, but with some others moving to the Riverside there will be Putney End seats available. Subject to availability, the Club will also try to accommodate moves to other stands, although the Johnny Haynes Stand, in particular, is quite close to its season ticket capacity.
Next steps
Our advice for displaced supporters is that you don't have to make any decisions this year. This is a one season exercise and the situation will be different when there is a whole stand with complete facilities available in 2023/24. If you choose to stay in the Putney End and have maintained a season ticket since 2018/19 then your priority to return to the fully open new stand will be maintained and there will be a much wider choice at that time.
We will continue to press for a quick announcement of the prices in the rest of the ground which we hope and expect will show that Fulham season tickets remain affordable and accessible for all supporters. Over time, the revenues generated both on match days and non-match days by the new Riverside Stand should be able to keep Fulham affordable for all.