Away Day Planner: March 2022
Written by Dom Betts on 16th February 2022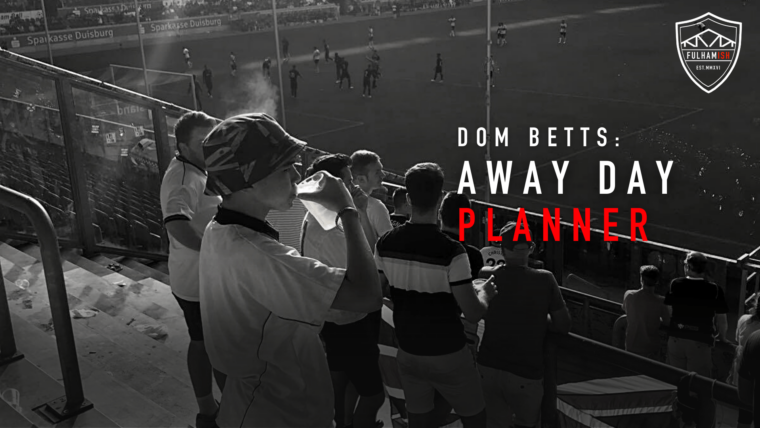 Let Dom guide you through the transport, car parks and boozers you need to know about next month.
We're on the road three times in March, including another trip to Wales, and a visit to Oakwell, which has been dampened a bit thanks to Sky Sports making it a lunchtime kick-off.
Swansea City (8th March)
Embed from Getty Images
We're back in Wales for this game, which was initially meant to happen on 3 January. A Tuesday night is a bit more difficult a trip, but it should be good anyway.
Trains
Adult – £71.80
Adult with Railcard – £47.30
Child – £35.90
There's a 3:46am train back if you fancy going back after a night out, but twin rooms can be found in the city centre for around £50-70. I recommend the Dolphin SA1 or Cwtsh Hostel for being closest to centre.
Where to park
As expected, most of the parking around the stadium is for resident permit holders only. Away mini-buses and coaches can park behind the North Stand, where you'll be sitting, in a fenced off area at a cost of £20 for a coach or £10 for a mini-bus.
There's a park and ride facility located at Felindre old steel works site. This appears on signs off Junction 46 shortly after leaving the M4. It costs £6 to park there per car and away supporters have dedicated buses to and from the stadium. Buses wait after the game to take you back to your car. It's advised against parking at the retail park nearby because you could end up with a ticket or be clamped, which could either dampen a great day or make a bad day worse.
Where to drink
Due to being located close to a retail park, I'd advise you to drink in the city centre. The Bank Statement is the Wetherspoons, there's a Walkabout, but if something a bit different tickles your fancy, give the No Sign Bar a try.
Just a few minutes' walk away from the stadium on Llangyfeleach Road, is the Plough and Harrow, which admits visiting fans.
Within 10 minutes' walk of the stadium is a newly opened microbrewery, Boss Brewing, which serves great beers and burgers. You can also park there for free if available.
Barnsley (12th March)
Embed from Getty Images
Another away day changed due to issues outside our control, this time by Sky. But it means you should be back in London for the evening.
Trains
Adult – £53.66
Adult with Railcard – £35.35
Child – £26.83
Where to park
There are a couple of car parks located at the ground, but they are mainly for permit holders only. In between the ground and the MetroDome is a car park for visiting supporters, called Queens Ground, which costs £4 Cars, £8 mini-buses and £15 for coaches (post code S71 1AN).
Otherwise, you can try parking at the MetroDome itself (although it can be slow to get out of after the game has finished), or street parking.
Where to drink
The Dove Inn. This pub, listed in the CAMRA Good Beer Guide, is an outlet for the Old Mill Brewery. It's only a five-minute walk away from the ground down Oakwell Lane and is happily frequented by both home and away fans. 102 Doncaster Rd, S70 1TP.
East Dene WM Club. This is a working men's club right across from the road from The Dove Inn. Great place with plenty of tables to grab a drink with a mix of home and away fans. 105 Doncaster Rd, Barnsley S70 1UD.
The Joseph Bramah. This is the better of the two Wetherspoons outlets in the town centre as is a lot bigger as is spaced over more than one floor. 15 Market Hill, S70 2PX.
West Bromwich Albion (15th March)
Embed from Getty Images
A tricky month of aways is wrapped up with a midweek trip to the Midlands. But there could be a lot riding on this, so it's worth the trip.
Trains
(You can get back to London same evening)
Adult – £28.20
Adult with Railcard – £18.55
Child – £14.10
Where to park
Across the road from the entrance to the away end on Halfords Lane, is Sandwell Academy School, which offers secure matchday parking at £5 per car. However, spaces must be pre-booked and paid online via the YourParkingSpace website.
There's the Beeches Road Methodist Church (B70 6QE) at a cost of £5. It's covered by CCTV and is about a 10-minute walk away from the Hawthorns.
Just around the corner from the Vine pub on Roebuck Lane is a St John's Ambulance Depot that offers matchday parking for £3.
Where to drink
There's a Club 'fan zone' just across the road from the stadium on Halfords Lane. You need to show your match ticket to enter. The bar inside closes 30 minutes before kick-off.
The main pub for away fans is 'The Vine', which is about a 15-20 minute walk from the ground. B70 6RD.
All pubs within vicinity of Birmingham New Street. Then you can either get the tram to The Hawthorns or book a taxi.