Why Aleksandar Mitrovic is a bigger Fulham legend than Louis Saha
Written by Charles Jones on 9th February 2022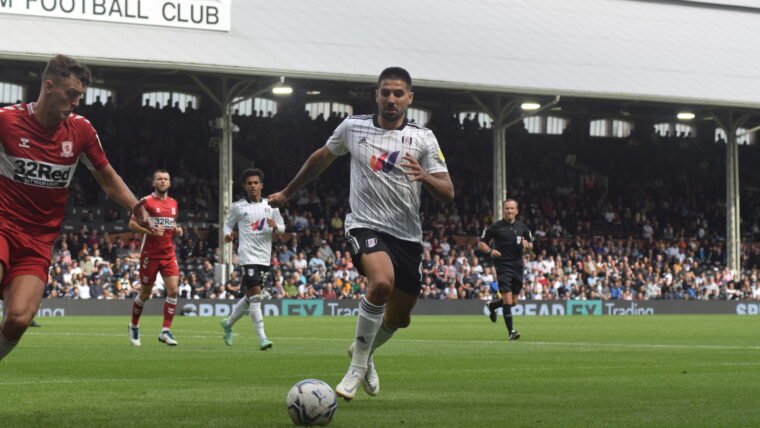 King Louis or Mitro? Having to pick one is like having to choose a favourite child, but Charles says the debate may now be finally settled in the Serbian's favour.
Aleksandar Mitrovic hit his 30th league goal of the season on Tuesday evening, and we're not even halfway through February.
This is (or soon will be) the greatest season we've ever seen from a striker in the Championship, there's no debate about it, and now it's time to consider whether or not Mitrovic is the greatest striker Fulham have seen in the modern era.
Craven Cottage has been blessed by some spectacular number nines over the years, the likes of Dimitar Berbatov, Brian McBride and Bobby Zamora will all live long in the memory.
For many though, Louis Saha is unrivalled when it comes to Fulham strikers of the modern era, but has Mitro now taken his crown? Let's take a look
The numbers
Embed from Getty Images
Like it or loathe it, numbers are how strikers are judged these days, and when it comes to stats, Mitrovic has the upper hand on Saha.
The Serbian has 20 more Fulham goals to his name despite playing just 14 matches more than Saha, while the assist stats are also quite staggering.
According to Transfermarkt, Saha registered just five assists for Fulham. Meanwhile, our current centre-forward has seven to his name this season alone (16 overall).
Yes, you also have to take into account the fact that more of Saha's Fulham career was spent in the Premier League, while Mitrovic has had to endure more time in the Championship, but you can only play the teams that are in front of you.
Impact
Embed from Getty Images
While Fulham shook the 'one-man team' mantra last month by dismantling Birmingham City 6-2 without Mitrovic in the squad, it has to be said that Mitro can put the team on his back when he needs to.
Cast your mind back to the 2019/20 season, and you'll remember that we really were Mitrovic FC. It's not an exact science, but the goals scored by the Serbian earned Fulham 22 points that season, carrying us to within touching distance of the automatic promotion spots.
Without those 22 points, Fulham would have finished 13th.
Meanwhile, Saha's goals in the famous 2000/01 season only actually earned Fulham 14 points, eight of which were by virtue of penalties, and if you subtract that amount from our 101-point haul that term, we still would have had enough points to have been promoted.
At the point where they were the most important players at the club, Mitrovic was the difference between being a mid-table Championship side to promotion contenders, while Saha was the difference between being a promotion contender and arguably the best team the second-tier has ever seen.
Premier League record
Embed from Getty Images
Of course, as with any anti-Mitrovic argument, a case can be made about Saha's Premier League impact compared to Mitro's.
However, in two of Saha's three Premier League seasons at Fulham, he managed fewer goals than Mitrovic's 11-goal haul in 2018/19.
Yes, the 2003/04 season was sensational for Saha (he scored 20 Premier League goals, 11 of those for the Whites by January), but who's to say that Mitrovic's breakout Premier League campaign isn't still on the horizon?
Marco Silva has him playing the best football of his life, and as the likes of Ollie Watkins, Patrick Bamford and Chris Wood have shown in recent years, goals in the Championship aren't difficult to translate into the Premier League these days if you're playing under a manager who suits your style of play.
Does Mitrovic have work to do in this area? Of course he does, but he has the talent and the time to make up for past shortcomings.
Loyalty
Embed from Getty Images
18 years on it's hard to begrudge Saha for swapping Craven Cottage for Old Trafford, but we'd be lying if we said it still didn't hurt a bit.
In 03/04 Fulham were flying. After 18 games we were fourth in the table, and looked as though a push for the Champions League places could be on the cards.
Then, the January transfer window opened.
Speculation was rampant about Saha, and he eventually made his move to Manchester United, Fulham's form slumped and we eventually finished ninth. It was a great season, but not as good as it could have been.
Meanwhile, Mitrovic has, for some reason, remained loyal to Fulham through two relegations, despite being treated incredibly unfairly by Parker at times during his tenure.
Mitrovic could have left on a number of occasions. Just last month it was rumoured that Juventus were looking at him, while big-money moves to China have also been on the cards.
However, despite all of this, the striker has stayed at Craven Cottage and helped fire us back up to where we belong time and time again.
Does Saha leaving for Manchester United when we were on the verge of a truly historic season make him a snake? Of course it doesn't. But does Mitrovic staying throughout all of the turmoil we've seen in recent years make him more of a legend? Definitely.
Legacy
Embed from Getty Images
Mitrovic's entire story at Fulham is just incredibly romantic. He fired us to a record-breaking unbeaten run just after he arrived, and the lore surrounding the Serbian has only grown since.
This season, in Marco Silva's team, the 27-year-old has a real chance of outdoing Saha's greatest achievement and smashing Jean Tigana's side's historic 101-point tally, meanwhile he's already surpassed Saha's 27 goals that season, and there's still some way to go.
We don't want to discredit Saha's achievements in the slightest. He's one of Fulham's all-time greats, but he was a part of a team that was only heading in one direction after Mohamed Al-Fayed's takeover and massive investment.
Mitrovic, on the other hand, helped Fulham get out of that post-2014 rut and back into the Premier League before almost single-handedly firing the club back into the top-flight at the first time of asking.
Just imagine where we'd be if 2019/20 hadn't gone in our favour. The summer of 2018/19 was one of the most financially disastrous transfer windows in Premier League history for Fulham, and with even more money pumped in that season to sign the likes of Ivan Cavaleiro and Anthony Knockaert, there was a lot at stake if we weren't promoted that year.
Thanks to Mitrovic, Fulham managed to avoid that eventuality, and while things haven't been plain sailing since, we'd hate to imagine what could have happened if our number nine's goals hadn't saved our skin week after week that season.
Mitrovic still has many chapters of his story to write, but even still, it's a convincing argument that his legacy is already greater than Saha's.