Away Day Planner: February 2022
Written by Dom Betts on 2nd February 2022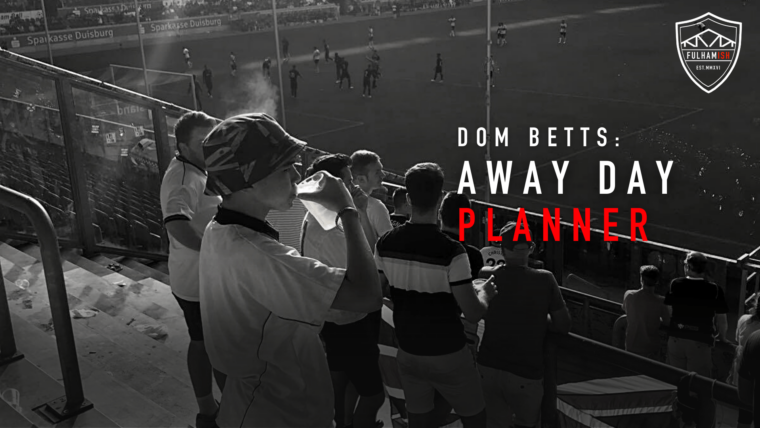 Dom's back to help you plan your trips as you follow Fulham away throughout the coming month.
We have six games in February – and three of them are away. And there are some decent trips in there too.
Man City (5th February)
Embed from Getty Images
Tickets have been fairly priced by City for this FA Cup fixture, and if you're clever you can get that plus travel for less than £50.
Trains
London Euston – Manchester Piccadilly and split journey at Crewe.
Adult – £45.00
Adult with a Railcard – £29.70
Child – £22.50
Where to park
There is some parking available at the stadium itself, which costs £10 per car, £20 per minibus, while motorcycles are free. The east car park is nearest to the away entrance.
Or there's St Brigid's Church on Grey Mare Lane (off the Ashton New Road behind the South Stand where the away fans are housed), which cost £6.

Where to drink
Any of the pubs in the vicinity of Manchester Piccadilly are a good choice. I recommend the Piccadilly Tap and the Waldorf

There are a few craft beer taprooms if that's your flavour, such as Cloudwater and Track Brewing Co.
There's also Wetherspoons Piccadilly further down from the station for those looking for a 'Spoons.

Hull City (12th February)
Embed from Getty Images
This has all the ingredients to be a decent trip – with a good number of fans making the trip up to Humberside.
Trains
London Euston – Hull. Direct or via Doncaster.
Adult – £68.65
Adult with Railcard – £48.80
Child – £37.03
Where to park
The stadium has its own massive car park right next to the stadium, with access from Walton Street. It is floodlit, with a covered surface (that is, not a mud bath) and it's open to home and away supporters alike.
If you get there early and want to go into the City centre, there's a park and ride bus to and from the car park. The cost of parking at the stadium is £5.
The most convenient car park in the city centre is the Pryme Street multi-storey car park, which is open until 7.30pm.
Where to drink
The Park View pub virtually opposite the stadium car park entrance allows in away fans. It has a good atmosphere and the Hull fans there were friendly. It also has a big screen showing Sky Sports and a burger van outside. 57-65 Walton St, Hull HU3 6JB.
Bowery has lots of TVs showing Sky Sports, making it perfect to watch the early or late kick off games. It is a 15-minute walk away from the stadium, going across the pedestrian footbridge over the railway line. 30-32 Princes Ave, Hull HU5 3QA.
The Wetherspoons outlet in the town centre near the station is the Admiral of the Humber. 1 Anlaby Rd, Hull HU1 2NR.
Also opposite the Wetherspoons is the Ebeneezer Morley. It shows football and welcomed us last time. Even had Moretti on draught.
Cardiff City (26th February)
Embed from Getty Images
We should be used to this trip to Wales now – we've done it eight times since 2013 (nine actually, but one was without fans).
Trains
Adult – £77.67
Adult with Railcard – £51.20
Child – £38.84
Where to park
If you pass the ground on your right and then turn right at the next lights (about 250m) and proceed up this road for about 300m, you will see HSS Hire (plant hire) on your right. Turn right in front of this and it leads you into a fenced off area adjacent to Turnstile 7 (the away entrance). You can go straight into the ground without leaving this area. It was also well marshalled on our visit. Cost is usually £8.
You can park at the Gol Centre near to ground. Parking there isn't a problem at all. The only downside is that after the game it can take a long time to get back onto the main road as the centre is located at the bottom of a cul-de-sac.
Where to drink
The Prince of Wales is a standard Wetherspoons outlet serving standard pub food and cheap beer and a 25 minute walk from the ground (there are no pubs in the vicinity of the stadium). You'll have a good mix of home and away fans in here. 81-83 St Mary St, CF10 1FA.
The Cottage has pub has been frequented very often by Fulham fans previously, simply due to its name. But it is a very nice pub in the centre of Cardiff serving nice beer and food. 11 Sanquhar Street, CF24 2AA.
You can also find your typical Walkabout pub in the centre of Cardiff. Serving food and drink, as well as showing Live Sport, so you'll be able to catch the lunchtime kick off in here. 65-74 St Mary St, CF10 1FA.