Is it a concern that Fulham have conceded 6 in 3?
Written by Drew Heatley on 25th January 2022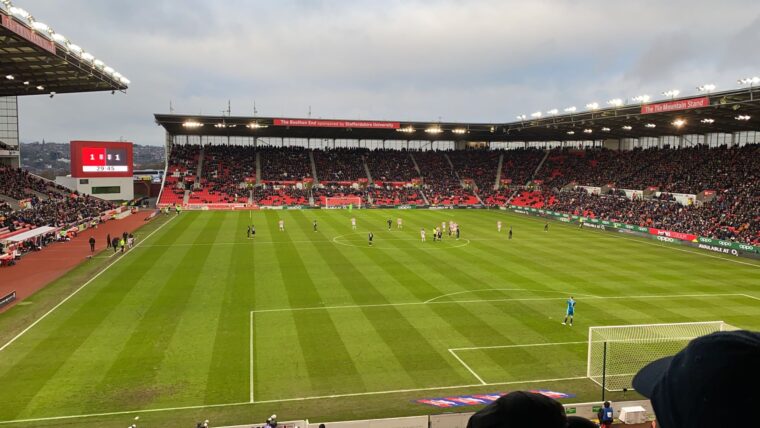 Drew looks at the dark cloud that's starting to loom large over our recent free-scoring run.
"We're gonna score one (or sometimes four) more than you" – so goes the famous terrace chant. And we're doing that handily so far in 2022. But I know we're all acutely aware of the fact that we've conceded six goals in our last three games. That's 24% – or basically a full quarter – of our total goals conceded this season. In contrast, we only conceded four goals in our five-game winless run before Christmas.
These facts linger like a fart in a spacesuit; they threaten to taint our run of four wins on the spin and force us to start worrying about another winless streak, during which our mighty +48 goal difference could be eroded at pace. That's the life of a Fulham fan, isn't it?
Of course, we sit only behind Bournemouth and West Brom in terms of goals conceded this season. But should we be concerned about the goals we're leaking? Or is it just a footnote in another pulsating run?
Mountain to climb
It sounds obvious, but if you concede two goals, you've got to score three to win. And the fact we've been doing that and then some means everything else becomes swept under the giant green Cottage carpet. And that's fine – for now. But Mitro and Wilson's enforced absences on the weekend, coupled with a rise in the quality of our opponent, shows the challenge we have if we're not going to notch six or seven in a single game.
It started with Antoine Semenyo's first-half double for Bristol City. Two goals that were all-too similar in nature, with the Whites being caught out on the break, and watching in awe as the 22-year-old slotted past Marek Rodak twice. Each goal put us behind on the day, but a quick reply from Kebano after Semenyo's second relegated it to a mere sentence in the full-time match reports.
Embed from Getty Images
Then came a pair of worldies from relegation-threatened Birmingham City days later. Again, Carvalho's goal mere seconds after Gary Gardner's drilled shot to make it 5-2 made complaining about the two goals seem churlish. And perhaps it was.
There are positives
Our quick reactions following an opposition goal is the biggest mitigating factor here and helps me sleep at night. We fell behind within a minute at the bet365 Stadium on the weekend, but again, responded within seconds of the restart, this time through Rodrigo Muniz.
It says to me that Marco Silva has drilled into the boys what he expects immediately following a goal. He wants us to drive up the intensity, if only for a couple of minutes, to smother and suffocate the opposition in a moment when they will naturally be relaxed, if only subconsciously. It's been used to devastating effect this season, even before the last three games.
Embed from Getty Images
Another silver lining of the Bristol City and Stoke games is that its shown how the Whites can recover a game from a losing position. It's something we'd not seen under Silva, and it used to be stick to beat Parker with; once we conceded, the game was all but lost. We've seen this term that, if anything, it turns us into a bear with a sore head; we react, viciously and with no mercy.
Changes needed?
So, with all this said, does Marco need to shuffle the deck at all to stem the flow? Or do we wear our scars proudly and plough on?
Kenny Tete has been swapping places with Denis Odoi on the right-hand side of late, partly through tactics and partly through injury to Kenny's testes. And although Denis has had a bit of a torrid time while deputising, Kenny's recent injury and lack of depth mean it's unlikely to be an area of change in the immediate future.
Marek Rodak has started to come in for a bit of criticism of late, too. There were certainly one or two questions sent into the pod about his culpability for some of these goals and whether we should look to bring in a Premier League-quality replacement if and when we reach the promised land (again).
Embed from Getty Images
It's worth remembering that Rodak's still only 25, and he's nowhere near his prime as a goalkeeper. When you consider that, and factor in the quality he's already shown, even in our promotion season under Parker, I think we've already got a Premier League-quality 'keeper. So I'd be reticent to change the man between the sticks.
Debate continues to rage about Antonee Robinson's role in this Fulham XI, particularly over his touches and vision. The last three games have been somewhat of a reverse shit sandwich for the USA international; questionable performances against Bristol City and Stoke fell either side of a solid showing against Birmingham, which he capped with a goal. He'll be missing for Blackpool as he's on international duty, so Joe Bryan will step in. It'll be interesting to see how he gets on – he's not had an extended run this term.
Silva's faith in Ream and Tosin has been pretty much unfaltering all term, so don't expect any changes there. though, without sounding like a broken record, change has to be afoot in the summer when it comes to one half of that partnership, much as that pains me.
The events of the last three games have been exhilarating. And the goals conceded a concern. But, on balance, the positives outweigh the negatives on this one. We'll be looking for all three points against Blackpool, and another clean sheet would truly be the icing on the cake.