Why Kebano is now one of our most important players
Written by Drew Heatley on 8th November 2021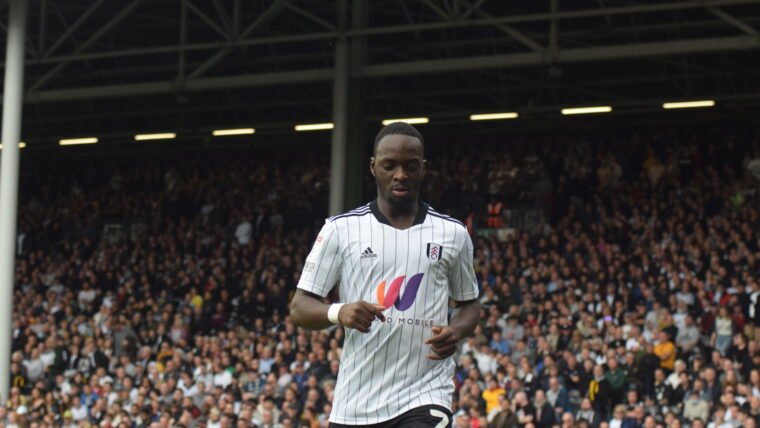 Drew looks at the evolution of Neeskens and says the Congolese winger is now indispensable.
I'm going to start this piece with something that sounds a bit negative, but stay with me. How many players have come to Fulham and actually improved?
I don't mean players that graduated from the academy having arrived as children – of course they did – but players who we signed from other clubs, who came here and became better players.
It becomes a bit harder now, doesn't it?
Step forward Neeskens Kebano. The Congolese winger is currently having his best season in a Fulham shirt – and it's ample reward for a player who's never stopped trying to get better in SW6.
Sliding doors
But it could've been so different. In June 2020, we were about to resume our Championship campaign after the initial coronavirus postponement. Kebano had made just eight appearances before the enforced break – seven of those were from the bench – and his contract was nearly up. It was safe to say he was probably on his way out of the club. And when he received his marching orders in the dying minutes of the awful 3-0 gubbing at Elland Road, that 'probably' turned into an 'almost certainly'.
Five goals in four games later – including a vital strike in the play-off semi-final against Cardiff – and he was awarded a new contract. Many baulked at this decision (myself included), but it's a move that's now paying off.
Embed from Getty Images
The Prem conundrum
"But he's not Premier League quality", I hear you cry. He hasn't been, no; seven appearances in our awful 2018/19 campaign and just five last term before he was exiled to Middlesbrough (some punishment) will attest to that. But his improvement under Marco Silva – a manager who encourages attacking football and actually appreciates dynamic wingers – means we now have a different player on our hands.
Last term, we persisted with Ivan Cavaleiro. Every. Single. Game. Imagine if we'd been able to shuffle the deck a bit and use this season's Kebano in his place? Neeskens does everything you just wish Cav would do as a forward player, irrespective of the flank; he runs at players, he puts decent balls into the box (evident just this past weekend at Peterborough) and he's now adding goals to his game. Look, we know his finishing still leaves something to be desired – his miss against West Brom stands out – but his workrate and energy levels are such an asset to this side, that you can put that aside for now.
Embed from Getty Images
Boa the role model?
I mentioned Silva's impact on Kebano, but how about our assistant manager? For a player like Neeskens, there can be no better mentor that Luis Boa Morte. The dead snake knows a thing or two about going at defences and contributing to the front line of a dominant Championship side. The pair embraced and shared a word or two at the final whistle on Saturday – a little glimpse into what's proving to be a fruitful union.
As Rhys Daly points out, Kebano's now contributed to seven goals in his last eight games – he's no longer on the periphery; no longer one of many interchangeable options on the wing; he's one of the first name's on Silva's team sheet. And you'll be hard-pressed to find a Fulham fan who's not delighted with his continuing evolution.