Why Fulham's stats should give us hope going forward
Written by Dan Cooke on 14th October 2021
Dan Cooke takes a look at the numbers that Fulham have produced this season and what they mean.
Ah the Championship. It's as chaotic, frenetic, and unexplainable as ever. We're somehow only eleven games into the season, despite it feeling like we've been playing every other day.
The international break was much needed. I hope the first week of the break allowed you some cathartic release after our second half Midlands mayhem. Now the dust has settled, I thought it would be a good time for some reflection on our season so far.
The Basics
If we start with goals scored, it's good news. We're top scorers in the league, which after last season is a nice thing to be able to say.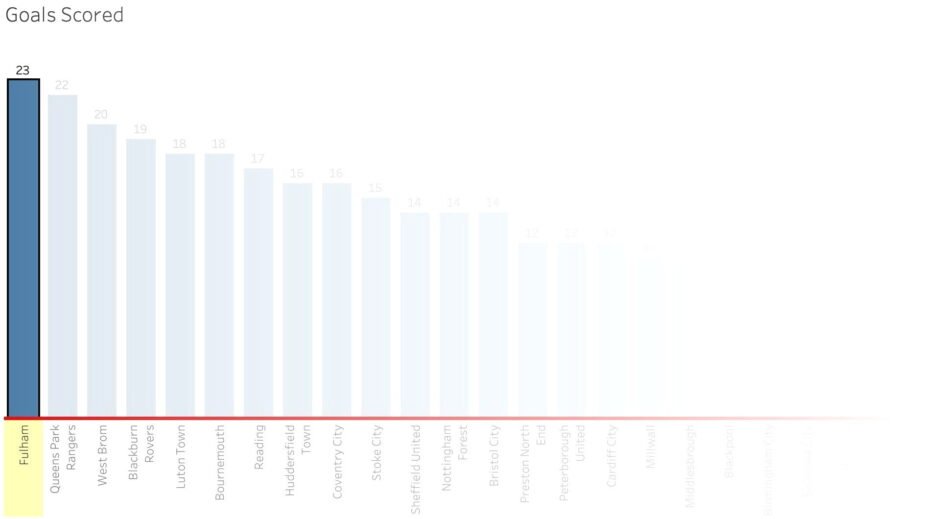 We've managed ten goals at home in our five games at The Cottage this season. Mitro did not just seal his hat-trick when he steered home after that gorgeous free-flowing move against Swansea, it also sealed us scoring more home goals this season than we did in the entirety of last season in front of an empty Cottage.
At the other end of the pitch, we've not been quite as good. Six other teams have conceded fewer than us, with Scott Parker's and Wayne Rooney's men leading the way when it comes to stingy defences.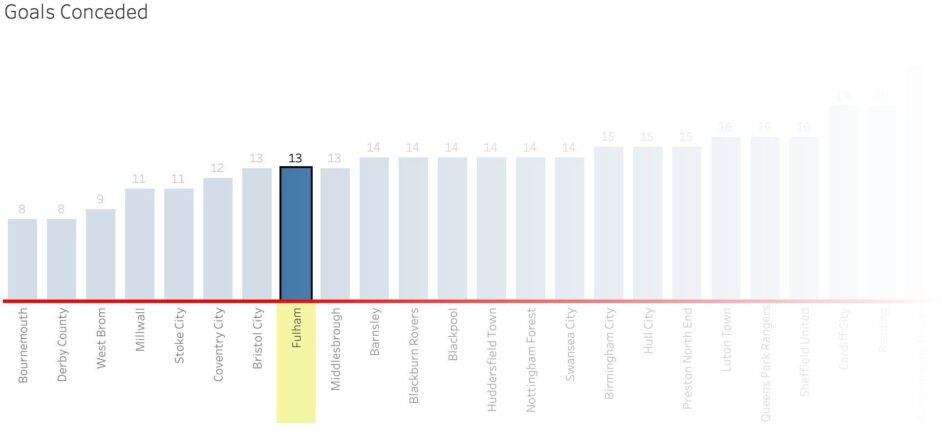 However, when you combine the two, only West Brom have a better goal difference than us; all in all it's been a promising start from our boys in black and white, but there have been some notable hiccups along the way.
Expected Goals For and Against
Love it or hate it, xG is a fantastic metric to understand how good a team is at creating and putting away chances and how good they are at stopping their opponents doing the same thing.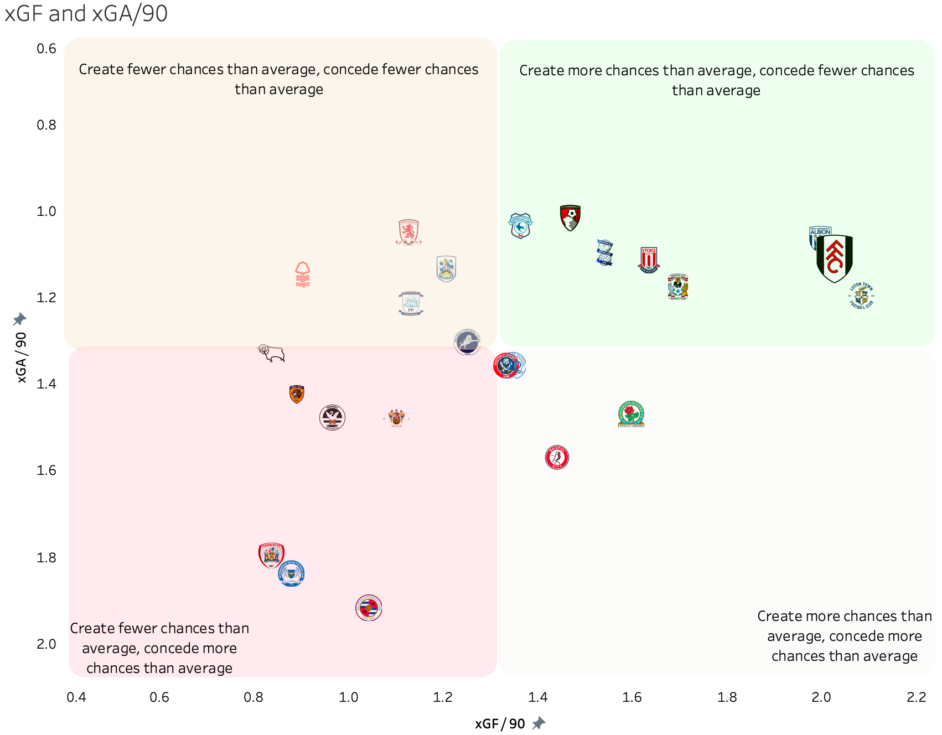 With an xGF/90 (xG For) of 2.03 and xGA/90 (xG Against) of 1.11, we sit above average for both metrics. Only Luton have produced a better xG than us so far this season, and only five teams have conceded a lower xG. For me this is really important, it shows that our performances are of a top two level when it comes to the parts of the pitch that matter.
Why do I find it important? Especially when only 11 games into a season, where you are in the table only matters so much. The numbers that underpin those games are what tend to have more importance. You are inevitably going to get anomalies and fluctuations, games where you lose 1-0 to your opponent's only shot on target, or a game where you win 2-0 thanks to two screamers. However, over the course of a season, by the nature of metrics such as xG, they tend to converge with what they are predicting – goals. Therefore, at this stage, we should take encouragement out of these xG numbers.
However some worrying trends have presented themselves since the previous international break. Looking below, we can plot xG performance from within each game.
The red crosses denote the xG we have conceded, and it's easy to see the marked rise in these crosses from game six. We were really fizzing in those first five matches, creating chances and hardly conceding any; we were the talk of the league. Since then, we really have regressed; we're creating less and conceding more.
This is a trend we need to reverse as we come out of the international break. It's hard to pinpoint exactly what's causing our issues, and most likely it is a combination of factors. Injuries to Carvalho and Tete certainly won't have helped at either end of the pitch. Perhaps there is also a naïvety, after glamorously brushing opponents aside, we've had some serious wake-up calls. What's for certain though is, we aren't the same side at the moment as we were for the first snippet of this season.
How do we compare to our last Championship season?
Despite an ultimately successful season under Scott Parker in 2019/20, parts of the fanbase weren't overly enamoured with the style of football that we were playing. The majority of this season has felt different under Marco, we've felt more exciting, a bit quicker in possession and more creative. But do the numbers back this up?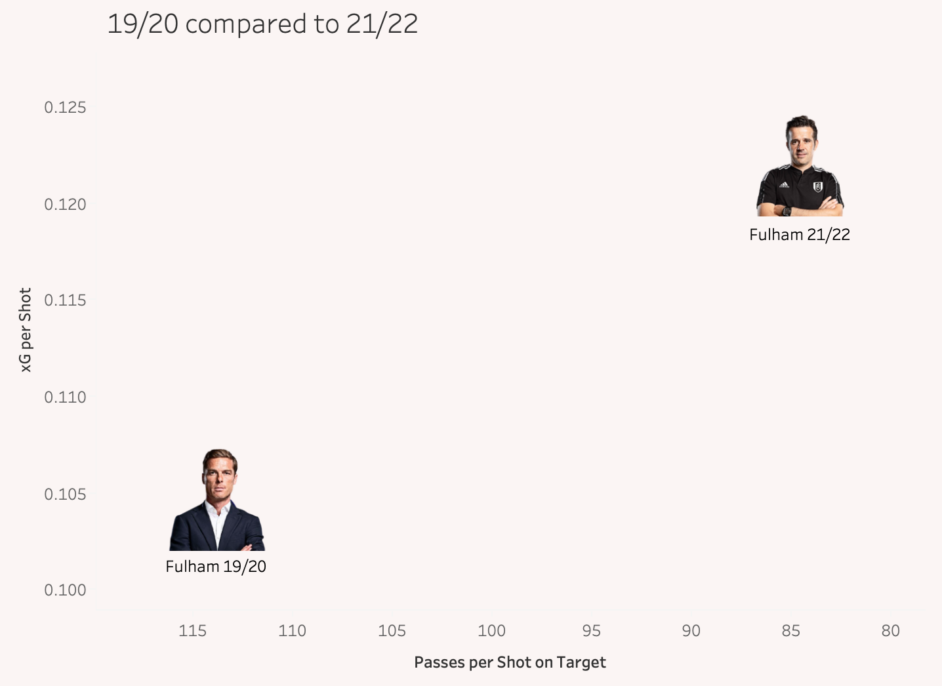 In short, yes. We've had a very similar amount of possession to that side two years ago, however as we can see above, we have a shot on target roughly every 85 passes, compared every 113 passes under Parker. As you may have inferred, this means we're having more shots on target per game, which also translates to more shots per game. What's most important, is not only are we taking more shots, the xG per shot is 15% higher under Marco Silva. Therefore, we're taking more shots, from more dangerous positions.
This is exactly what we have been wanting, a team that shows more purpose, getting into more dangerous areas. Marco Silva is doing his best to unleash the attacking talent we have in this squad, and for the most part it has showed and it has worked.
Conclusion
It's not been a perfect start to the season, far from it. However, the numbers behind our matches so far, suggest that we are one of the best, if not the best, in this league.
I can sense the comments of "the only number that matters is how many points you've got". Whilst this is true after 46 games are played, right now, there is hope to be taken from our data. We have the makings of a side that will be in the top two at the end of the season.