Why Neeksens Kebano will be key this season
Written by Jack Stroudley on 30th September 2021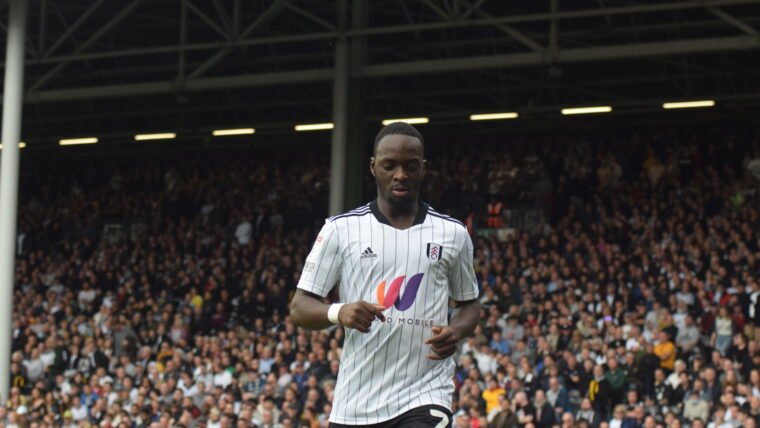 Jack Stroudley takes a look at the important role Neeskens Kebano could have this campaign.
Last night we saw Fulham getting back to winning ways, a silky and measured performance with a lot of plaudits rightfully going in the direction of Aleksandar Mitrovic.
However, one man who went about his business confidently was our charismatic and ever-loved Congolese winger, despite the inevitable rotation he's endured so far this season. Here's why I think the key to chance creation on the left-hand side falls to Neeskens Kebano.
A desire to create
Embed from Getty Images
Last season we became so accustomed to slow, turgid football with no one willing to bust a gut in order to create chances. Neeskens provides that in abundance; his constant willingness to drive forward and bring others into the game is something that Marco Silva needs to continue taking advantage of.
Kebano showed regularly last night his ability at this level, and he's someone who clearly loves the club. His loyalty to Fulham is a testament to his character and that, mixed with his evident talent, should be enough to warrant starting a fair chunk of games over the course of the season.
A dead ball specialist
Embed from Getty Images
On top of attributes stated above, one of the biggest components to Kebano's game has to be his ability from dead ball situations. We saw his unbelievable record at free-kicks during the tail-end of the 19/20 season, including an all important goal away at the Cardiff City Stadium during the play-offs. Neeskens almost stole the show at home to Leeds in the Carabao Cup where a free kick fell just wide of the post.
As well as free kicks I think he also has the composure and talent to be our regular penalty taker. We all know what Fulham are like from the spot. I think the Leeds shootout, as well as Mitrovic's missed penalty against Stoke, collectively reminded Fulham fans that our mishaps from 12 yards haven't gone away.
One man who scored a very well-taken penalty against Leeds was Kebano. As mentioned above, his composure in dead ball situations surely puts him in contention for penalty duties in the future.
Different options
Embed from Getty Images
It's worth also having a look at Neeskens' biggest rival in terms of competition at left wing. Ivan Cavaleiro has come under a lot of scrutiny among Fulham fans both this season and last. His inconsistencies at both Premier League and Championship level have left a lot of us disgruntled as to why he continues to play consistently.
However, despite me wanting Kebano to start on a regular basis, I think it would be incredibly naive to write off Cav just yet. Yes, his performances have been lacklustre for the most part, however he still clearly has a lot of talent at this level and will be a useful asset for Silva throughout the season, when fitness and injuries continue to take a toll.
Can he cut it?
Embed from Getty Images
Overall, I believe Neeskens Kebano has fully warranted a run of starts under Marco Silva. His abilities both on the ball and in dead ball situations is something we should use to our advantage regularly. As of right now we sit third in the table. If we were fortunate enough to get promoted again would Kebano cut it at Premier League level? That question is yet to be answered.