Is Marco Silva really the best we can do?
Written by Colm O'Donnell on 1st July 2021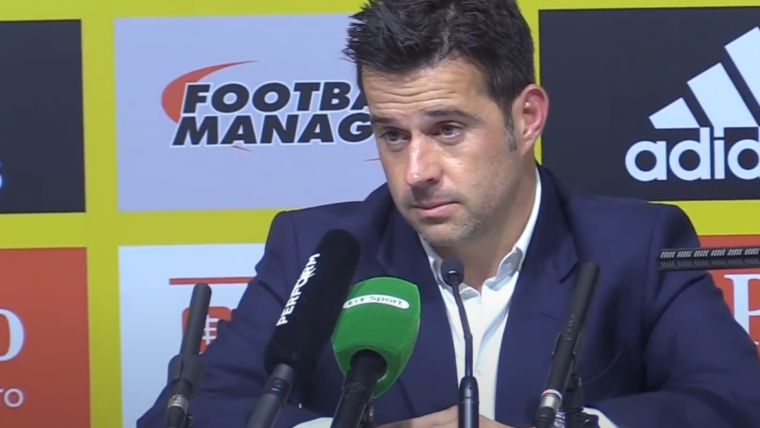 Colm argues that the ex Hull, Watford and Everton man is the wrong choice for the job.
According to Peter Rutzler of The Athletic, Fulham have provisionally agreed a deal with Marco Silva to take over the hot seat from Scott Parker. This is the same Marco Silva who hasn't been able to find a job since being sacked by Everton in December 2019 as they sat in 18th place in the Premier League. For me, this news is totally underwhelming, even if it might mean the return to the Cottage of Luis Boa Morte, who was Silva's assistant at the Toffees.
Failure in England
Silva's had relative success coaching in Portugal and Greece, winning the Taça de Portugal with Sporting and the Super League with Olympiacos, Silva can only be described as a failure in England, and apart from some periodic good runs of form has never had any success here. His biggest achievement was having Watford in the Champions League places in October 2017 – just eight games into the season. That run of form attracted the interest of Everton, who offered Watford £10m to buy him out of his contract. Watford held firm though, only to sack him three months later citing "that unwarranted approach", which caused a "significant deterioration in both focus and results" as Watford went into freefall down the table. He clearly had his eyes on bigger and better things and Watford were merely a stepping stone for him, whether they liked it or not.
Embed from Getty Images
Arrival at Everton
Silva would eventually get his move to Everton for the 2018/19 season, after the Goodison fans grew tired of Sam Allardyce's style of football. He achieved an underwhelming eighth place finish that year – ironically, the same result Allardyce had the year before. The 2019/20 season, however, was a disaster, and he was sacked in December with the lowest win percentage out of any of their previous five managers.
Before all this, Silva was tasked with rescuing Hull City from Premier League relegation in January 2017, after Mike Phelan was let go by the Tigers. He failed to keep them up, and then unduly resigned claiming "It's my goal as a manager to work in the Premier League."
Embed from Getty Images
Considering the nature of his exits from both Hull and Watford, it seems to me that loyalty is a character flaw of Silva's. Trying to manoeuvre his way out the door after just eight games at Watford and claiming he wants to manage in the Premier League after getting Hull City relegated both seem very subversive reasons to leave a club. That, on top of his lack of success in England, means it beggars belief why Mr. Khan would look in his direction.
According to many of his previous players, he does seem to build up a fantastic rapport with his squads and his impeccable attention to detail is something that's brought up time and time again, but these are of no use unless results follow, which hasn't been the case for Silva.
Continental name
Embed from Getty Images
While he doesn't have as exotic a name as Silva or some of the European managers on the market at the moment, I was just starting to get used to the idea of Chris Wilder coming in. After getting Sheffield United from League One to ninth in the Premier League in just four seasons, the man has a proven track record in the leagues that matter to Fulham, while the same cannot be said about Silva. After what has been a tumultuous few weeks since the season's end, it seemed an experienced shining light was on his way to help bring us out of these dark days, only for our Chairman to get distracted by a shiny continental name with little or no success.