It's time to cash in on Mitro – or is it?
Written by Mike Forrest on 3rd June 2021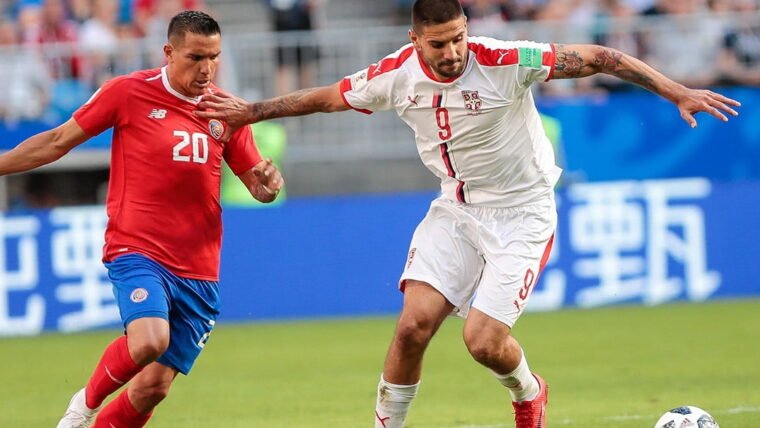 In this two-hander, Mike and Cam debate the pros and cons of offloading our Serbian striker.
The story goes that Slaviša Jokanović was watching Sky Sports News reporting the deadline day deals from the January transfer window of the 17/18 season. He saw the breaking news that his fellow Serb, Aleksandar Mitrović, was in fact not going to Anderlecht as the deal had broken down. A WhatsApp message followed and the rest is history.
But has the time come to consciously uncouple with our Serbian star? Here are the cases for and against.
Thanks for the memories, but it's time to go
Mike says:
Mitro joined on loan, at a point where we were seven games unbeaten in the league, but playing catch-up after an indifferent start to the season. Neither Rui Fonte nor Aboukabar Kamara had established themselves as first choice strikers, and it would be Mitro that would spearhead us to remain unbeaten until the final game of the season. He scored 12 goals in 17 appearances as we got promoted through the play-offs. 
The previous season we'd fallen at the play-off stage. Jokanovic had been lumbered with an uncommitted Chris Martin, yearning for Steve McClaren and Derby, as his main striker. Mitro vanquished these sour memories. 
The following season was a write-off. We went through three managers on our way to an embarrassing relegation after a summer of heavy spending. Mitro, whose loan was made permanent in that £100m-plus summer, was one of the few shining lights in a dark season, scoring 11 goals. 
Embed from Getty Images
Already a fan favourite at this point, Mitro committed to a bumper new five-year contract – enhancing his reputation. His physical style, penchant for winding up opponents and goal-scoring touch were endearing qualities, especially the latter. He played 40 league games the next season, the most games he'd ever played in a season, and helped us achieve promotion.  
He played through an injury for much of the latter end of the season, and assisted Joe Bryan for his second goal in the play-off final, despite being injured going into the game. The iconic image is that of Mitro hobbling off to join the celebrations while taunting the sullen Brentford defenders. Again, adding to his aura as a fan favourite. 
However, in football it is very much a case of "what have you done for me lately?". Mitro contributed precious little to our latest Premier League survival attempt. An abysmal display against Sheffield United at the start of the season saw him miss a penalty, concede a penalty and miss match-winning chances. This would be a season lowlight but things hardly improved as the campaign progressed. 
His fondness for attempting to wind up opponents remains, but this quality has worn thin, and his other attributes seem to be on the wane. No longer a physical threat, and looking unfit for the majority of the season, and also no longer scoring goals – he offers precious little. Rumours of a fallout with Scott Parker also don't bode well. 
It could be time to say thank you and cash in now, before his stock dips even further, and perhaps invest in a player like Adam Armstrong from Blackburn Rovers who might be more suited to Parker's pressing style. 
Mitro needs to stay
Cam says:
Mitrovic, at Championship level, is in his element. Standing in solidarity with Mike, the Serb didn't hit the heights last term, his sudden and severe nosedive in form, which incidentally lasted the duration, narked Fulham fandom worldwide and his once exalted prestige, revered as one of Europe's deadliest strikers, is now regretfully wallowing in the mire, face down.
We're all vexed, perplexed and somewhat sympathetic of Mitro's languid conduct. He single-handedly robbed his nation of a spot in this summer's Euros, he was dropped, unceremoniously, from the Whites' starting XI and when he was called upon, Scott Parker's improvised system simply didn't cater for his antagonistic aptitude, with all its motionless, inexpedient characteristics.
Yes, the 2020/21 campaign was horrendous for Mitro. Serbia's darling traded a hero's cape for a villain's. He was rendered surplus at club level; a subordinate filler, but despite all of this, though £20m+ would almost certainly suffice, I fervently implore our troubled striker to stay put for one last dance in the Sky Bet and, equally, for the powers that be to pardon him from the transfer market.
Embed from Getty Images
Of course, if it's to be believed, Mitro and Parker may not see eye to eye. Relations between the two may be fraught, although if Parker is to remain at the helm, he would be a short-sighted fool if he were to devise an exit for the 26-year-old because when he's fixed and focused, Mitrovic is a trigger-happy menace with a proven track record. Our memories surely aren't that hazy, we aren't that dismissively fickle; if we flog Mitro, we royally fuck our chances of bouncing back.
Mike alluded to this perfectly. In the Championship, in one-and-a-half seasons in a Fulham jersey, Mitro netted 38 goals, a ridiculous return for a man that purely relies on his strength and aerial ability first and foremost. Those kind of numbers are usually reserved solely for the more versatile, nimble attacker but Mitro's bread and butter is box sieging and in England's second tier, there isn't any hitman that's better equipped to run the rule over goal mouths like he does so intrinsically.
Premier League defences sussed his game promptly, wiser compliments doubled, even tripled-up on the bustling target man, however Championship rearguards aren't as willing to expend their efforts on Mitro alone. Mitro causes a ruckus, if a side attempts to mark him out of the game, they tempt the very real risk of leaving the door ajar for runners to roam into generous pockets, the slightest flick from Mitro's buzz cut will do, so naturally, lesser prepared teams are wary.
Embed from Getty Images
Mitro feeds on fear; your average Championship centre-half quakes at the sight of our No.9's steely glare and that only fuels his ego. It's that sense of importance that's vacant from his current self; an authoritativeness that bays for blood unquenchably. But when his brow dips ominously and his disposition darkens in the final third, Mitro wreaks havoc, tormenting unsuspecting penalty areas and an eruption's imminent.
Tactical amendments will need to be implemented, manufacturing a pragmatic process of profile and longevity is the only way Fulham will establish a long-lost consistency and as Mitro's tried, tested and verified in the Championship, why can't we rebuild a system that compliments his style and aptitude? Tom Cairney will have an outlet to construct from, our wingbacks will have a marksman to bombard, Fulham's offensive sequences, which were hideously overcooked in the top-flight, will actually possess a purpose if we utilise his familiar services properly.
There's bound to be muted murmurs of discontent. Nobody's truly privy to all the accurate, fabricated, gory details and mistruths, but conjecture will always find a way of clouding reality. Mitro's future in SW6 is uncertain; he could very well be pushed through the garbage chute without a fond farewell but while he's on our books, before the vultures circle, we've a collective duty to revive our misfiring, misguided goal machine and if life is breathed into Mitro's lungs before our return to the world's toughest platform, Fulham will prevail in an environment where our resident man on fire sets the game ablaze.