Which was worse: 2018/19 or 2020/21?
Written by Drew Heatley on 24th May 2021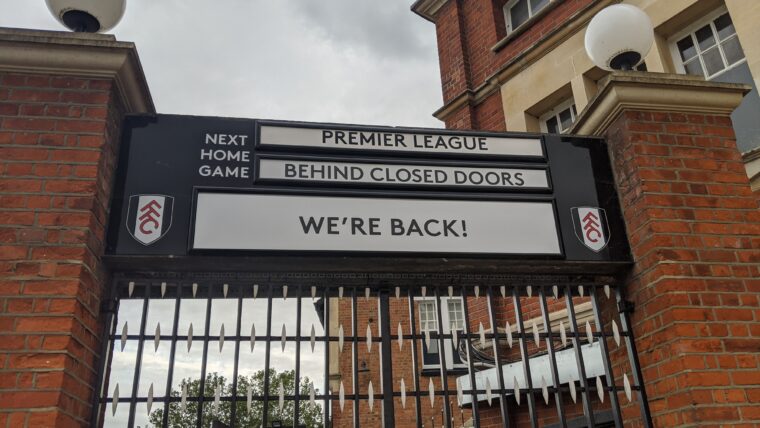 Drew looks at a handful of entirely random metrics to see if this stab at Premier League survival was worse than our last one.
Well, thank God that's over. The curtain finally fell on what was, frankly, a bit of a joyless – and certainly soulless – Premier League campaign. And once again we found ourselves wanting when it was all said and done. But was this season worse than our ill-fated 2018/19 campaign? Let's compare.
Embed from Getty Images
League performance
18/19: 7W, 5D, 26L. GF: 34 GA: 81. 26 pts
20/21: 5W, 13D, 20L. GF: 27 GA: 53 28 pts
Let's start with the most black-and-white metric and go from there shall we? For me, this season has been all about the value of a draw. We talk often about "a good point" or "a point gained". And equally the phrase "two points dropped" is bandied about by fans and pundits alike. Our run of five consecutive league draws in December and January gave us the veneer of success and progress, when in fact we were just treading water – more and more frantically as each solitary point was notched up.
We did, however, lose a whopping six fewer games this term than last. I think that's why it hasn't felt quite so bad on the surface. But when you see we couldn't even match the seven games we won in 18/19, it's obvious to see where we fell down. The bar of 81 conceded in 18/19 was so low it was buried with Roman pottery, but it was still nice to groan 28 fewer times this term. What is interesting, however, is for all the talk of our inability to score, we only notched up seven fewer goals this time around. Though a Premier League record-low nine goals at home speaks for itself. Woeful.
Embed from Getty Images
Manager(s)
18/19: Slavisa Jokanovic, Claudio Ranieri, Scott Parker
20/21: Scott Parker
If the 18/19 season was characterised by managerial chaos, then at least this time we did it right. Look, none of us were convinced the squad was ready for Premier League football when we beat Brentford at Wembley – and boy, did it show in the first handful of games. But we were almost all in agreement when we said "leave Parker alone for the duration of the campaign. If we go down, then we go down. Give him a chance". And, to the ownership's credit, they did that.
Sure, he might have infuriated us with his stubbornness and refusal to adapt, but there's been a togetherness among the squad that was hugely lacking before, and Parker has to take credit for it. Now, with the season over, question marks over his future are popping up everywhere, like a weed-ridden garden, and it looks like his time at the club might have come to an end. But I'm not sure booting him out any earlier would've helped.
Embed from Getty Images
Season's hero
18/19: Callum Chambers
20/21: Alphonse Areola
Loan star (it was ever thus) Callum Chambers won our hearts in 18/19. His tale of redemption from deer-in-the-headlights centre-back to assured and dynamic defensive midfielder will live long in the memory. It smacks of developing other clubs' players for them, but I digress…
The club awarded POTS to our French stopper Alphonse Areola last week – and it was the right choice in my opinion. He must have called his agent at least once a week to berate him for sending him to such a cluster in the run-up to a European Championships, but there we are. A good goalkeeper can earn you 10 points a season, or so the saying goes. Van Der Sar was the first 'keeper to show that was completely accurate. Whether Alphonse managed it is less clear, but he almost never had a bad game. And he made us all comfortable with putting Marek Rodak in a drawer for safekeeping for nine months. And that might be his biggest achievement.
Embed from Getty Images
Season's villain
18/19: Andre Schurrle
20/21: Ruben Loftus-Cheek
Is it a coincidence that both villains have Chelsea connections? Probably not. But both certainly came in with huge reputations – and both promptly delivered very little.
Schurrle, to his credit, did pop up with six goals (notably a worldie at Turf Moor), but other than that, he seemed more interested in building his personal brand, with Instagram posts aplenty. But it was still relatively surprising when in 2020 he retired, aged just 29.
RLC came in as one of our two precious Premier League loans, but he came in unfit and seemingly uninspired (citing the fact he didn't have to move to accommodate the loan should've been an immediate red flag). A deflected consolation goal against Everton aside, Loftus-Cheek rarely exceeded a 5/10 performance in a Fulham shirt. And I'd not be surprised if he lined up against us next season in his next temporary move.
Embed from Getty Images
Season's high
18/19: Brighton (A) – at half-time
20/21: Liverpool (A)
The 2018/19 season peaked at the AmEx stadium as the teams left the pitch for half-time. A goal from the aforementioned Andre Schurrle gave Fulham the lead again Brighton, and we looked good for back-to-back Premier League wins, having beat Burnley 4-2 a week earlier. A Mitro goal on the hour would put us further in the ascendancy, before everything fell apart. Two goals from Glenn Murray, including a late penalty gave Brighton a point, and it shocked us to our core. I'm not sure we ever got over it.
This season, it has to be our win at Anfield. Honourable mentions go to our first-ever league win at Goodison Park, and our victory at the King Power, but beating the champions, albeit a weakened side, capped a brilliant seven-game period where we picked up 12 points from a possible 21 to move level on points with Brighton and within touching distance of moving out of the relegation zone. We'll not talk about what happened next, but at full-time on that day, the great escape was on.
Embed from Getty Images
Season's low
18/19: Huddersfield (A)
20/21: Aston Villa (H) and (A)
An absolutely dire performance at the John Smiths Stadium against Huddersfield was a death knell for Jokanovic's Fulham tenure, and for our Premier League season – and it was only November. We'd only picked up one point since Brighton stunned us, and Slav would leave after the following game against Liverpool. The only bright point? It sparked the famous whisper podcast with Jack and Sammy.
This term, both games against Villa marked the lowest ebbs of our season, which can be split into two sections. The 3-0 gubbing they handed us at the Cottage in September was the spark that forced our recruitment team into action and supplement our play-off-winning heroes with some Premier League quality. But man, did that game hurt. We offered absolutely nothing, and were rightly trounced by a Villa side that stayed up by the skin of their teeth the term before.
The away fixture hurt just as much, for different reasons. A result would have moved us out of the relegation zone with seven games to play – a platform that could well have given us the edge against Newcastle as we moved towards a potential final day showdown. A goal from Mitro on the hour, fresh off a purple patch for Serbia, made us dream, before villa hit three in nine minutes to send us packing. We never recovered.
Embed from Getty Images
Off-the-pitch shenanigans
18/19: Sumo suits and training ground fists
20/21: 'Rasslin'
Finally, it seems a Fulham Premier League campaign – with the eyes of the world on us – wouldn't be complete without some sort of off-field banter. Last time out, we had our then-assistant DoF, Craig Kline, allegedly suggest he wrestle Jokanovic in padded sumo wrestling suits mid-press conference, while Aboubakar Kamara was arrested at Motspur Park for a post-yoga bust-up with fellow striker Mitro. While both episodes were slightly amusing, this sort of stuff does little to make us look like a professional top flight outfit, particularly when we're failing to show it on the pitch.
This season, we've again struggled to remain an elite club, while our Director of Football gains notoriety in his home country thanks to All Elite Wrestling. Tony Khan wears many hats, this is nothing new, but his appearances on AEW's programming, and that or rival wrestling promotion, IMPACT Wrestling, where he played a Vince McMahon-style character of the cocky owner, has once again made Fulham FC a figure of fun. One of the worst things about the Championship is that no one, other than fans of the clubs within it, pays any attention to it. But in our case that's probably a good thing, as we try get our house in order privately.
So, was this season better or worse than 18/19? I understand that's like choosing between the devil and the deep blue sea. But, on balance, this doesn't feel quite as painful as before. I feel… apathetic. And that's perhaps more dangerous. It's time for a break and time for a reset – let's hope we take advantage of both.