Parker or Mitro – the choice is obvious, isn't it?
Written by Rhys Daly on 13th May 2021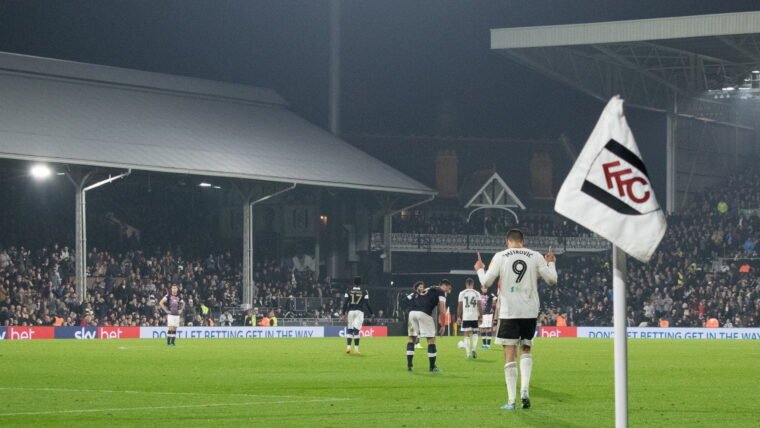 The relationship between Fulham's promotion-winning manager and double promotion-winning striker is already dividing fans ahead of what promises to be a gruelling summer – but Rhys knows which side he's on.
I'd like to begin by saying that while keeping both Scott Parker and Aleksandar Mitrović in a bid to secure a third return to the Premier League in six seasons isn't out of the question, their comments immediately after relegation suggest one, or both, could target a new challenge before August.
A flickering flame
While Parker's management has only recently started to come under question following a period of short-lived optimism across February and March, Mitrovic has had the most disappointing season of his senior career.
The 26-year-old's five goals for Serbia across just six days during the most recent international break provided even more questions over the three Premier League strikes he has managed across 25 outings.
A deeper look at the stats show the broader picture, with Mitrovic making just 13 starts for a side that abandoned the style that earned promotion and effectively withdrew the lone striker role in a bid to create defensive solidarity.
Embed from Getty Images
"In the end you always finish where you deserve to be."
Those words of Mitrovic to Sky Sports at Craven Cottage were said with a hefty portion of acceptance that the team hadn't done anywhere near enough to earn safety, but maybe a side of shade considering his notable absences.
He added: "We failed today. We failed this season. It's hard to find the words after the performance, after the season. It wasn't good enough; we didn't deserve to stay up.
"I've played football long enough to know that football is an honest game. Sometimes you get it and sometimes you don't. But in the end you always finish where you deserve to be.
"We didn't deserve to stay up this season. Everything we showed was not enough to stay up. It was good at times but overall we finished where we deserved to be.
Embed from Getty Images
"It's really sad. I'm really sad for the fans and the people in the club… it's really tough. Tough to find the words.
"We felt tonight that we didn't show the big character the big mentalities, and I think we cracked under the pressure a little bit and, yeah, we just were not good enough, brave enough – you can say whatever you want.
"We were not good enough – we try, we fight, we work hard but we lacked quality a bit at both ends defensively and offensively and in a league like this you get punished."
Adding of his own issues: "Not just for me, but for everyone it's been a challenging and tough season. On a personal level for myself and, yeah… I want to leave it here.
"It's happened a lot of things, but that's football, that's life, and we keep pushing keep going and we have to finish these three games and to see what will happen next."
Embed from Getty Images
It was heartbreaking to see the fiery talisman in such sombre mood.
From my point of view, there hasn't been another player quite like Mitrovic during my time supporting Fulham, and that isn't in reference to his ability in front of goal.
Mitro has shown a refreshing passion for playing at Craven Cottage that has particularly resonated with me, and has never suggested that he is on the lookout for bigger and better things, despite his Champions League past.
What next for Parker?
With or without Parker, I have no doubt that Mitrovic would go on to prove himself as the best striker outside the top flight again next season. But in relation to our manager – I have to say I'm less confident.
Our former captain has proved, despite poor results, that he has a brain for football management. Masterminding away wins over Leicester, Everton and Liverpool while earning plaudits from pundits and his former peers.
Having said that, he alluded after the most recent defeat that he is far from content with behind-the-scenes elements that he refused to detail, which might well have been digging away it him for some time.
Embed from Getty Images
A poor start to life back in the Championship could result in an uncoupling that is far less mutual than it would be currently, with his stock high enough to earn links to jobs that would usually demand more experience.
While Spurs looks to be a step too far, Bournemouth could well find themselves needing a new manager on arrival in the top flight, with jobs at Crystal Palace and with the England Under 21s also seemingly up for grabs.
He told Sky Sports of his future: "It's not a conversation for tonight. We've got three games left and my job is to get this team to finish the season in the right way.
"After that the discussion we have as a football club for what we need to do to improve will speak for itself.
"We'll make those decisions as a football club and we'll have those discussions. They happen at all good football clubs. We have to be honest and very brutal in terms of what happened this year."
Embed from Getty Images
Parker was careful not to commit anything beyond the visit of Newcastle to the legion of fans that want him to remain in west London, and that uncertainty is the last thing the club needs after the rushed pre-season of last year.
Although it's obvious that the former midfield general has given everything he has had to offer since he was first appointed caretaker in 2019, his tenure might now come to a natural conclusion after his 105th game in charge.
For those reasons, I'd be more disappointed to see Mitrovic leave the club on bad terms than Parker on inevitable ones, but remain hopeful that those issues that have caused a fracture can be ironed out as part of the crucial talks with the hierarchy that will follow.
It might well be optimistic, but I do believe there will be a change at the club which will hand Parker the tools to succeed again next season – and sincerely hope that he decides to include our boisterous No. 9 in them.