Our 2000/01 champions – in their own words
Written by Drew Heatley on 26th April 2021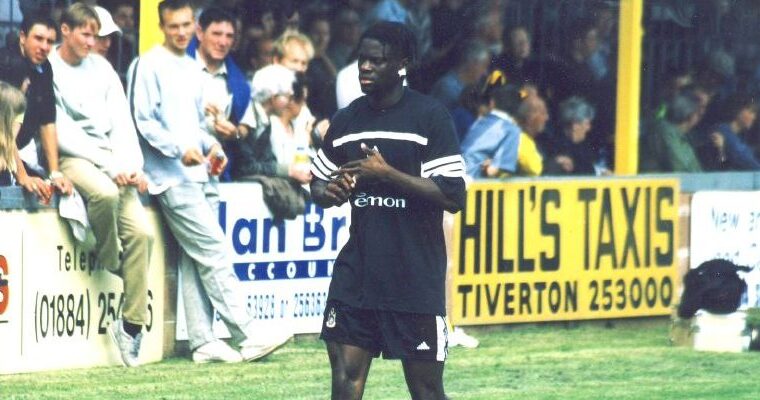 Drew digs out his old Dictaphone to listen to what our Division One-winning heroes remember about their incredible feat.
I was lucky enough to write for the Fulham programme for a few seasons from 2016 to 2019. It was a dream come true – and what's more, my remit was to talk to Fulham legends of the past. What a treat. A few of those men were part of our 2000/01 Division One-winning side – the team that took us to the Premier League. Here's what they had to say.
Embed from Getty Images
Maik Taylor
"It was my most enjoyable season by far. Blackburn away was an amazing day. With all the pre-hype talk and Souness saying this, that and everything else, the boys really stood up and showed what great togetherness and spirit we had.
"Tigana tried to sign a couple of big names that didn't come off that summer. But we managed to get Van Der Sar – and the money we paid for him (£7 million) was ludicrous. Tigana apologised… he said he wasn't looking to strengthen in the goalkeeping department, but needed a big name on board to attract other big names. He was honest with me, and I accepted that."
Embed from Getty Images
Lee Clark
"The change in diet, the fitness and the technical work that we did was just phenomenal. The senior British players – Chris Coleman, Kit Symons, Barry Hayles, Andy Melville, Simon Morgan, to name a few – all agreed we were the fittest we'd ever been. We had to be, because of the way the manager wanted us to play football; the possession we had and the tempo we played at.
"We got promoted in style; we scored a lot of goals. But when we couldn't get going and had an off-day, we had players prepared to fight and roll their sleeves up; you need that in the Championship."
Embed from Getty Images
Bjarne Goldbaek
"Jean Tigana coming was a game-changer. He was just so professional; he took the whole club to another level.
"It was so exciting to see a young player like Louis Saha come in. After 10 minutes watching him I thought, 'My God – what have we signed here?' And players like John Collins; you could tell after the first training session that the team was going to be massively better.
"We went to Clairefontaine at the beginning of the season. I'd had nine years in Germany before I came to England, so I was used to really hard training. Straight away the players believed in Tigana, and that grew as we started to pick up points. It was clear: only we could stop ourselves.
"We didn't even bring that many new players in. The backline was still pretty much the same. But all of a sudden, we were playing a different type of football. It was so enjoyable to be a part of it see how the team and the club was growing.
"Steve Finnan was a machine. He could run for 90 minutes at the highest tempo. At the beginning he was quite a shy person, with a dry sense of humour. I thought he didn't even know how good he was. He gained a lot of confidence and, after a while, he became too good for Fulham.
"I was 31 or 32 [when we got promoted] – so I knew it was a matter of time until my place was taken by someone younger. But Tigana treated me very well. He took me to the side and said, 'Bjarne, this is your position this season. I expect this and that from you'. I was losing a bit of pace, but I still had my job to do on and off the pitch. I think I was the oldest in squad at that time, along with John Collins."
Embed from Getty Images
Kit Symons
"The standard of football was incredible. Louis Saha had the best season I've seen anyone have. Then you throw in players like Lee Clark and John Collins – it was incredible."
"[Blackburn away] was, without a doubt, the main moment. Rufus Brevett getting sent off early doors and the build-up with Souness saying they were the best team. Then Sean Davis scored the winner. To see Tigana running down the touchline – a man who didn't show emotion – you just thought, 'Wow'. People talk about that moment a lot, and rightly so."
Embed from Getty Images
John Collins
"Initially, Jean's English wasn't great so he depended on me a lot of the time to transmit his messages to the players. I helped them in those early stages and I enjoyed taking on that responsibility. We brought the French teacher I had at Monaco to help the French boys learn English and integrate them into the dressing room.
"We had a lot of skill in the middle of the pitch. We could keep the ball, we could play killer passes. There was also grit and determination, which is an important ingredient. And of course we had great players in front of us and behind us. The back four fed us the passes, the full-backs were bombing up and down – Rufus Brevett and Steve Finnan had unbelievable seasons. And up front we had incredible players like Louis Saha, Barry Hayles and Luis Boa Morte. We had lightning pace, and for a midfielder who loves to play passes, there's nothing better than having an intelligent, quick striker who can run behind full-backs. There's no such thing as a killer pass without a killer run.
"The big one was going up to Blackburn. We had a player sent off and we won the game. They were the favourites at the start of the season. But to go there and win was a big statement. We treated every game as a cup final – we tried to win every single day. It didn't matter where or who we were playing. We wanted to control the game and the ball. We wanted to dominate possession. And if we scored one goal, we wanted to go on and get two or three. This was our philosophy."
Five of our heroes shedding some light on what was an iconic season, 20 years ago. It's moments like Sean's dancing at Ewood Park, clinching promotion at Huddersfield and sealing the title at the Cottage that make you so proud to be a fan of this great club. And the good times will no doubt come again.