Do we have a problem with conceding late goals?
Written by Dan Cooke on 22nd April 2021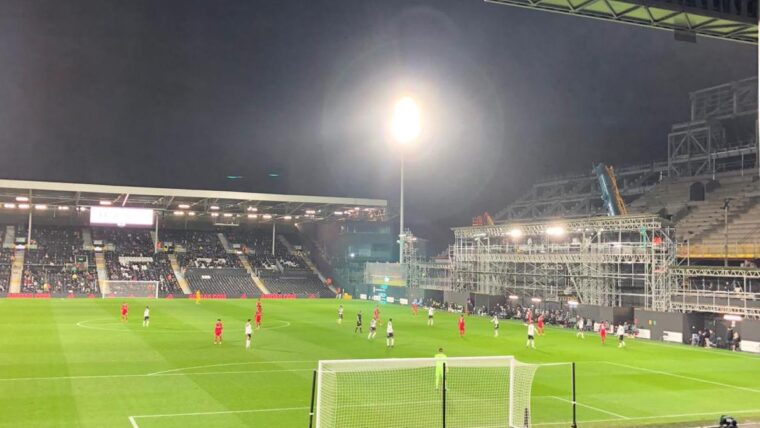 Dan Cooke takes a look at our tendency to ship late heartbreakers.
The late goals we conceded against Wolves and Arsenal were devastating. It made me wonder – Was this just a two-game blip or is it part of a bigger problem?
The Whites were infamous for conceding goals in the first 10 minutes of games at the start of the season. It became almost comical, to the point that we'd celebrate not conceding that early. However, as we have seen throughout Scott Parker's tenure, he managed to fix it; but did it just create an issue elsewhere?
Shipping early goals
In our first six games this season, we managed to concede four goals in the opening 10 minutes. It was clearly an issue, and Scott managed to put a stop to it. Over the course of the next 27 games, we only conceded twice in the first 10.
I've mentioned it before, but when looking at us this season it almost seems pointless analysing our first six games. We were woeful and unrecognisable to the team we are now – only one player in our starting XI against Arsenal started in the reverse fixture on the first day of the season. Therefore, I'm proposing a new metric – it's called "Post Palace" (PP). Crystal Palace at home was our sixth game of the season and the final game we played before Joachim Andersen and Tosin Adarabioyo were paired together. From then on, we completely changed as a side.
This piece will be written in line with the Post Palace metric and will allow a better look at when we concede, without the opening six games skewing the data.
When do we concede?
We can firstly break this down by seeing how many goals we concede in each half.
Clearly, we concede a larger proportion of our goals in the second half of matches. We've let 18 past us in the second half, compared to 11 in the first.
Quite impressively, 14 of our 27 matches have been goalless at half time. The sort of stat that would make a neutral think twice about watching any of our games. However, from a Fulham perspective, there's a positive in here.
We have kept ourselves in games much better than we did at the beginning of the season. By going in at 0-0, we set ourselves up well to try and take points from a game and I'm sure that's part of Scott's thinking. Yet, we're cemented in the bottom three, so we all know that there's a problem.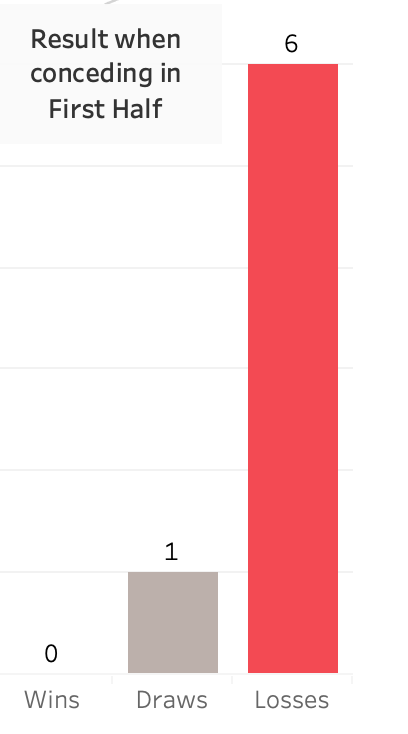 For a start, it's a good job that we concede more goals in the second half, because we have a terrible record when we concede in the first. This is perhaps unsurprising as we're not a free-scoring side, so the mere fact that we're conceding means we are probably unlikely to get points from a game.
We've kept a clean sheet in four of our five wins this season. Five of our 12 draws have been goalless. We know we have goal-scoring issues, so getting anything out of a game becomes a lot more unlikely when the opposition score. It's hard to write that without sounding like Michael Owen: "They hardly ever win when they don't score", but I do think there's an important point in here. Not being able to come from behind and win games is an issue, because you put so much pressure on yourself not to concede first.
Late heartbreak
The current topic of discussion though is: do we have an issue with late goals? To put it bluntly – yes, we do.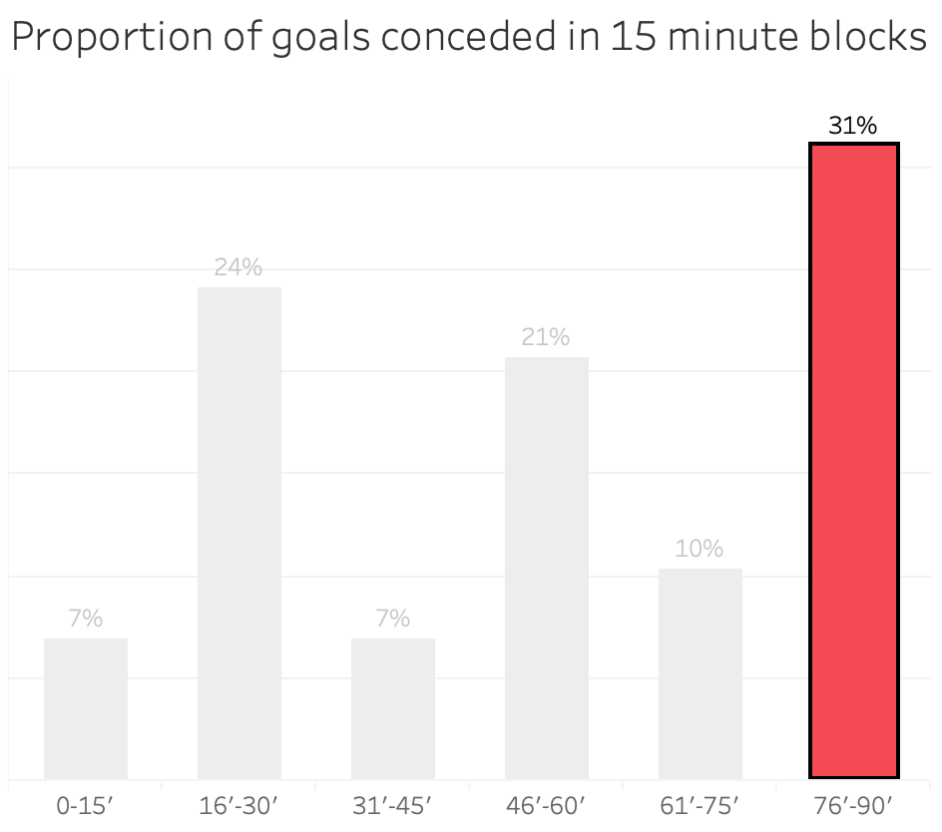 Nearly a third of the goals that we concede come in the final 15 minutes of matches. There is obviously no such thing as a good time to concede, but the later you concede, the less chance you have to respond. There's also the psychological element. We've seen the impact late goals have had on the team. To be clichéd, it's hard to pick yourself up off the canvas with that little time left in the game.
It's interesting to see that we concede 76% of our goals within three separate blocks. It's hard not to make general assumptions based on these numbers, especially because you have to concede at some point, so there's a danger of overanalysing. That being said, when pairing the data with watching our games this season, I do have my opinions as to why we concede when we do.
Why?
We are very cautious starters, most likely because of our early season issues. We try to keep it simple early doors, never being too adventurous. Realistically, you can't play risk-free football for 90 minutes. I think as we start to try and impose ourselves more on the game, we make ourselves more vulnerable. In itself, I don't think it's a bad thing (apart from when we concede), but it may help explain why we concede more goals between the 16th and 30th minutes
Although we've conceded six goals shortly after half-time (46th-60th minute), half of those goals were scored by Manchester City in the same game. Perhaps slightly forgivable, but it does still irk me how slow we seem after the restart. It may be naïve but it would be nice to see us come out aggressively, like West Brom did in our 2-2 draw. Instead we seem to start in exactly the same way as we start the first half.
And finally, the big one. I'm sure there are many factors involved and it is hard to phrase this without it sounding like Parker bashing. However, I think we concede these goals due to our mentality in the last 15. So often in games, we have had our backs to the wall, desperately trying to cling on. In the Championship, parking the bus worked, fans may not have liked it, but we more often than not held on. The Premier League is a different matter, and teams have found a way through us.
A combination of tiring legs, dropping deeper and deeper and not having an option on the counter has meant we are just highly prone to conceding late on. Do I blame Scott? Yes and no. It's foolish to think that on Sunday we should've been hunting for a second goal to kill the game. Our only real chance of the game came from the penalty spot, gung-ho football would've been suicidal. The week before against Wolves, we were desperate for a goal and it left us wide open.
Scott isn't wrong to try and park the bus and hang on, but the execution seems wrong. Loading the pitch with more defensive-minded players doesn't instantly mean you'll be better defensively. We had so many men in our own box against Arsenal that it felt confused and they had several chances because of this.
Pressure is also a factor. We have a young squad, full of passion, but you can see the impact the pressure has had on us. It's led to defensive errors, scrappy games and tears. You'd of course rather have a squad that cares about the club over one that doesn't, but I do think it increases the nerves on the pitch when we enter the closing minutes of a game.
How bad is the problem?
Analysis of when goals are scored means little without knowing the context of the game. We scored in the 95th minute against Palace, but it was merely a consolation goal. Similarly, Leicester scored in the 85th minute against us, but we still won 2-1. So how do these goals translate into points?
It's not a pretty graphic. To have lost 10 points in the dying embers of games is incredibly significant. On the flip side, we've only gained a point by scoring late on. It's hard not to ponder what difference those 10 points could've made (we'd currently be 14th, a point above Southampton). Football is rarely that simple, but we have thrown points away late on, and over the course of a season it adds up.
People can and will apportion blame in different ways, but my overriding emotion when writing this was that this is another example of where we've just not quite been good enough. The Wolves and Arsenal games aren't the reason that we'll go down, but they are a snapshot of the bigger issues that we have; issues that have repeated themselves throughout the season, and ultimately, that's why we are where we are.