Don't just play Mitro – play to his strengths
Written by Colm O'Donnell on 7th April 2021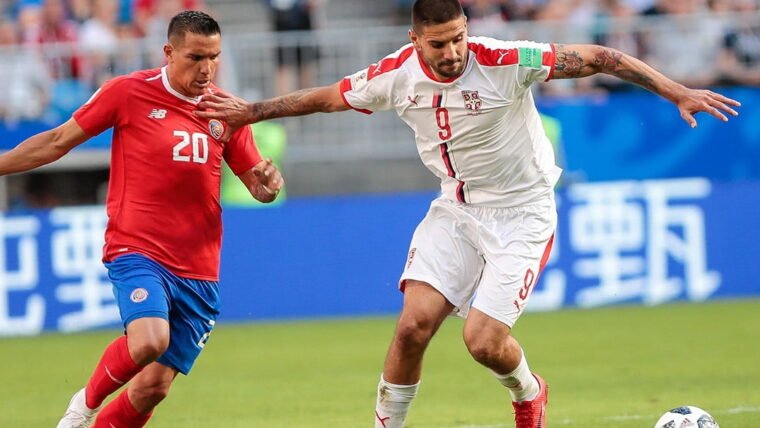 We all rejoiced when Mitro returned to the starting XI against villa – but we have to do more for him, as Colm explains.
It was an all-to-familiar story that unfolded at Villa Park on Sunday. We played nice attractive football, but failed to get the job done at the business end of the pitch. When it came to the final third, long shots, overplaying, and giving the ball away seemed to be the order of the day.
In Alexander Mitrovic, we have a player whose strength strikes fear into the opponent's defence (or so the song goes). When a ball goes into the box to him, more often than not, he causes some sort of havoc. He can strike with his feet from close range, he can head the ball and he can draw fouls in the box with his strength.
In the first 10 minutes on Sunday, that's exactly what happened. He had two shots that forced Martinez into good saves, and when Ademola Lookman crossed the ball in after six minutes, he and Mings tangled and he could easily have been awarded a penalty. Mitro was playing with confidence after his exploits with the international team and we were all optimistic after his impressive opening 10.
Embed from Getty Images
Why did we stop?
However, that's where it finished. Between then and his goal, Mitro touched the ball just once more in the Villians's area. We resorted to type and started to overplay the ball, allowing Villa time to set up defensively and force us into an interception or into long-range shots. We had 15 shots in total, with 12 of them coming from the edge of the box or further out, while Aston Villa intercepted us eight times in the final third whereas we did it only twice to them.
We conceded some very sloppy goals on Sunday and the defence needs to be criticised for that, but I don't see how we're going to win games if we continue to play as if we don't have a striker on the pitch. Mitrovic fed of scraps all day and did so well for his goal, but the opportunity was created thanks to a complete gift from Mings rather than anything our other attacking players created for him.
As an Irishman, I watched on in despair last week as Mitro came on with 20 minutes to go for Serbia and completely changed the World Cup Qualifier match. Granted, in Dusan Tadic, Serbia have a player who can lay the ball on a platter for Mitro, but what they did was so simple. Take his second goal against Ireland for example. Tadic gets on the ball on the edge of the semi-circle and just sits the ball up for Mitro, who climbs over Ciaran Clark and heads the ball home.
His goal against Portugal was just as simple. Radonjic gets to the end line and chips the ball into the six-yard box where Mitrovic overpowers two Portuguese defenders to head home. Serbia knew where their strength lied and did something about it. They averaged 16 crosses from play in their three matches which resulted in five goals for Mitrovic. Against Aston Villa, we attempted just six crosses using the same player.
Embed from Getty Images
We have the ability
Most annoyingly, we have the players who can cross the ball. The one ball Lookman did put in from the corner of the box was a great cross and this is where the penalty shout came from. And how can we forget his wonderful cross for Cavaleiro against Spurs in January that rescued us a point at White Hart Lane. Kenny Tete and Ivan Cavaleiro also have the ability to get nice balls in, while Antonee Robinson is strong getting to the end-line and dinking a ball into the danger area. This is what Mitrovic thrives on for Serbia and this is where he's thrived for ua in the past. But for some reason, we now think we're too good for this. It seems we'd rather get the pat on the back and the "but we played some really nice football" comments rather than play to the strengths we have to score and win games.
Embed from Getty Images
In no way am I advocating a complete abandonment of the fluid passing football that we have been playing and start lumping the ball long up to Mitrovic, but I do think we need to be a bit more direct in the final third. Let's play to our strengths and get the ball into the area where our most lethal striker can do damage and score goals.
It's easy to be downbeat after Sunday, but we have to remember that Newcastle are slipping up as often as us and if they continue to do so, we will keep being afforded chances to get out of the relegation zone. We've squandered two chances at it already, so we need to make sure we don't fluff our lines next time.