Kevin McDonald: a Fulham hero
Written by Rhys Daly on 2nd March 2021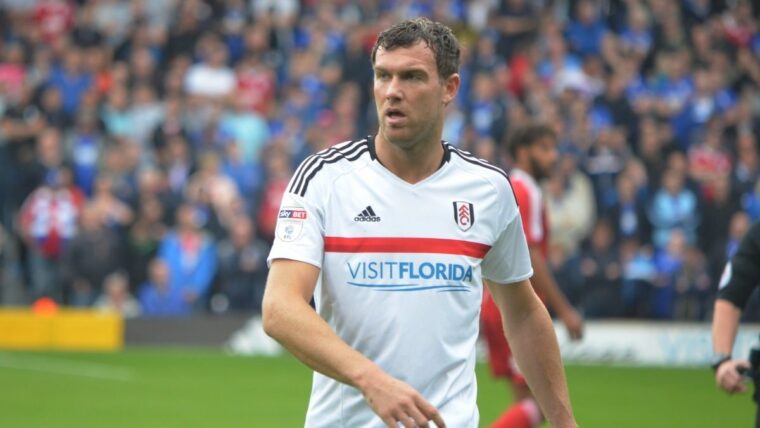 Kevin McDonald has had a remarkable influence at Fulham – and Rhys doesn't think KMac's finished at the club yet.
KMac's at a crossroads. His news this morning that he's set to undergo a kidney transplant after battling kidney disease for more than 14 years puts his career in football into sharp perspective. And we all wish him the absolute best.
Once he's recovered and back to full fitness, it's safe to say we'd all love him to continue to career in football at the club where he's had the biggest impact.
Raised by Wolves
In the four-and-a-half years since McDonald signed for Fulham from Wolves, the Scottish midfielder has played his part in 62 victories across 128 fixtures under three different managers.
Approaching his 28th birthday, McDonald joined FFC on an initial three-year deal with a club option for a further 12 months, agreeing a two-year extension in both 2018 and 2019.
His move to Craven Cottage didn't come as a surprise; the club had been pushing to sign the Wolves midfielder for more than a year before his arrival, which was noted by McDonald in his reasons for joining.
He said at the time of his switch: "They came in for me last season and I decided to stay at Wolves to give it one last crack.
"They came in again and were really keen to bring me in. I felt really wanted by the club.
"Once we managed to get the contract sorted out it was an easy enough decision."
Ready-made grit
It was no secret that the club wanted the robust midfielder to add some steel to the new-look side of Slavisa Jokanovic, with Scott Parker's playing days coming to a close ahead of his move into coaching.
After making 48 appearances during his debut campaign on the banks of the Thames, McDonald helped form one of the best midfield trios in Championship history.
Embed from Getty Images
Alongside new skipper Tom Cairney and former Celtic favourite Stefan Johansen, McDonald was the base of a solid platform that allowed Fulham's forwards (notably Ryan Sessegnon) to flourish.
Jokanovic oversaw 25 victories from 46 fixtures in the league in 2017/18, earning his side a points tally of 88 which included an unbeaten run of 23 outings (which proved too long for some to match recently).
While Cairney managed five goals and five assists in the league and Johansen added eight goals and eight assists – McDonald's strike away at Millwall remains just as fresh in the memory.
TC held the armband that season, but the influence of his fellow Scotland international didn't go unnoticed. 
His dressing room presence played a huge part in Fulham's return to the top flight, and that was sorely missed as the team crumbled the following season.
In a moment that will no doubt stand out in his career, Cairney shared the trophy lifting-duties after scoring the winning goal against Aston Villa at Wembley.
Top flight tribulations
After featuring in nine of the opening 11 fixtures in our 2018/19 Premier League campaign, an ankle injury forced McDonald onto the sidelines, before a surprise start in Claudio Ranieri's final game as boss against Southampton.
Following a run of starts under former team-mate Parker, McDonald spent more time on the fringes, providing a back-up option last season as we were promoted once again.
A secret revealed
The absence of McDonald on the pitch this time out might not have come as a surprise with the return of both Harrison Reed and Frank Anguissa, but little talk of a loan exit raised eyebrows, as well as a handful of discontented social media posts.
All became clear on Tuesday morning. The 32-year-old explaining how he's awaiting major surgery, having fought kidney disease since he was made aware of abnormalities at the age of just 18.
Although he retains hopes of returning to the pitch, McDonald has rightly put his health at the top of his list of priorities, leaving his career in the hands of his doctors.
He told Sky Sports: "I've got one kidney that doesn't work at all and one kidney that's about 10% now. I've been playing with stage 1, to now stage 5 kidney disease, which is chronic kidney disease, kidney failure.
"Now we're speaking up on this because a lot of people have been asking me, 'why are you not going out on loan, why are you not playing, why are you going into coaching so early?'.
"It's hard to digest but football is second priority now. My life, my family, my friends are number one, with my health even on top of that.
"That's where we're at now and we've just got to get on with it."
Still needed
Without speculating over his future, McDonald's influence both on and off the pitch has had an enormous impact on the success under both Jokanovic and Parker, and the man himself would no doubt have been delighted with the support he has received this week.
It was reported last month that the midfielder had been offered a coaching position at Fulham, and he is now working with the Under-23 and Under-18 sides.
Embed from Getty Images
He told the official website: "I'm 32 and I could probably play until I'm 35. The Premier League is probably too fast, but I know where I am in my career."
Before adding: "I won't know until I get the operation done and see how I feel."
Whatever happens in his career, McDonald will know that he helped Fulham climb into the biggest league in world football on two separate occasions, and was also able to represent his country.
All our thoughts go out to Kevin and his family, wishing him well in his upcoming operation, and we hope that when he's fit and well, he continues to call SW6 home.