Reed versus Lemina: the definitive breakdown
Written by Dan Cooke on 24th February 2021
In his debut piece, Dan Cooke uses the numbers to answer the question on all our lips: Lemina or Reed?
Harrison Reed or Mario Lemina? It's a question Scott and his coaching team will have asked themselves most weeks. Harrison has been a real fan favourite since his loan spell last season; his dynamism in midfield and his propensity to get stuck in meant we were all desperate for him to return on a permanent deal. Whereas there was some scepticism around Lemina's signing on loan. There were doubts from some as to whether we needed him, particularly due to his supposed weak mentality. Thankfully, Mario has put in some very impressive performances this season in the heart of our midfield and proved some doubters wrong. However, over the course of the season it's definitely been an either/or situation, with one of the two playing alongside Zambo, with the other on the bench.
They both share similar qualities and I was interested to see whether there was anything in the data to support Scott's decision to more frequently favour Harrison Reed. Due to Harrison playing more minutes, I've adjusted the stats to represent their output per 90 minutes.
Passing
Passing felt like a good place to start. Overall, they have very similar passing statistics, perhaps unsurprisingly as they fill the same role in Scott's side.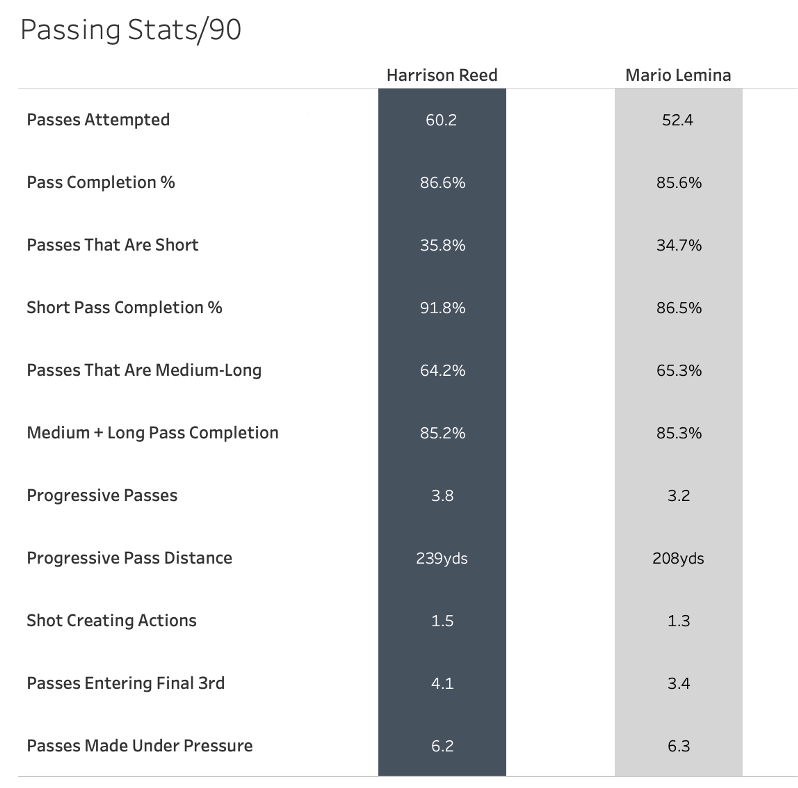 Harrison plays slightly more passes than Mario, but we can see their pass completion rate, as well as the proportion of their passes that are either short or long, are almost identical. Where we see the biggest difference is in the nature of the passes. Progressive passes, in layman's terms, are passes that move the ball towards the opposition goal. In general, this is a good thing – you want your midfielders to be creating that link from your defence to your forwards. This for me is where Harrison appears to stand out. He plays more progressive passes per 90 minutes, and in fact has played the fourth most progressive passes within our squad.
You need these sorts of players in your midfield, especially as a team that wants to play attractive football, as otherwise, as we have seen in some games, our forwards can be starved of possession. Especially when we are without Mitrovic, it's vital that we build through our midfield as we don't have the physicality to go route one. This is where having a midfielder like Harrison who can play passes that break opposition lines is important. This is backed up by Harrison playing more passes into the opposition's final third. The ability to cut through the opposition's lines and take us towards their box is how we create chances.
Dribbling and carries 
There's more to just passing though, as we've seen with Zambo. One of the things that he's not just the best for us at, but one of the best in Europe at, is carrying the ball.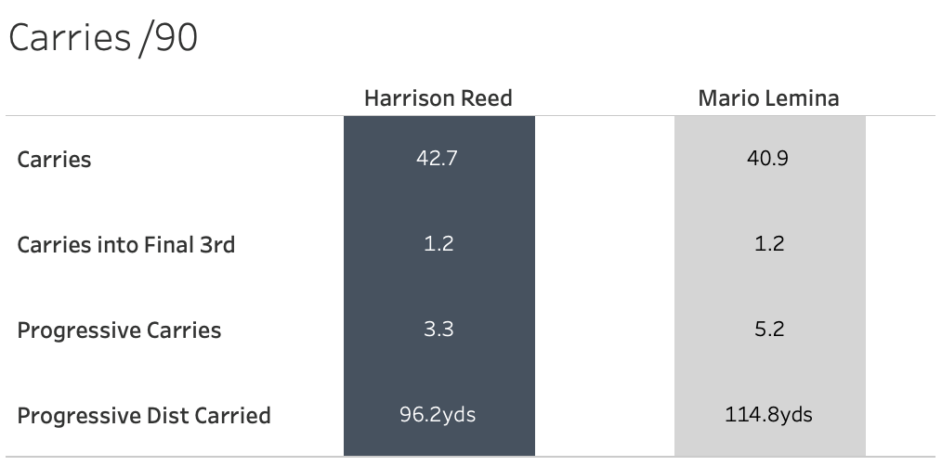 This is where Lemina stakes his claim. Where Harrison gets us up the pitch with his passing ability, Mario is able to use his strength and his dribbling abilities to take us up the pitch himself. Only four other Fulham players have more progressive carries per 90 minutes than Mario. He also carries the ball further than Harrison, once again showing that his style of play is to get us forward with the ball at his feet. This directness is another way to form that link from defence to attack, bringing our goalscoring threats into play.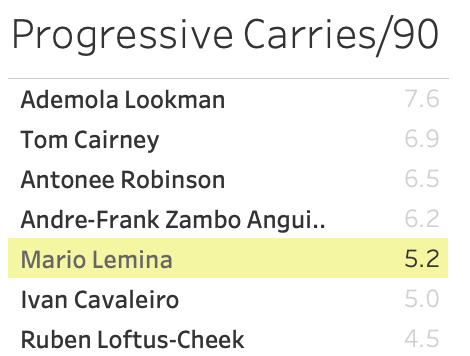 Defensive output
Finally, a key requirement of the role they play is their defensive capabilities. Both players certainly put themselves about, and I've been impressed by how they have protected our backline and goal.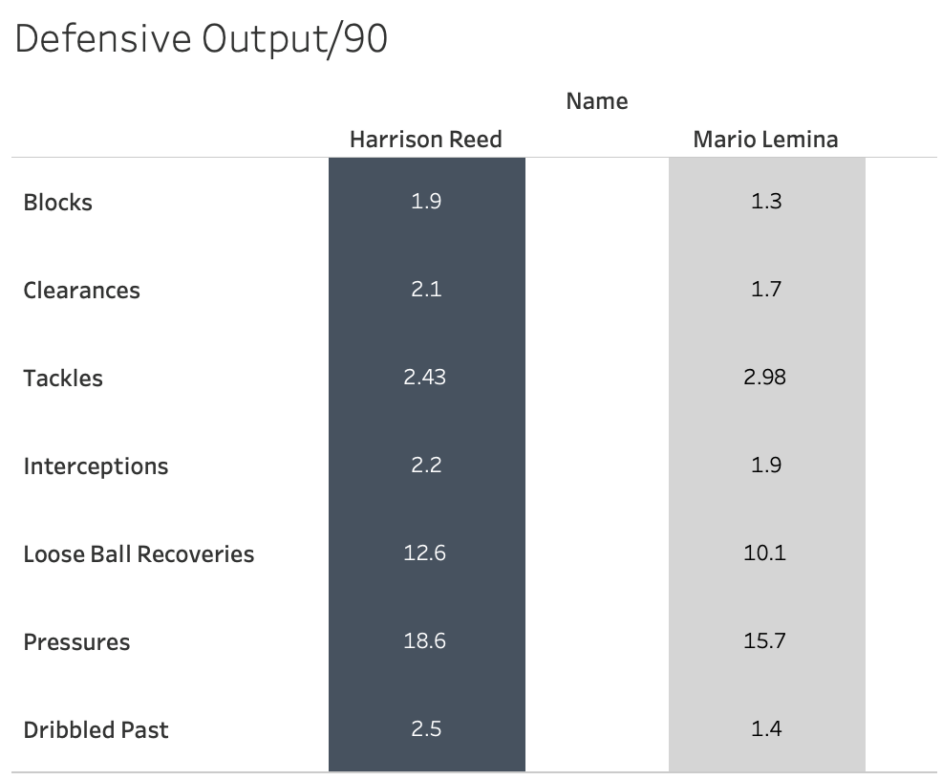 Overall, Harrison does seem to perform best defensively. We can all see how good he is at breaking up the play, particularly when it comes to intercepting passes and pressuring the opposition. However, we aren't talking about huge disparities in output, with Harrison only slightly outperforming Mario. But, we're approaching squeaky bum time this season, and those slightly better numbers could make all the difference in tight games.
One area of intrigue is that Harrison gets dribbled past considerably more than Mario does. This is where you can perhaps see the benefit of having a larger physical presence in our midfield. Harrison has that terrier spirit, trying to cover every blade of grass and it must be said that sometimes his over-eagerness can result in the opposition getting the better of him. The strength and comparative size of Lemina makes him a harder man to get past.
Who's Scott's Palace pick?
So, who should it be? From the data you could argue that Harrison perhaps slightly edges it but really, they have incredibly similar outputs. So why not play both?
We saw against Everton, one of our best performances of the season, both of them playing in the middle of the park. It seemed to unlock a side of Harrison Reed that we had not seen. When playing alongside Zambo, Harrison is stuck doing most of the dirty work. However, with the protection that Lemina provided him, we saw Harrison getting much further forward, playing in a very different role.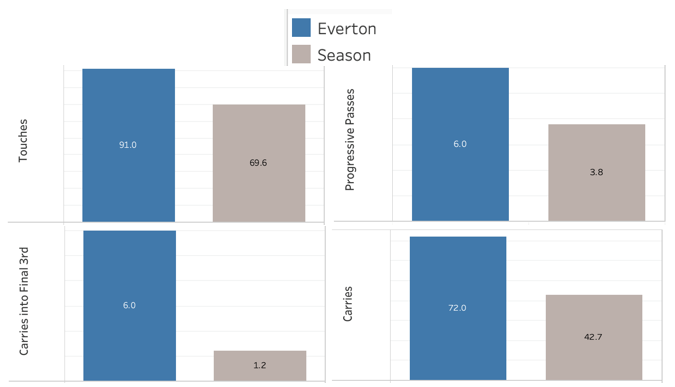 We can see how much more of the ball he saw and he drove us forward, both with his passing and his carries. His shot from the edge of the area created our second goal, a position he may not have been in if he was playing in his regular role. He was absolutely superb, and maybe his true quality is being suppressed by the more restrictive role he is usually made to play. Lemina's numbers show that he is absolutely capable of playing that anchor role that Reed is usually entrusted with, and in that game at least, they were a beautifully balanced double act.
It leaves Scott with a dilemma. Zambo showed against Sheffield United that he might be back to his best form and Loftus-Cheek looked promising in the number 10 slot. Therefore, once again, one of Reed and Lemina will probably have to miss out. It's a tricky decision, but as television pundit would say, it's a good dilemma to have.