The story of Josh Maja
Written by Colm O'Donnell on 16th February 2021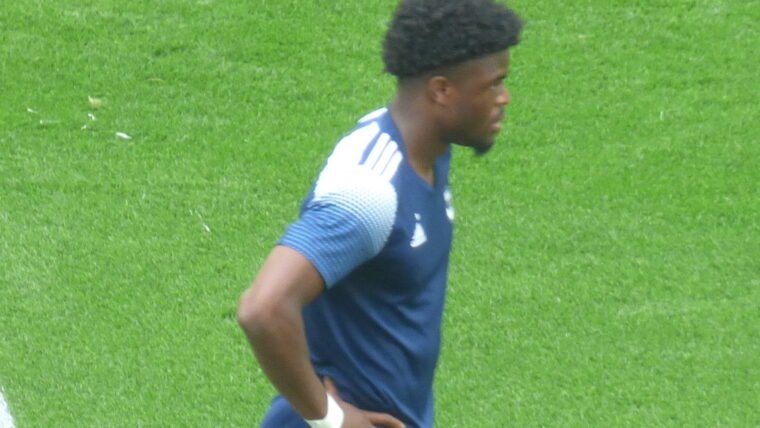 Colm takes a closer look at our Deadline Day striker and asks if he's the man to save us.
I have to admit, I was underwhelmed when Josh Maja's signing was announced on Deadline Day. The only reason I knew so much about him was because of the Sunderland 'til I Die documentary on Netflix, where he was portrayed as the villain of the piece.
While his goalscoring record was good for The Black Cats, I dismissed it as they were in League One. Having watched him bang in two on his full Premier League debut against Everton, I'm happy to admit, maybe I was wrong and maybe he's the exact type of player we need. Here's a look back at Josh's rise to this point from his early rejection from Man City to making his full Premier League debut last night.
Starting off at the Cottage
Maja's youth career started with Crystal Palace, before moving onto Fulham. While here, he also played for Manchester City Youths but failed to secure a scholarship with the Citizens. Sunderland however managed to do a deal with us and gave him a two-year scholarship in 2015. He impressed so much in that scholarship that by May 2016 he was signing a professional contract with the Black Cats, who were then a Premier League club. He made an appearance off the bench in a League Cup game that season but didn't feature again for them that year.
Sunderland were subsequently relegated to the Championship, where Maja hoped to get some game time, having made the bench a few times in the previous Premier League campaign. However, it took until December and for former Fulham legend Chris Coleman to take over the reins for him to make his breakthrough. Coleman looked to the youth academy to try breathe some life into a Sunderland side who hadn't won a home game in a year. Coleman was quoted as saying "Young Josh, we've got to be careful we don't over-expose him too early and ask for too much too soon". At 18 years old, the man known in the academy as "Magic Maj" would come off the bench against Fulham to make his league debut. Four minutes later, he had his first goal and won Sunderland the match 1-0. Maja was a Sunderland hero! Unfortunately, though, he failed to score for the rest of the campaign and they were relegated for the second successive season.
Embed from Getty Images
Breakthrough season
Jack Ross took over Sunderland the next season and put his faith in Maja from the start. Josh repaid him by scoring in each of the first four games of the season as Sunderland looked to bounce straight back up. He went on to have an outstanding first half of the season, netting 15 league goals. But this is where the Sunderland story turns sour. Widely regarded as Sunderland's leading light and their greatest hope of securing promotion back to the Championship, Maja's agent sought the opportunity to try and secure a lucrative contract upgrade, knowing he had all the leverage with his current deal running out in six months and a £1m agents fee in the offing if he secures Josh a move abroad.
Tottenham had been to the Stadium of Light to watch Maja play on more than one occasion but Stewart Donald, the owner of Sunderland, declared "Josh has had a cracking offer [from Sunderland], he'll sign that!". What they didn't bank on though, was Josh's agent's greed. Neil Fox, Head of Operations at Sunderland, let Donald know that "this, for me isn't about Josh Maja, 100% about his agent – end of". Maja himself didn't help the situation by claiming in an interview that he didn't hear anything about the transfer speculation and that he "doesn't read the newspapers". At a Christmas lights ceremony Josh also declared "Yeah, I'll be here next year!".
It soon became apparent that Josh was not going to sign a contract extension with the club and owner Stewart Donald was forced to find out the news from Sky Sports News. Sunderland claimed they gave Maja exactly what he asked for but that the agent was stopping him from signing it and was determined to move him on to make a profit for himself. At the end of January 2019, it was announced that Josh had signed for Bordeaux for €1.5m and so came to an end his breakout season in English football. The fans were left devastated with the decision to sell him and thought that him leaving on a free at the end of the season was worth more to them if he kept scoring the goals that led them to promotion.
Pastures new
In Bordeaux, he was competing with Jimmy Briand for his position and it took three months for him to get his first goal, in a game against Nimes. However, in the same game, he suffered a knee injury that would keep him out of the rest of the season. In his second season, he would go on to score eight goals in 24 games, including a hat-trick against Nimes in the league, but his desire to return to England was apparent and in January 2021, he returned to take care of some unfinished business.
Embed from Getty Images
Fulham's saviour?
So here he is now, having only started one game for The Whites, and Fulham fans are hoping that he can be the man to help save them from what seemed to be an impending drop back down to the Championship. If his performance against Everton is anything to go by, we have a better chance of surviving with him, than we did without him. He was in the right place, at the right time for both his goals and that is the exact type of player that we've been missing all season.