There's still nobody like Tom Cairney
Written by Sean Guest on 15th February 2021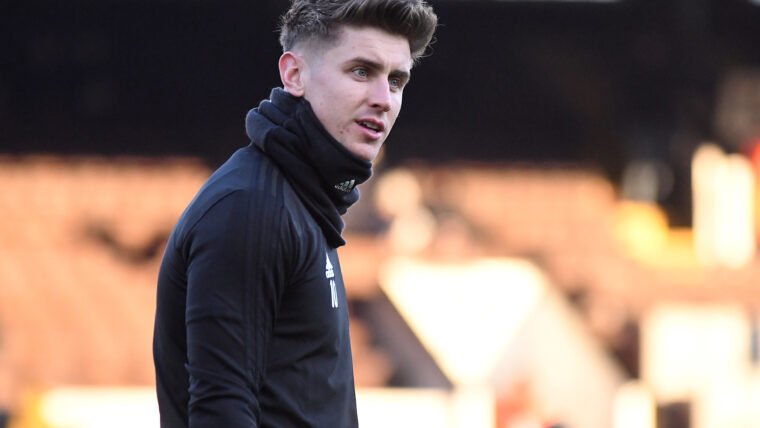 Sean says that despite yesterday's morale-boosting win, we're still in need of our Captain.
We all know the chant, but prior to this season we may have underestimated just how accurate it is. After all, if our return to the top flight has shown anything, it's that playing without a recognised striker makes it difficult to score goals, and that there's no one in Fulham's current squad quite like Tom Cairney.
Loanee Ruben Loftus-Cheek has tried to fill his boots, but it's perhaps no coincidence that when the skipper's knees started playing up in late December, Fulham quickly went from being a team on the verge of a breakout to a team on the cusp of a breakdown.
With our hopes of survival hanging in the balance, it's time to ask just how much have we missed Tom Cairney, and can he make a difference when he returns?
Embed from Getty Images
Missing in action
It seems like only yesterday that Tom Cairney stood on the Wembley turf, the Championship play-off trophy held aloft, celebrating Fulham's second promotion in two years. But much like the last time the Whites got promoted, it wasn't long before Cairney found himself sidelined by injury, a mere spectator while his teammates battle for Premier League survival without him.
In 2018/19, he missed just seven games, while this season it's already eight and counting. Since he last played, against Newcastle on 19 December, we've scored six goals, while picking up just eight points.
Poor finishing is largely to blame for that, as the Whites have a collective shots on target percentage of just 28.4, which is second worst in the league, and a 0.06 goals-per-shot rating, which is joint second-worst in the league. To compound matters, our average distance from goal of all shots taken is 17.7 yards, joint third-highest in the league, while our goal creating actions per 90 minutes rating is currently 1.55, fifth worst.
While this illustrates a lack of quality in the offensive third, it also suggests that part of the issue is our inability to create enough quality opportunities close enough to goal. Josh Maja's two poacher's goals against Everton aside, this is largely a symptom of how Parker's taken to setting his team up for much of the season, with the much-maligned Ivan Cavaleiro playing as a makeshift defensive striker, which in turn forces our other attacking options to play much deeper than they normally would.
This is less of a problem for Ademola Lookman, whose heatmap shows just how active he is in the opponent's half. But it clearly hampers Loftus-Cheek, especially when Bobby Decordova-Reid plays as part of the back five, forcing him to play wide right of a midfield four.
Just take a look at his passes and take-ons map from the West Ham game, courtesy of our own George Singer:
As George points out, even playing in more of a number 10-style role, a lot of his work is done on or around the halfway line.
As we all know, he should instead be operating around the edge of the opponents' 18-yard box, particularly with some combination of Anguissa/Reed/Lemina playing behind him, as he did more in the game against West Brom. When, occasionally, he does find himself in advanced positions, he can make things happen, but, as we've seen, not with any real consistency. For instance, in December's game against Brighton, his attacking instincts almost helped Lookman win a penalty out of nothing, before he failed to convert an absolute sitter of a one on one shortly after.
Even before the first Leicester game – which saw the introduction of the new, defence-first system that made us more competitive – Parker seemed to be leaning towards Loftus-Cheek in that central role regardless, presumably because he offers slightly more defensively than Cairney does. He did, after all, start that game and those against Liverpool and Brighton leading up to TC's injury, a run that saw us pick up five huge points. But ever since then, his contribution has been patchy at best.
Embed from Getty Images
O Captain! My Captain!
Even if Cairney were fit, there's a distinct possibility that he still wouldn't make the starting XI, given Parker's system and its reliance upon industry on both ends from all 10 outfield players.
Cairney is, as we all know, something of a defensive liability, arguably making Loftus-Cheek the more balanced option (he has, for instance, won 16 tackles this season while Cairney's managed just four), particularly in games against teams that are going to have the bulk of the ball. But given our recent shift to a back four and the now desperate need to win games, there's a good chance that Cairney might once again get the nod as and when he's able to return to the fray (something that might not be far off if this recent tweet is to be believed).   
His ability to pick apart defences could be absolutely critical in games like those coming up against Burnley, Sheffield United and Crystal Palace, for instance. All of whom tend to sit deep in order to limit opponents' chances.
Going back to the data supports his case, as despite appearing in significantly fewer games than anyone else ahead of him, Cairney has made 20 key passes this season, which is fourth-best amongst Fulham players. He's also fifth in expected goals assisted (1.4) and leads all Fulham players who have started more than five games in shot-creating actions per 90-minutes (4.15). Furthermore, in fewer games played, he's made more passes into the penalty area than Loftus-Cheek (10 v 7) and considerably more passes into the final third (61 v 32).
What's more, he's proved over the years just how good he is at finding a way through a back line, while his attacking instincts ensure that he often finds himself in good positions in and around the box and his finishing from distance speaks for itself.
Embed from Getty Images
RLC or TC?
Scott Parker's reluctance to start an actual striker for much of the season, coupled with our wastefulness in front of goal, have, to this point defined our league position. But it clearly doesn't help that we've been without a creative force in the traditional number 10 role for much of the campaign.
Loftus-Cheek simply hasn't been able to take games by the scruff of the neck, as we hoped he would when we brought him in. He was even a passenger for much of yesterday's win, giving Fulham little to nothing in central attacking areas.
Cairney's injury woes have clearly limited Parker's options, giving him little choice but to play RLC in a more defensive iteration of his preferred role. And while his constant praise of the Chelsea man in press conferences may be baffling to some, he undoubtedly does suit the more compact rendition of Parkerball seen frequently since that surprise win against Leicester far better than Cairney ever could.
But the Everton game may have signalled something of turning point for Fulham. Maja's inclusion in the starting line-up suggests that Parker is finally willing to give our attacking play more focus and purpose, while our wide men finally had a competent finisher to target, as the first goal illustrated.
If we're to pull off another great escape, we're going to need more creativity and guile in the centre of the park too, and that's where Cairney comes in. As soon as he's fit, he should be inserted back into the starting XI with a license to do his thing. Our survival hopes may depend on it.