Just how much work is running AEW?
Written by Drew Heatley on 11th February 2021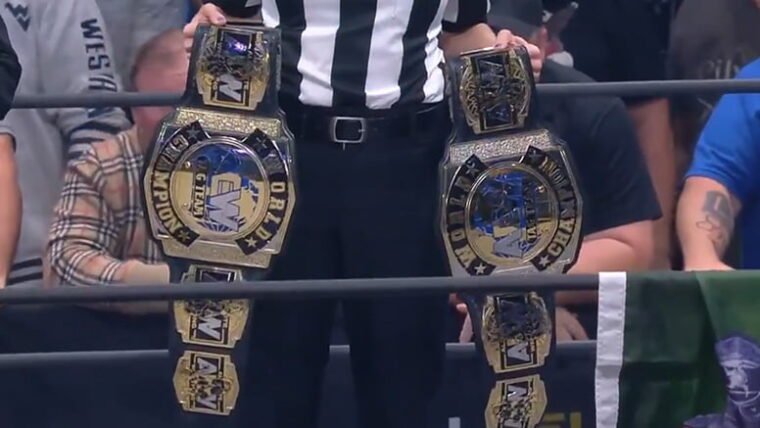 Drew delves into the world of professional wrestling to shed some light on Tony Khan's other love. 
To say Tony Khan is a divisive character among Fulham fans would be an understatement. To some Fulham fans, he's a "heel" (a bad guy). To others, and to many wrestling fans, he's very much a "babyface" (a good guy).
The chief complaints from Fulham fans are that he's under-qualified for his role as Director of Football and that he doesn't have the time to fulfil that role at the same time as being Senior Vice President of Football Technology & Analytics at the Jaguars and owner of All Elite Wrestling (AEW).
Analysing the first complaint is an article in itself, so I'm going to stick to complaint number two and split that in half, looking specifically his role in AEW. So, how much work is really involved in running one of the biggest wrestling promotions in the United States?
Fractious beginnings
It's not difficult to see why so much of Fulham fans' vitriol is reserved for Khan's involvement with AEW. It feels like it's intrinsically linked to our recent struggles. When the promotion was unveiled on New Year's Day 2019, the Whites fell 4-1 to Arsenal at the Emirates, leaving us 19th in the Premier League with just 14 points from 21 games. When AEW was launched, to much fanfare, at a rally in Jacksonville, Florida, a week later, we'd just been dumped out of the FA Cup at the Cottage by League Two Oldham – patience was at a (then) all-time low.
Embed from Getty Images
Twitter was not a fun place in the days that followed. And Khan took to the bird app to defend himself against criticism, leading to the now infamous "go to hell" tweet. On 3rd January, Khan asserted he'd been in London working on transfers since Boxing Day, and, to be fair, his absence at the launch rally was notable, particularly as Shad Khan spoke at the event.
Chalk one up for soccer, then. Though the arrival of Håvard Nordtveit, Lazar Marković and even Ryan Babel weren't enough to keep us in the Premier League.
Lights, camera, action
Fast-forward two years and we're back, but in a similarly precarious position. And AEW is also operating in the upper echelons of its field. Its flagship TV show, AEW Dynamite, airs every Wednesday on US cable channel, TNT. It regularly, and comfortably, beats juggernaut WWE's rival programme, WWE NXT, in the "ratings war".
Khan is at the centre of AEW's success. That success has taken hard work – and time. He writes every two-hour episode of Dynamite – the stories that are threaded throughout and that continue from week to week, the matches that occur, who wins and who loses – and he produces it all, too. For those with experience of working in TV, let alone live broadcasting, that means work before, during and after the cameras roll, to make sure everything runs as smoothly as you see on your TV.
And Khan's set to become even busier in the next year, revealing recently that TNT has rubber-stamped a second AEW show.
"I'm really excited about adding a third hour of television," Khan said. "That's going to be the most important thing for us. We've accumulated so much talent and depth and being able to showcase all of our great wrestlers."
Embed from Getty Images
Managing talent
Then there's AEW Dark, a supplementary online-only show that can run as long as two-and-a-half hours on YouTube. There can be as many as a dozen matches on a show, – and Khan was recently praised by AEW star Chris Jericho, on his podcast Talk Is Jericho, for his efforts to give independent wrestlers in the US a chance to work in front of an audience during a pandemic.
"Tony Khan is such a good-hearted person that you (Khan) want everybody backstage to have a match and you want everybody backstage to get a payoff."
Khan himself said: "We bring in people to give them try-outs and we're giving a lot of independent wrestlers work in addition to the try-out people that we want to get a look at and put in specific matches."
It's safe to say that sourcing, negotiating with, and managing the hundreds of disparate talents that appear on the show, on top of Dynamite, is quite a time-consuming task.
Embed from Getty Images
On-screen success
There's all this going on behind the scenes. But what about in front of the camera? Khan is becoming more of a known presence thanks to a major storyline in which AEW programming is being invaded by rival US promotion, Impact Wrestling, and Japanese company, New Japan Pro Wrestling (NJPW).
Khan, at first shown sporadically as a figure backstage on AEW programming, now appears on Impact's Tuesday night show. In a series of videos, dressed up as "paid TV ads", Tony hypes up AEW programming, while also taking pot-shots at other on-air talent, such as AEW champion Kenny Omega, to continue the storyline.
Speaking recently, Khan said he doesn't plan to become an on-screen character, like evil WWF/E owner Vince McMahon in the late 90s/early 00s.
"For me, the role of the general manager, there is not a need to be on TV. You just have to explain 'the general manager made this match' and it's a device. It's a device, not a character."
But when viewing the videos in order, you can see Khan becomes far more comfortable as time goes on, most recently appearing in a silk jacket with shades. And you wonder if he's starting to embrace that character.
Where do we go?
Tony Khan is a life-long wrestling fan. That's no secret. And you only have to compare his wrestling interviews with his at-times uncomfortable videos on the official website to see he's so much more at ease talking about the field he's an expert in. So it shouldn't come as a surprise that he's throwing everything he has into living his dream. But it's clear that his involvement with AEW is significant – and that's based on everything you've read in this article, not just on the FFC/AEW ratio of his tweets.
What the future holds is uncertain. But Tony's claim upon AEW's launch that the promotion "does not mean any less of a continued commitment to existing obligations and duties that I have, or my family has, to our business and sports interests", is starting to look more and more implausible.
Yes, the fact Tony Khan divides Fulham fans' opinions is no secret. How he divides his time must now become equally obvious. It's time to be transparent and accountable.