Parker: do we stick or twist?
Written by Mike Forrest on 10th February 2021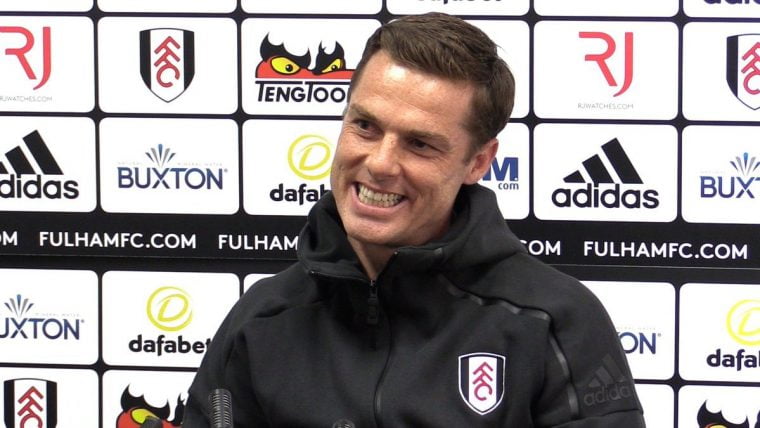 Bournemouth are reportedly interested in Scott Parker, but Mike Forrest asks should we be looking for a new manager ourselves?
I saw a comment speculating that in a non-COVID world, where fans were attending games as normal, Scott Parker would have been relieved of his duties by this point.
The comment evoked the idea that three of the four stands would be baying for blood (presumably chanting, "we want our Fulham back") and the pressure would be on the board to wield the famous metaphorical axe.
Let's look briefly at Parker's rise and our recent history to see if the claim has any merit.
A brief history
As Parker's playing career was nearing its end, The Guardian's Dominic Fifield interviewed him, where he discussed his coaching aspirations.
It's an interesting insight into Scott's coaching ambitions. One of the standout quotes is Parker being self-aware regarding the difficult transition from successful player to coach, "I've played so many games, big games, but coaching is something else. And difficult, to be fair. There is an art to getting your message across, relaying the little things you have learned. What comes instinctively on a football pitch can be quite difficult to try to teach to someone else."
The interview was released in January 2016. By 2017, Parker had begun his coaching career with the youth team at Tottenham. Not much can be gleaned from coaching successes or failures at youth level, but he did steer his team to a League Cup final and the quarter-final of the UEFA Youth League.
Embed from Getty Images
A year later and Fulham had returned to the Premier League. Slaviša Jokanović shuffled his backroom staff and appointed Parker as his First Team Coach replacing Stuart Gray. Working under Jokanović, and then Ranieri, neither manager was able to save Fulham from relegation. 
Parker oversaw the remainder of the season before being formally given the role permanently. His first senior managerial role secured, less than 18 months since taking charge of Tottenham's youth team, and his task? Promotion back to the Premier League. 
Value for money?
He achieved an immediate return to the Premier League. For this accomplishment, he was rewarded with a new contract reportedly worth £5 million a season.
If the reported compensation is true, this would see Parker earn more than the likes of David Moyes, Sean Dyche and Ralph Hasenhüttl. Are we getting value for money?
Two victories in 22 league games and being at least eight points from safety would suggest not. Looking at a selection of recent Fulham managerial sackings and it appears that Scott has had more leeway than most.
Embed from Getty Images
Chris Coleman was booted out after three wins in 22 league games. Lawrie Sanchez was relieved of his duties following just two wins in 17 league games in his first full season. Martin Jol had a record of three wins and a draw in 13 games, but lost five straight before being let go. Jokanović had one win and two draws in 14 games before the Khans pulled the plug in favour of the "risk-free" Claudio Ranieri.
In the eight years of ownership under the Khan family, they have gone through seven permanent managers. They're not afraid of holding those underperforming accountable.
So why is Scott still safe?
This season's struggles
The lazy Susan has a medley of narratives to choose from to explain Fulham's current dire position. Dishing the blame at Fulham's recruitment structure is a frequent occurrence. Skewering the players is probably the second most popular excuse.
After Jamie Carragher's very public scathing criticism of our Director of Football, this seemingly turned public perception into viewing Parker as a sympathetic figure. Someone who was doing as well as he could due to the restrictive constraints he found himself working under.
Embed from Getty Images
That was not the case last season, despite earning promotion, and he had many detractors with valid criticism – as he does this season.
With arguably one of the strongest squads in Championship history, Parker failed to mount a serious challenge for automatic promotion. Coupled with cautious and tepid possession-based football, there were times when it looked like he'd not last the season.
Time to change? 
This season Parker has been pragmatic instead of dogmatic. Relenting his strategy of dominating the ball, he switched to five at the back. This shored things up and made us competitive. We are 12 games without a win, but we've been in with a shout of winning each match.
It's this adaptability that has probably seen Parker survive and is a testament to his skillset. He has not lost the dressing room either despite so few wins.
Embed from Getty Images
It's also worth noting that Peter Rutzler, from The Athletic, tweeted recently that we rank well in certain metrics. We rank 13th in expected goals (xG) for example. Statistics like this probably dampen the urge for our number-loving Director of Football from making a change. 
So, yes, it's probably right that Parker remains in charge. He has seemingly "healed" a once fractured dressing room. The players are still trying, and hopefully, rewards for their efforts will come.
Future pressures
However, a word of caution: if we do go down, the pressure will be on Parker to prove himself again. Football is littered with discarded managers who had promising starts to their career.
Garry Monk achieved an eighth-placed Premier League finish with Swansea in his first full season as a manager. But he's gone on to achieve little, despite his promising start, and is now looking for his next managerial role.
Roy Keane wasn't always the ying to Micah Richards's yang on Sky Sports. He guided Sunderland from second bottom of the Championship to eventual champions in his first season in charge. He followed this up by achieving Premier League survival in his second campaign. A not-so-successful spell at Ispwich followed, before he dropped down to become a number two at The Republic of Ireland, Aston Villa and Forest, and ultimately ended up in the Sky Sports studio.
I'm very much "Parker in" – for now.