Fulham on the BBC: very terrestrial coverage
Written by Colm O'Donnell on 1st February 2021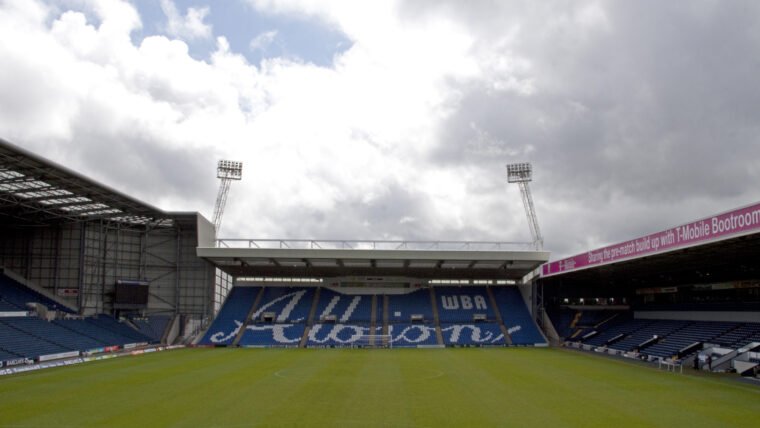 Colm O'Donnell looks back on the at-times baffling takes from the Beeb as Fulham is brought to the masses.
Fulham were back playing live Premier League football on the BBC this weekend for the second time this season, and they were hoping to get only their third win of the campaign too.
The build up
On Football Focus, they are getting excited about the prospect of free-to-air football. They have a, no-expense-spared, live satellite link to Guy Mowbray at a snowy Hawthorns! Guy thinks it's not all bad for West Brom. He says that their loss to Man City has been overstated and describes today's game as "not must-win, but must not lose". He believes Fulham aren't in "the worst place ever", but that might change today if they lose. John Motson makes an appearance from Adams Park in Wycombe in 1990 because it also snowed that day – any excuse for a bit of Motty-love.
Embed from Getty Images
Onto the extensive 15-minute pre-game coverage, and the Beeb starts with a nice little video package reminding us of both West Brom's great escape in 2005 and Fulham's great escape three years later. We get a little glimpse of Danny Murphy's header against Portsmouth on the last day of the season. Cut to the studio, and we have Murphy looking pretty pleased with himself! Gary Lineker and Gareth Barry both agree that it's near impossible that both of these teams are going to survive. Murphy thinks Fulham are the more likely. We get to the pre-match interviews, and when Sam Allardyce appears he can only be described as a cross between The Abominable Snowman and an East 17 Christmas video. Parker doesn't let the weather bother him and his hair is still untouched, despite the blizzard. Both managers use the word "massive" in their interviews. Murphy praises the impact that Anguissa has had on the team and predicts a 2-1 Fulham victory, while Gareth Barry thinks West Brom are going to win 3-2.
The first half
We're over to the commentary team of Guy Mowbray and Dion Dublin, and they've decided between the two of them that Mario Lemina is going to play right wing-back with Bobby Decordova Reid upfront and Ruben Loftus Cheek holding with Anguissa. They've done their research! Dion refuses to call it a six-pointer and some way into the game doubles down on his Lemina prediction, stating he will get up to support Mitrovic even though he has been quite clearly sitting beside Zambo all game.
Fulham make the breakthrough after 10 minutes through Decordova Reid and Dion is full of praise for Mitrovic in the build-up. He continues to praise Mitro through the first half and believes he is the difference between the sides as Fulham have "an engagement in the final third". "They look like scoring every time they cross the halfway line!" he exclaims. Guy reminds us that this is Aleksandar's sixth season in England and that he has been either promoted or relegated in each of his first five. What are you trying to tell us Guy? Dion proceeds to congratulate his old pal "Brucey" on Newcastle's fine win this morning. Concentrate on the job at hand Dion! Concentrate. He also reminds us that he has gotten out of every relegation battle he has ever been in.
Embed from Getty Images
We hit half time, and it sounds like Fulham have won the game. "It's like chalk and cheese" says Murphy. We're "confident" and it's "too easy" for us. Gareth Barry bemoans West Brom's lack of energy while Lineker says Mitrovic has been "involved in everything that's been good about West Brom!". Gareth is too polite to correct him. West Brom legend Tony Brown can't see where West Brom are going to get a goal from, while Gary introduces the second half with a recap of the first half. He quips "A quick warning: it's very one-sided".
The second half
Less than two minutes later and West Brom are level. "Exactly what West Brom would've wanted" claims Dublin, showing some cutting insight, while predicting that the West Brom half-time team talk probably wasn't "broadcastable".
We then have a slight tangent when Guy and Dion decide to discuss who was the worst "teacup thrower" that Dion had played under. The lads are having great craic! It was Sir Alex Ferguson, by the way. Followed by Gordan Strachan. West Brom take the lead and Double D is full of praise for their new signing, "The big lad" Diagne, who gets the assist. "He only flew in last night! He must be shattered…".
As the half moves on, the commentary team start to feel a bit sorry for Loftus-Cheek, who's been "kicked about today". Fulham equalise on 76 minutes and Dublin is all about Harrison Reed's cross. "Easy finish for Cavaleiro" he says. "It took Ruben Loftus-Cheek getting kicked four times for Fulham to get their first chance of the second half" I'm not really sure what that means. He wants both teams to "keep doing what they're doing, and don't sit back". He's enjoying this game. That makes one of us Dion! I've no fingernails left.
Embed from Getty Images
 We get to the Man of the Match award. Dion has been full of praise for Mitrovic all day. He's the "difference between the two sides". So naturally enough, he gives it to Ruben Loftus-Cheek. The full-time whistle goes and Guy decides this was a fair result all around. Fulham have had 12 chances away from home to West Brom's five, but it's a fair result. Murphy gives credit to West Brom for the shift of momentum and says that he knows Scott Parker will be "fuming".
MOTD
On to Match of the Day and Gary is back. Maybe the result has changed because according to him the venue has and we're off to Craven Cottage. He saves the day after though – "Don't you think Craven Cottage looks a lot like The Hawthorns?" Ian Wright found that particular gag hilarious. Gary states that it "certainly was a game of two halves". How is that the first time anyone has said that today? If ever there was a game to roll out that cliché, it was this game. Jermaine Jenas thinks Fulham were "brilliant" in the first half. He thinks the other players around Decordova-Reid need to "have a look at themselves" and start chipping in with goals. If Bobby's second chance goes in Fulham "win the game" according to JJ.
Both Jenas and Wright agree that Fulham are the most likely to stay up out of these two. But both also agree that neither of them will stay up. Free-to-air Premier League football; you get the analysis you pay for, I guess.