How can Parker fix our goal-scoring crisis?
Written by Louis Wishlade on 30th January 2021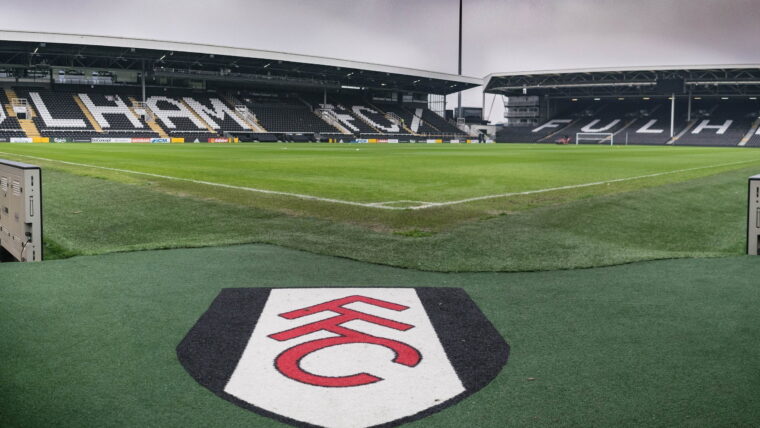 In his debut piece, Louis Wishlade digs into our scoring struggles and offers up some solutions.
Parker's new system has been effective at taking points against bigger teams, but hasn't been able to "get the job done" against more evenly matched sides, with many citing a lack of goals. The system trades off possession and the attacking creativity created by a number 10 to increase defensive numbers. However, this has also meant dropping the club's only real striker. So, how can Parker fix this goal-scoring problem – both with and without Mitrovic?
Firstly, I believe that Parker's fluid counterattacking 5-3-2 system that has been used recently is a very valuable system against bigger teams. I wouldn't make sweeping changes to this, but instead look to improve our conversion rate to take advantage of the limited chances that strikers receive against such teams.
Embed from Getty Images
Utilising our current squad
Obviously, the best way to do this would be to bring in a fast and prolific striker, with the likes of Boulaye Dia, Mbala Nzola and Moussa Dembele linked in recent weeks. However, with a lack of money to spend, and time left to spend it in, it's becoming increasingly unlikely that we'll fulfil these criteria, with a loan deal of Josh Maja from Bordeaux currently the most likely outcome – if any. Therefore, we must find a way to improve the attacking output of this formation, whether we make new additions or not.
So, with the current squad, what adaptions could be made? Here's my take:
The main difference would be to use Bobby Decordova-Reid in the centre forward position. Cavaleiro has started here recently, but he's not been able to convert many of the chances that come to him. Bobby, on the other hand, is the team's top scorer despite having been deployed a wingback during multiple games this season, and he should be comfortable in this role, having been successful at Bristol City as a striker.
However, there would be an encouragement for the front three to rotate positions when attacking, keeping opposition defenders guessing on who to mark and how, much like Liverpool's front three at times.
There should also be a greater emphasis on the wing-backs overlapping. The idea being that the wing-back on the side of the attack would power up that side of the pitch, with the winger on that flank becoming an inside forward. This would create a front four, with two players attempting to infiltrate the box and convert any chances, while the others wait on the wings to pump the ball into the box. To ensure that they are not then caught on the counterattack themselves, the remining defenders would then become a back four, with one of the centre-backs moving into the full-back role. The box-to-box midfielder, namely Lemina or Reed, who plays beside Anguissa would remain halfway up the opposition half and attempt to block any passes or runs up the pitch into the Fulham half.
Anguissa's creative ability should also be exploited. He's best described as a 'segundo volante', a defensive-minded midfielder who works to win back the ball and press, but who also acts as a deep-lying playmaker, breaking the opposition's lines with powerful dribbles and runs as well as a wonderful array of passes. Zambo should therefore be encouraged to use his extensive technical and physical ability in both defensive and attacking situations, just like Mousa Dembele once did, to fix the system's lack of creativity. While he has no goals to his name in a Fulham shirt at the moment, we have already seen him attempt to pop one in from a distance, which is no bad thing, yet he can also perfectly drop a ball over the top of a defence and find the sweetest of through balls.
Utilising Mitro
Parker must also have a 'plan B', specifically to deal with smaller sides, as we have seen how his 5-3-2 has struggled to break down teams such as Brighton and Newcastle as it underutilises the increased possession that the team holds by failing to create a sufficient quality and quantity of chances. In the closing minutes of the Brighton game, Mitro's positive impact was clearly evident in a role where he could battle physical centre-backs, which smaller players struggle against, as well as creating and laying off balls to his teammates – particularly with the roll back to Bryan in the last minute. This, for me, underlined that Mitrovic is still an asset when used correctly, especially against teams such as Brighton, who played with three very tall and physical centre-backs against which Lookman, Cavaleiro and Decordova-Reid struggled.
Embed from Getty Images
Mitrovic has undoubtedly had a rough start to the season so far. He's endured a crisis of confidence after multiple missed penalties for both the Whites and Serbia, as well as a lack of fitness too. However, his main problem has been that it's become abundantly clear that he does not fit into Parker's 5-2-3 fluid counterattacking system, which Fulham debuted against Leicester, as this system puts a heavy focus on pace when going forward, with Mitro lacking an element of mobility.
Therefore, any 'plan B' should be focused around Mitrovic and how to truly exploit his potential in the Premier League. To do this, I think that we should deploy a 4-2-3-1, with Mitrovic operating as a false nine, linking the midfield and attack as the creator for the team, while physically disrupting the opposition defence. To make this most effective, Mitrovic must be surrounded with players bursting into the box to take advantage of any balls he can knock down. Here's my suggested line-up and system: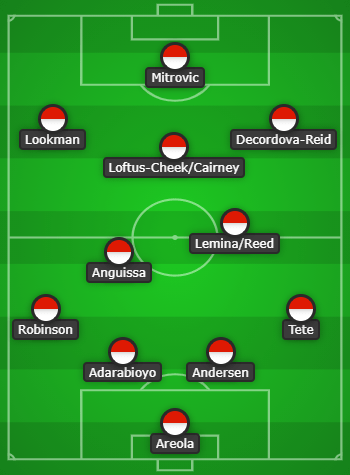 For this reason, I'd place Lookman on the left wing, his natural side, and Decordova-Reid on the right, with both operating as inside forwards when attacking down their side. For example, if we were attacking down the right-hand side, Tete would overlap and become a winger with Decordova-Reid entering the box. The advanced midfielder behind Mitrovic, namely Loftus-Cheek or Cairney, would also enter the box to latch onto any balls, while Anguissa would stay on the edge of the box for any long-range opportunities.
The wing-backs would also focus on crossing in balls from deep, which Mitrovic is able to head towards goal. This is one of Mitrovic's strengths, with Tete's deep cross against West Brom leading to a heading goal from the Serbian. This is something that's much harder to defend against and we must utilise this strength more often.
To make sure that the team doesn't lose its counterattacking ability, when on the break, Mitrovic would swap with the shadow striker number 10 behind them who would rush up alongside the wingers and the wing-back whose flank is being driven down. This would allow the team to break quickly with three or four attacking players, with Mitrovic able to arrive for any second ball.
Other than a number 10 being added into the midfield mix, this would remain similar, with a box-to-box midfielder operating alongside Anguissa as a segundo volante. This is the same for the defence, which would operate with two centre-backs instead of three, taking out Aina in most situations due to the decreased opposition threat.
We have the talent in our squad to not only survive, but to thrive. It's just a case of making a few tweaks, depending on the opposition. What do you think that Scott should do?