We need a striker before morale dries up
Written by Mike Forrest on 20th January 2021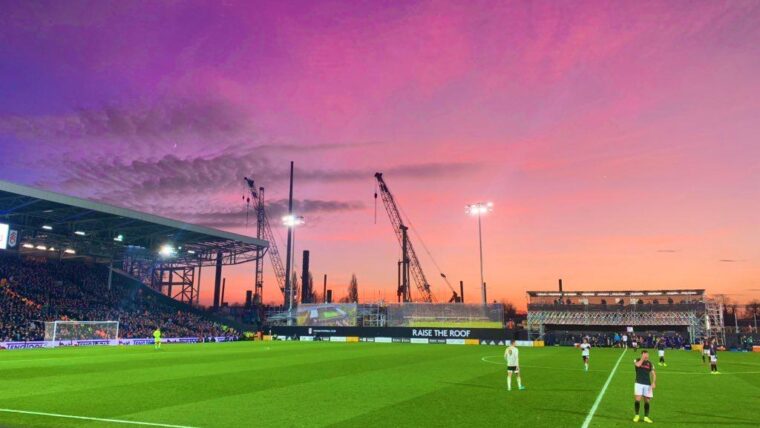 With our unbeaten run over, Mike says it's time to go out and get some cutting edge, before it's too late.
Our mini resurgence as a competitive team has mirrored the redevelopment of the Riverside Stand.  At the start of the season, the stand was a mere skeletal outfit. The pitch, and players, were impacted by whatever weather conditions swept across Thames-side. Likewise, on the pitch Fulham were no better, and took a few battering-s from the likes of Arsenal and Aston Villa as well as the weather.
As time has gone on, the Riverside Stand has resembled one of those before and after pictures for those acquainted with body transformations. The before being a scrawny and meagre 130 pounds, the after looking like a 200-pound finely sculpted colossus and still not finished. Our on-field progress has run parallel to the redevelopment at the stand, but now we're at a crossroads. It's certain the stand will be built and will be beautiful, but our Premier League status is precarious.
Exaggerated progress?
Our run of five draws in a row was broken by a late Chelsea goal – and it felt like it punctured the sense of progress that had built up. In the last six league games, we've only scored three goals. The run of unbeaten games has put a dollop of respectability on an otherwise difficult season, but we're still not much better off. Goals win games. Wins means three points, not one. And three points go much further in a bid to survive. We're neither scoring goals nor winning games. Only the dreadful Sheffield United have won fewer games than us.
Yet morale among fans still seems high. Or rather, morale seems high compared to the last time we were in the Premier League and in a similar position. This despite the fact that we're only three points better off than we were after 17 games during the ill-fated 2018/2019 season. But morale is a fleeting sense of emotion, and the longer the winless run becomes the more it will evaporate.
Firepower needed
After nicking a draw against Tottenham, Tony Khan was gushingly effusive in his praise. He thanked "supporters worldwide" and the staff for earning such an important point, before going on to say that his five years in the role, "managing transfers/loans", were his "happiest times". If we're to survive, then Scott Parker needs his assistance urgently in the transfer market.
Our over reliance on Aleksandar Mitrovic has finally caught up with us. Either injured, or out of form, or both, the Serb looks destined to prove to outsiders their long-held opinion that he is not good enough for the Premier League. For us Fulham fans, we maintain a hope that he can get his spark back, but with time running out it's not looking likely. And in the interim, we've had to rely on Ivan Cavaleiro.
To Cav's credit he works hard, but that's probably the biggest compliment one can pay the Portuguese forward. Credit for his equalising header against Tottenham aside, his squandered chance against Chelsea was a return to the true form that we've often witnessed. Inexplicably, his technique evaporated, and with his legs tangled, he managed to toot the ball wide from around six yards out.
This is the man that our Director of Football has left as a back-up forward option for Scott Parker and the team. Aboubakar Kamara has not been a legitimate alternative since his purple patch under Slavisa Jokanovic more than three years ago. Bobby Reid has manfully pitched in with some goals and much improved performances, but we still need a legitimate alternative up front.
Deadline day's late
In keeping with our previous transfer strategy, it looks like we'll be holding out for deadline day deals to bolster the squad. Unfortunately, two key games against Brighton and West Brom will have come and gone and any reinforcement could prove to be too late. By that time Fulham's fate could potentially have been sealed.
Including the last six games, including the defeat against Chelsea, we've mustered an average expected goals of 1.2 (xG). With Manchester United as our next game it doesn't seem feasible than any upturn in our goalscoring return will occur. But it's down to our attacking contingent to step beyond their limitations and conjure up something special.
Loftus-Cheek will come back into the side. Despite Parker's constant praise, he's never really got going, but if ever there was a time to stake his claim as a "world class" player, as mentioned by our DoF, now's the time to do so. We have decent players who can cause harm. It's time for the likes of Lookman, RLC, BDR, Cav or even Mitro to step up and provide that threat that we are desperately missing.