How Do You Solve a Problem Like RLC?
Written by Drew Heatley on 12th January 2021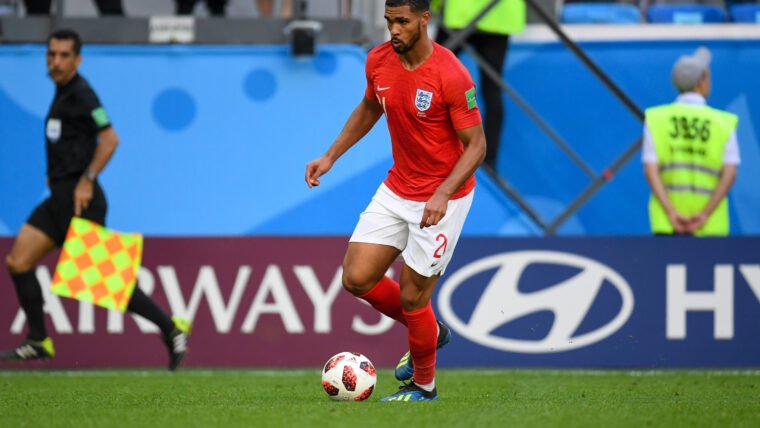 It's not been the match made in heaven that we were all hoping for. Drew says it's not working out for our Chelsea loanee, and it might be time to cut our losses.
"What I'm most looking forward to about the Chelsea game is that Loftus-Cheek can't play."
This message from none other than Dom Betts in the Fulhamish WhatsApp group has stuck with me since the weekend. I'm feeling rather optimistic about the mighty Whites at the moment – almost leaning towards thinking we might scrape survival – but there's one piece of this puzzle I'm not enthused about, and it's Ruben Loftus-Cheek.
Who's doing who a favour?
I'm reminded of the words of Tony Khan in the summer, who – when aiming a jab in the ribs at Spurs owner Daniel Levy regarding a possible loan for Ryan Sessegnon – said: "We get two [Premier League] loans and I can't be in the business of developing other people's players when they don't have time to play them."
Now, in fairness to Khan, he added "Ryan already played for us in the Premier League and he didn't do enough to keep us in there" and "I actually rated Josh [Onomah] equally with Sessegnon" in the same breath, but still, he must have rued his words when he and his team decided to pursue the opportunity to bring in RLC. The deal, we're led to believe, sees us pay half of Loftus-Cheek's wages and has no option to make the deal permanent.
That's all well and good – bringing in players to help us achieve our primary objective and then move on is all part and parcel of the loan system. Not all loans have an option and nor should they (see Anthony Knockaert). But a player's brought in to do a job, they have to hit the ground running. So far, RLC hasn't broken into anything more than a light jog.
So who's helping who with this deal? Certainly Chelsea benefit; they've trimmed a reported £50,000 from their weekly wage bill and one of their home-grown stars is starting regularly in the Premier League. We were meant to get "a world-class player in the prime of his career" who helped Crystal Palace to a mid-table finish in 2018, before making 40 appearances for the Blues in 2018/19, scoring 10 goals.
Instead, we've seen a player who, despite obvious ability, has shown little of the dynamic player we saw a couple of years ago. And aside from a consolation goal against Everton and a decent showing against Liverpool, has failed to make the impact many thought he would.
Some favour.
Embed from Getty Images
If you come for the King…
Parker deserves immense credit for the turnaround he is starting to mastermind this season. There's a long way to go, of course, but this new formation has made us a lot harder to beat. It's a fantastic start. But it's only a start. We have huge problems going forward; there's no real conductor between defence and attack. And RLC needs to shoulder a significant portion of that blame.
It also doesn't help his case that our club captain has been shunted to the bench in favour of a youngster from our local rivals who'll be long gone before Euro 2020 even kicks off. Both RLC and Cairney have made 10 appearances this season (RLC seven starts, Cairney nine), and TC beats Loftus-Cheek in almost every metric, including notably pass success and key passes per game. If you're going to be favoured over a fan favourite who, by all accounts, didn't deserve to lose his spot in the side, there really is no room for error – or inefficiency.
Indeed, as the graphic below from Fulhamish stats guru George Singer shows, RLC's under-performing when it comes to similar players in the Premier League. His 85% pass completion rate might look like an asset, but when you look at how many he actually makes and what he does with them, it becomes less impressive. And when it comes to his creativity, well, you can see we're getting less than we might've expected. The figures show that while RLC's comfortable on the ball, he's not so comfortable moving it forward and creating things with it. At the moment, it's almost as if he saps the energy out of an attack, rather than adding to it.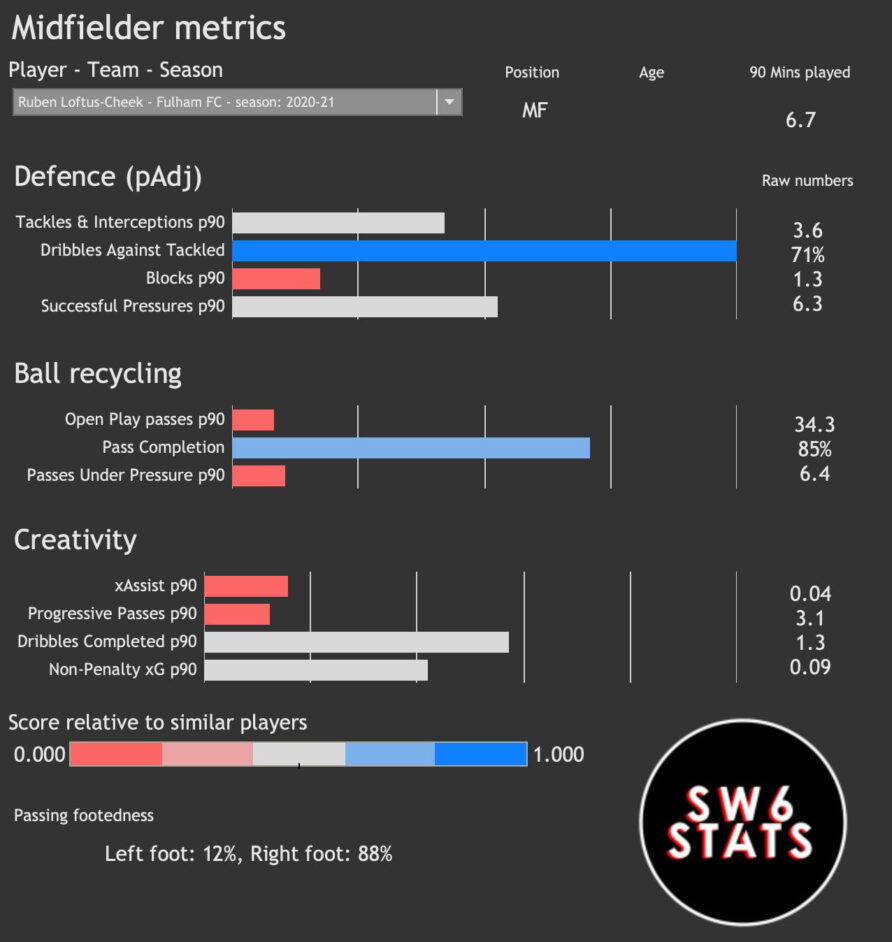 Parker's Patience
Simply put, we have no room for passengers if we want to stay in the Premier League. And yet, game after game we're left asking "what does RLC actually do?" Perhaps the most worrying aspect of this whole thing is that Scott Parker is under no illusions as to his weakness.
"Sometimes I feel like Ruben has a tendency for games to drift him by", Scott said after RLC's best (and only) performance in a white shirt, against Everton. It's a trait we continue to see. Against QPR in the FA Cup, we saw him strolling about, looking like a lost puppy in a game he could and should have asserted his dominance on. Instead of grabbing it by the scruff of the neck, he showed all the languidness of Berbatov, without the class or end product.
Embed from Getty Images
Thanks, but no thanks
The damning conclusion might simply be that it's the right time to say "this isn't really working", and cut our losses when it comes to RLC. There's no shame in it. For him, or for us. We have limited space in our 25-man spot, and with players like Josh Onomah on the way back, there's more competition than before.
The argument "give him time" doesn't really wash here – we're approaching the halfway point in the season, and we saw last time out what happens when you try to get your house in order while in the midst of the 100mph Premier League. Let's cut out losses, free up a loan space, and have another roll of the dice as we look to survive.  
And if not, well, there's always the Chelsea game on Saturday to enjoy.