Is Antonee Robinson really an upgrade on Joe Bryan?
Written by Sean Guest on 30th November 2020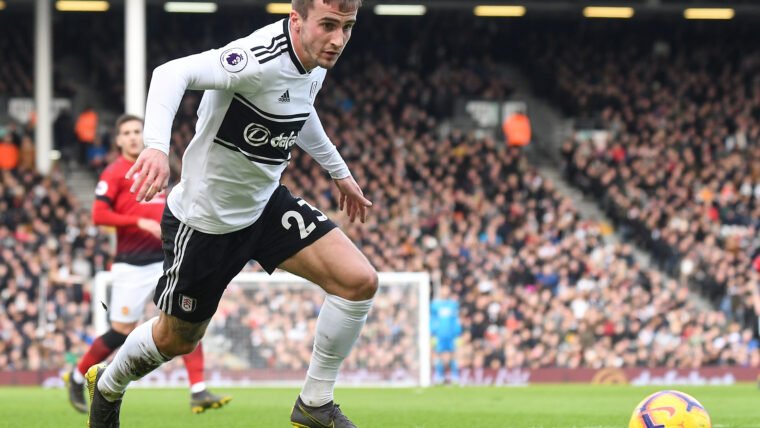 Is our American full-back a cut above our play-off hero? Sean Guest looks into the numbers.
Not so long ago, Joe Bryan was on top of the world. The two-goal hero of our Championship play-off final victory over Brentford had led us back to the Premier League, been named in the PFA Championship Team of the Year and agreed to a contract extension that will keep him at Craven Cottage until 2023. Things were looking rosy. That is until the new season began.
Fulham's first four games were a disaster defensively, forcing Scott Parker to mix things up. Against Wolves, new recruit Antonee Robinson made his debut at left-back, while Bryan played in an advanced left midfield role. Despite a competent performance, he was substituted in the 65th minute and hasn't returned to the starting line-up since.
Robinson has ultimately proved himself as a starter in that time, offering Fulham a pacey, powerful attacking option on the left flank. Over the past couple of games he's looked less than stellar defensively though, raising the question: is he really an upgrade on Sir Joe?
Embed from Getty Images
At the back
When Robinson first broke into the team, he immediately looked like a step up defensively. After conceding 10 goals in our first three games, we let in just five in our next five thanks to Robinson and the new-look, post-transfer window backline.
But last Sunday, Fulham looked more like their old selves again, struggling to contain a potent Everton attack from the off. And while Ola Aina took most of the flack for his poor display at right-back, Robinson had his own struggles on the other flank, typified by his attempt to stop this Alex Iwobi drive.
Incredibly, his SofaScore match rating (6.7) was lower than Aina's (6.8) thanks to the fact that he made no successful tackles (Aina made two), registered just one interception (Aina made three) won just four duels (Aina won six), lost possession 21 times (Aina, 18) and posted a pass accuracy rating of 76%. Meanwhile, in the previous game against West Ham, he made two successful tackles and no interceptions, won five duels, lost possession a whopping 26 times and recorded a pass accuracy rating of 69%.
While this might seem like the start of a concerning trend, Robinson has otherwise been a solid defensive option for us, recording the sixth most tackles per game (1.7) and the seventh most interceptions (1.2). The bulk of his appearances have, however, come against weaker opponents, while the rate at which he turns the ball over – he leads all Fulham players in possession lost per game (21.5) – could prove especially costly against opponents like Leicester, Man City and Liverpool, who are devastating on the break.
For this reason alone, Parker may want to consider giving Bryan an opportunity to prove his worth on Monday. At 12.2, his possession lost rating is considerably lower, while he's averaged 1.4 tackles and a considerably better 1.8 interceptions per game this season.
Bryan is, after all, a better defender than he often gets credit for. Last season he finished 5th overall in tackles won (72) by all Championship defenders while also making 45 interceptions in 43 appearances. Head to head with Robinson, he's won more tackles (6 to 5), been dribbled past less (4 to 6), registered more blocks (12 to 11) and more interceptions (8 to 7) in two fewer starts this season.
These differences are marginal though, and it's important to remember that Bryan's positioning isn't always great, his desire on the defensive end can be lacking and he has a tendency to lose focus in scenarios such as this. Additionally, it's worth noting that Robinson has recorded more successful pressures (18 to 14), particularly in the defensive third (24 to 15), considerably more clearances (24 to 10), recoveries (52 to 32) and aerial duels (8 to 2).
Embed from Getty Images
Going forward
Over the past six games, Robinson has appeared to offer Fulham some real attacking verve. As Ben observed in his recent article, he's "rightly drawn plaudits for his explosiveness and finally some much needed pace in wide areas". He's also been one of our more effective sources of creativity in that time and is currently fourth amongst all Fulham players in shot creating actions with 20 (17 of which have come from live-ball passes), joint-third in goal creating actions (thanks to his role in this goal against West Brom) and third (behind only Tom Cairney and Aleksandar Mitrović) in expected goals assisted with 0.7.
Interestingly, he leads all Fulham players in crosses, with 30, although he's still yet to record a single assist. This is something that could be attributed to our poor goal-per-shot total, which currently stands at 0.07 (while opponents have managed 0.15 against us). Although, according to SofaScore, he has an accurate crosses rating of just 32% (1.7 per game), which may also have something to do with it.
This is an interesting consideration, particularly in light of the fact that crossing has, in the past, been one of Bryan's strengths. His attacking ability more broadly saw the Premier League's official website single him out as one of Fulham's best FPL assets ahead of the new season. As the article says, last season, "Bryan's 38 shots were more than the combined 30 of the rest of the Cottagers' regular back four while he was 'Fulham's standout creator from defence, supplying 43 key passes". On top of that, his corner duties meant "he created 12 big chances, second only to the 14 of Ivan Cavaleiro".
Like Robinson, Bryan isn't much of a goal threat himself (beyond play-off finals that is). But, along with Cavaleiro, he led Fulham in assists last season with seven, while his assists per 90-minute rating (0.18) ranked fourth-best among Fulham players. This season, his accurate crosses rating is a feeble 22% (1.0 per game), but his ability to link up with Mitrović in the final third (which The Athletic's Peter Rutzler highlighted in his article on the Serbian's first 50 goals for Fulham) is something Parker may want to consider going forward, particularly given that Mitrović hasn't scored since his brace against Leeds in mid-September.
Embed from Getty Images
Upgrade or not?
While we may be missing Bryan's ability to whip the ball into the box, Robinson does appear to be the more well-rounded option at left-back. The team has, overall, looked better defensively with him in the fray and although Sunday's performance left a lot to be desired, it's important to remember that Andre-Frank Zambo Anguissa's omission from the midfield left the backline exposed in a way that it hasn't been in recent games.
If Robinson can do a better job of maintaining possession, his positional sense and ability to force opponents into making mistakes in wide areas could be huge for Fulham defensively, while his industriousness on the other end of the pitch is sure to eventually yield results.
Due to Robinson's relative lack of experience, Bryan may be called upon against more accomplished opponents, such as those we face over the next couple of weeks, or for rotational purposes. He may even return to the more advanced role he found himself playing in against Wolves at some point.
But for now, the left-back spot appears to be Robinson's to lose. Not bad for a player who cost just £1.9m.