Fulham's Most Exciting Players Over the Past 20 Years
14th October 2020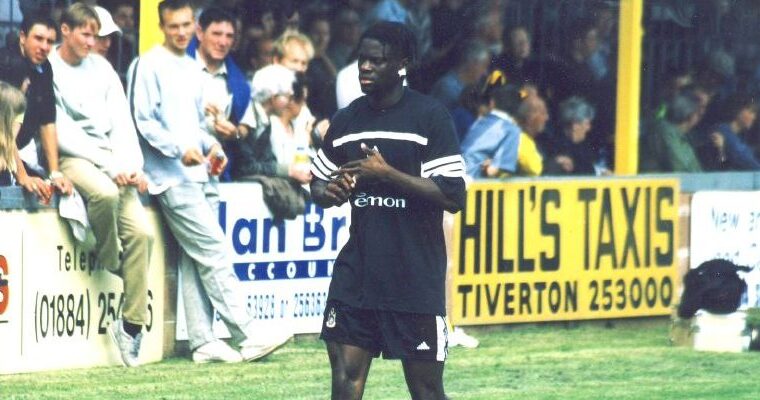 The new Premier League season is still in its infancy, but Fulham are already in need of some inspiration. As such, there is no better time to remember some past greats. We've split the last 20 years of Fulham's existence into quarters, and determined which player made the greatest impact within them.
Louis Saha (2000-2005)
Embed from Getty Images
In terms of all-round class, no striker for Fulham can really match Louis Saha. We all love Mitrovic, but if we had somebody of Saha's raw talent right now, I'm sure Fulham's chances of avoiding the drop this season would be much higher.
It was Jean Tigana, the man who presided over Fulham's early days as a Premier League club, who recruited Louis Saha in the summer of 2000. Having soared through the pyramid, Fulham now needed a great all-rounder in order to make that final push into the top flight.
Even with Mohamed Al-Fayed's ambitious spending, the club's payment of £2.1m raised many an eyebrow at the time, especially with Saha's natural goalscoring ability being suppressed by a defensive setup in his latter days at Metz. He was familiar with the Premier League, but wasn't that prolific, scoring just once in 11 loan spell appearances with Newcastle two years prior.
Thankfully, the 2000/01 season saw Saha repay Tigana's faith, with 27 goals in 43 league appearances thrusting Fulham to the summit and beyond. His first two seasons in the Premier League were somewhat disappointing, with Saha averaging just under 0.25 goals per league match across them.
However, he hit his stride in the first half of 2003/04, helping fire Fulham into the top five by the end of October. He ultimately notched 13 goals before the transfer window, during which he duly joined Manchester United, and drew what many felt was a premature line under his Fulham days.
He went on to enjoy great success at Old Trafford, and a strong spell as Everton's main striker in the late 2000s.
Clint Dempsey (2006-2010)
Embed from Getty Images
After the departure of Saha, Fulham never really threatened the higher echelons of the league again. Instead, we inched closer to the relegation zone as the post-Saha era dragged on, eventually getting to within 45 minutes of relegation in April 2008, before an unforgettable comeback against Manchester City.
However, all was not lost, and the arrival of Clint Dempsey from New England Revolution for £1.5 million proved to be a bargain. Though Americans have a mixed litany in Premier League history, Dempsey is unquestionably one of the 'good' transatlantic imports. In some respects, his playing style – as a visionary who could sit anywhere across the attacking half of midfield – mirrored that which is now considered the norm in Premier League tactics.
Fulham's continued survival depended much on his form, but when Andrew Johnson, Damien Duff and Bobby Zamora came on board in the late 2000s, that ceased to be the case. By then, there was no longer such a heavy reliance on midfield enforcers or a direct, oft-predictable approach. In turn, the squad's overall composure improved, leading to better discipline. In turn, Fulham entered the 2009/10 UEFA Europa League after a 7th place finish in the Premier league
All of those players, alongside Dempsey, proved vital towards getting Fulham through a tremendous and exhausting UEFA Europa League campaign, which spanned 19 games between July and May.
As fate would have it, Dempsey was the decisive scorer on the immortal night that saw Fulham vanquish Juventus 4-1 at Craven Cottage in the Round of 16, to overturn a 3-1 deficit from the first leg. He went on to spend another two years at the Fulham, bowing out in 2012 with 50 goals across 184 club appearances.
Moussa Dembélé (2011-2015)
Embed from Getty Images
The Belgian international turned heads when he first arrived at Craven Cottage, relishing his football prowess by entertaining the Fulham faithful with his silky skills and composure. 
The brilliance of the Belgian was never in goals and assists, even though they were very valuable when they arrived, but rather in the way he stopped opponents achieving it. His ability to keep the ball and dribble is potentially up there with the best ever seen in the Premier League era.
Moussa's first official start with the club capped a goal, scoring the second of six goals against Port Vale in the League Cup. Dembélé next chalked up his first Premier League goals against Wolverhampton Wonderers.
There's no doubting Moussa was one of the finest players to ever grace the Craven Cottage turf since the turn of the century.
Aleksandar Mitrovic (2016-2020)
Embed from Getty Images
Mitrovic is living, breathing proof that people deserve second chances, especially if the regime into which they first enter Premier League football is broken beyond repair.
Newcastle United, whom he joined in the summer of 2015, fitted that description perfectly. Mitrovic could not settle into the Premier League, and even the arrival of Rafael Benitez made little difference as Newcastle ended up relegated, with Mitrovic scoring just nine times.
After a worse Championship season with Newcastle, which yielded just four goals in 25 appearances, Mitrovic went on loan to Fulham in January 2018. The rest is history.
He was ably backed by a number of wide-sitting lieutenants, who were encouraged by manager Slaviša Jokanović to get into advanced positions and overwhelm the opposition. Ryan Sessegnon particularly thrived alongside Mitrovic in this set up, with the duo performing miracles en-route to promotion via the playoffs.
Mitrovic's loyalty also warrants him a place on this list, as he was not short of suitors ahead of Fulham's latest promotion season. To his credit, he stayed put, and his haul of 26 goals in 40 league games proved crucial towards Fulham once more being given another shot at the big time.
Agree/Disagree?
Do you agree with our choices? Feel free to let us know who you'd rather have in each category in the comments or on Twitter.
2000-2005
2006-2010
2011-2015
2016-2020