In Profile: Tosin Adarabioyo
Written by Rhys Daly on 6th October 2020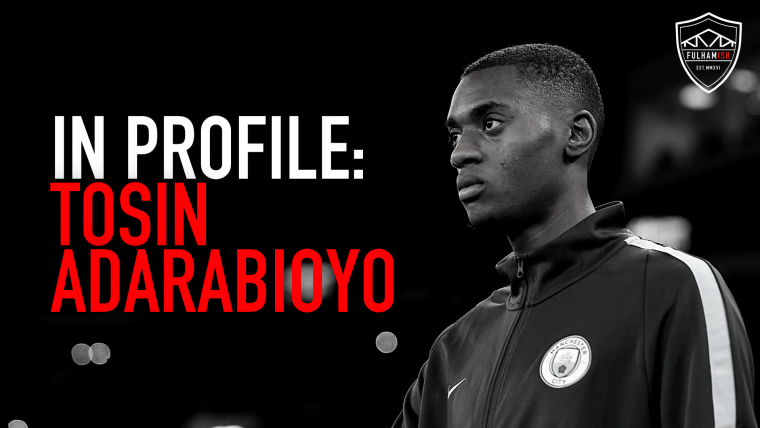 Rhys Daly takes a closer look at the 23-year-old central defender who is desperate to make his mark on the Premier League.
---
Tony Khan managed to (almost) silence the doubters with three solid acquisitions on the final day of the summer transfer window – and the least talked about deal could end up being the most influential.
Fulham's defence has been crying out for leadership following the return to the Premier League this season, and despite Tim Ream's improved performance against Wolves on Sunday, he might now be replaced.
That alternative could comes in the form of 23-year-old ambipedal giant Tosin Adarabioyo, who proved to be useful asset in the Championship last season under Tony Mowbray at Blackburn Rovers.
The athletic defender has joined on a three-year permanent deal, but what can we expect on the pitch?
Elite education
Although Tosin had dreams of filling the void left by Vincent Kompany at Manchester City, he's seen enough from the project at Fulham to leave the club he joined at the tender age of five back in 2003.
The Manchester-born 23-year-old stormed through the ranks and was named Under-18s captain aged just 16 before being handed his first taste of senior football in February of 2016 – receiving credit for dealing with Diego Costa better than Martin Demichelis against Chelsea.
Tosin was rewarded with a long-term contract after making Champions League appearances against both Celtic and Shakhtar Donetsk the following year, after which Pep Guardiola placed him in the same bracket at Phil Foden.
Disappointingly for Tosin, he was never handed his chance to impress for City under their Spanish boss in the Premier League despite their struggles at the back, ending his dreams of replacing the commanding Kompany.
Embed from Getty Images
Championship chance
In what would be his first taste of regular senior football, Tosin joined West Brom on loan for the 2018/19 Championship season where he made 29 league appearances and helped the club to a fourth-placed league finish.
Darren Moore said of his performances that season: "For one so young, he's mature. He's got a size and a stature, a great understanding of the game and a wonderful temperament.
"There's no mental or physical step for him coming here. The boy has a desire and a thirst for the game.
"He's shown versatility, adaptability and an understanding of the game. He's got a determination to go to the very highest level."
With no chance of any appearances at City, the defender subsequently joined Blackburn last season and had a huge impact on their top-half finish and postive goal difference.
Mowbray was asked about the chances of a permanent deal for Tosin back in July, and he painfully admitted that the club would never be able to afford him.
He told the Lancashire Telegraph: "Ultimately, we couldn't afford him, that's the first part of the question. This is why this loan system is really good because not in a million years could we afford Tosin Adarabioyo."
Before adding: "First and foremost, for his career him and his advisors would expect him to be moving on to try and nail down his career in the Premier League."
Embed from Getty Images
Ambitious nature
Although the second tier would have been a comfortable level to remain, Tosin's career targets were always much higher – as he made clear in a chat with the Guardian in January.
He said: "In five years time I'd like to be captain of Man City and have won the Premier League and the Champions League. Definitely it can happen."
Although moving to Fulham would not have been in his initial long-term plans, Tosin will be desperate to prove his worth in London having been brushed aside by the club that raised him.
He told Fulham after the signing was confirmed: "I'm very excited, very excited to get going and finally be playing Premier League football.
"I felt like the time was right to leave the [Man City] and push on. It was the right time in my career to move on and hopefully get a lot of Premier League games."
Embed from Getty Images
What to expect
When signing a player for an initial fee of just a few million, fans might be forgiven for having low expectations of a defender that has never played in the top flight.
Having said that, his progression through the ranks at City and with four different England youth teams is a luxury afforded to only those who are deserving in opportunity.
The 6ft 5in left-sided central defender has a calm presence on the ball that is absolutely essential under Scott Parker, and has been praised for his passing ability out of defence.
His long-passing could also help bridge the gap from defence to attack, with his strength and aerial ability also fantastic attributes to have at any level.
The comments of his former managers also show how much of an asset he can be behind the scenes, and another strong presence in the dressing room can do no harm ahead of what promises to be an unforgiving season.