Rhys' Pieces: The incalculable future of Aleksandar Mitrović
Written by Rhys Daly on 26th June 2020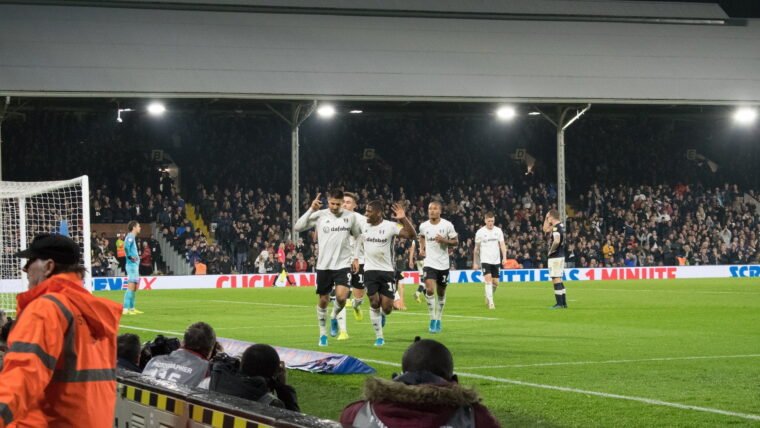 As even the most sceptical Fulham fans begin to consider that another season of Championship football might be on the horizon, the future of Aleksandar Mitrović has become a rather worrying uncertainty. In an attempt to boost moral, Rhys Daly has taken a look at what the Serbian hitman might be thinking before the final eight fixtures of the regular season.
Aleksandar Mitrović has been vocal about his love for Fulham and their supporters since his loan move from Newcastle back in January of 2018.
Embed from Getty Images
The clinical Serbian was crying out for a new home that would bring his turbulent spell at St James Park to a close, and he found that in abundance on the banks of the Thames.
Despite a positive, but underwhelming, return of 11 goals in 37 top flight outings, many were astonished to see the 25-year-old commit to another year in the second division, and should the Whites remain in the Championship next season – there is sure to be further interest from the promised land of the Premier League.
In the hope of keeping fans focused on the task at hand, I have delved into the archives to recount each time Mitrovic has described his adoration for Fulham – and why it would take a tremendous offer for the striker to go in search of a move away when the window is to reopen.
Embed from Getty Images
Mitro's connection with Slaviša Jokanović was well documented following his initial switch, in particular the WhatsApp exchange that saw him snub a move to Middlesbrough with just hours left until the deadline.
He would go on to repay the faith of the manager with 12 goals in just 17 appearances, helping Fulham all the way to an unforgettable 1-0 win over Aston Villa at Wembley.
On that emotional day Mitro gave fans another boost with a ringing endorsement that would hint at a permanent move.
He said: "Of course I am really happy here. I had the best three and a half, four months of my career'
Before adding: "The fans really help a lot and I think I play some of the best football in my life, the last four months."
Embed from Getty Images
Mitrovic would get his wish after the two clubs agreed an initial fee of £22million the following July – on a contract that was to run until June 2023, which has since been extended a further year.
Although he would go on to play under three different permanent managers and Fulham would be embarrassed after a bold summer of spending, Mitrovic came out with his head held higher than most thanks to his 11 goal haul.
After relegation was finally confirmed, attentions soon turned back to the future of our star striker, but his statement after the 1-0 win over Bournemouth eased fears.
He said: "Ever since we are relegated, the Fulham fans are unbelievable, can say we have the best fans in the world. Everywhere we go, our stand is full, home too. World class."
Embed from Getty Images
In August of last year Mitrovic issued his desire for Fulham to secure instant promotion, stating his commitment to the cause with a rousing promise to supporters.
He told The Sun: "I'm not the guy who'll run away from a problem. I didn't leave Newcastle when they got relegated three years ago so I'm not leaving here now.
"I'm here because this club gave me and my family a lot of love when I was in a difficult situation. Now I'm not going to leave the club when they're in a difficult situation."
Before adding: "In my first home game against Nottingham Forest. After the match, I felt really great after what had been a great atmosphere. The place was bouncing.
"It was middle of the season and the stadium was full. Since day one, I felt at home."
Embed from Getty Images
In what is hopefully a sign that his time at Fulham will go on for several seasons, his love for the club, the fans and the city has never gone unspoken.
He continued: "My ambition in football is to feel passion and play with all my heart every game.
"And I've found my love and happiness here. I've everything I want — from respect from the club, the way they treat me and the love the fans, players and staff give me.
"Every time I walk on to the Craven Cottage pitch, I feel happy. It's a fantastic old stadium that has old English soul with the fans so close to the pitch creating such a great atmosphere with so much passion.
"Some things you cannot buy with money. I wake up and feel happiness. I look forward to training. You just cannot put a price on that."
Embed from Getty Images
The future of Scott Parker could also play a part in his plans, with Mitrovic praising the former West Ham and England midfielder earlier in the current campaign.
He said of the managers he has played under at Craven Cottage: "Slav set high standards and I'm convinced had he not left we'd have had a great chance of staying up.
"We weren't playing well at the time and in football if you don't get results fast then the manager goes.
"It was difficult for Claudio [Ranieri] to come in and want to change the way we played. From playing high up, Claudio wanted us to sit further back and he just didn't have time to adapt us.
"But Scotty learned a lot from Slav and the way they see football and the system they use is almost the same.
"Scott becoming manager permanently was one of the main reasons why I stayed because I love working with him and feel not just me but the whole squad will improve with him.
"I've never heard one bad thing said about Scott — not from the cleaner, the chef, the physio, the players. Everyone likes him.
"And that's why he's special — he makes everybody feel important. Everyone puts in their whole."
Embed from Getty Images
Mitrovic would issue another statement outlining his undying commitment to the club as recently as March, telling FourFourTwo that not only does he love his current club – but that his family are thriving.
The father of two said when asked about the possibility of leaving Fulham: "Honestly, I don't think about that.
"I'm with Fulham because I love the club, my family is happy here, and I love the challenge of the Championship. Players who haven't played in it or don't watch it can say it's easier, but trust me: it's a hard league."
His most recent plea suggests that he has never been more grateful to wear the white shirt of Fulham, and with any luck that will equate to more goals during the final eight fixtures.
Even if Fulham should miss out on both automatic and playoff promotion, it is hard to see any offer coming in that would convince Mitrovic to leave London – and hopefully his loyalty to his current employer won't be put to the test.