Are Fulham fans better off in the Championship?
Written by Marco De Novellis on 8th January 2020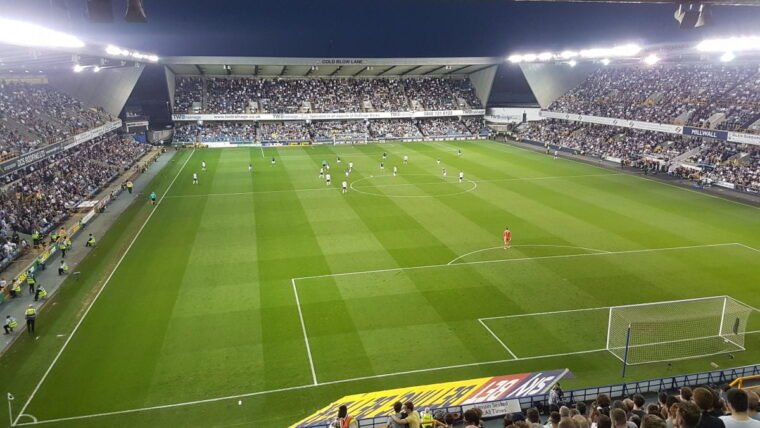 In his debut article for Fulhamish, Marco De Novellis compares life in the Premier League against life in the Championship.
Many football supporters have directed their ire at the EFL in recent times. After the plight of clubs like Bury and Bolton, it's perhaps understandable. They have been let down by an organisation which should work to support them. However, where I'm concerned, life in the Championship trumps the Premier League every time.
It's another cold away day up north. The Euston forecourt hums with the murmuring of a hundred or so Fulham fans. Boarding the train, there are the young VK drinkers, the tweeters, the sniffers, the away day sleepers, and some idiot in fancy dress.
This is Fulham away in the Championship. Fulham at Barnsley; Burton; Sheffield; Stoke. Trips to small industrial towns, cheap pubs, and watered-down lager. This is the romance that the Premier League has left behind.
15.09.2018
On September 15th 2018, I turned my back on the Premier League. It was Manchester City away. The weather was typically dreary. The locals were typically dreary. The ground wasn't anywhere near the train station.
We arrived at the garish plastic structure for kick off. We passed by the airport-style security and the half-and-half scarves. Two minutes in we were one-nil down. Sané goal; Fernandinho got the assist.
For 88 minutes (plus stoppage time), we watched City's 28 shots, 736 passes, and 65% possession. We watched City fans waving their plastic flags, whilst watching the game through their mobiles phones. At half time, I had a Carlsberg in a plastic cup.
In the 2018-19 Premier League season, our £100 million team mustered seven wins, five draws, and 26 losses. We conceded 81 goals. André Schürrle played 27 times.
We were relegated, disgraced, and humiliated, but—for myself and a few others I'm sure—returning to the Championship was a welcome consolation.
Championship > Premiership
In the Championship, there's a connection between football club and fan that you just don't get in the Premier League. The club needs us more; they can't rely on a passing tourist trade.
There are more players we can identify with. Home-grown Fulham youth players—Bettinelli, Sessegnon, and Rodák—get their chance. Gone are the days of the travelling journeymen: Simon Elliot; Derek Boateng; William Kvist.
There's not the same level of media coverage in the Championship. Avoiding Gary Lineker's sneering gaze on Match of the Day means the embarrassment of a loss is contained. You go again midweek.
Every season, you get six new teams to play; six new grounds to travel to. Who can forget those away wins at Newcastle in 2016-17 or Millwall in 2017-18; or Fofana scoring a last minute goal at Huddersfield; or Popworld in Swansea.
I have had more enjoyment as an away supporter in the Championship—even under Kit Symons—than in the 14 years we've played in the Prem.
No Ambition?
Yes, as a Premier League club, we got to the Europa League final. Yes, we beat Chelsea; we stayed up at Portsmouth in the sun; we bested in Basel in the snow. Papa Bouba Diop danced a little jig in front of the cottage and there was a massive ruck at Juve. There were good times, for sure.
However, there's a counterargument here. What if Mitro leaves? What if the money goes? Who's going to fill the new Riverside stand? Where's my ambition, Mark Hughes?
But take a step back. Think about your life as a Premier League Fulham supporter; striving for that impossible dream; destined never to win it; knowing sixth is the best you can hope for; but eternally struggling to compete while all around you things change…
Tourists take over the Hammersmith; there are home fans in Fulham away ends. Tony Khan hosts Thursday night wrestling at the Cottage; Shahid sips espresso martinis in the Riverside's rooftop bar.
Think about West Ham in the London Stadium. Think about Arsenal Fan TV.
Why not go for something we as fans enjoy; where you can go on a 23-game unbeaten run; where you can visit towns with historic stadiums and working men's clubs and friendly Yorkshiremen. "Fulham?" they say. "Ah, we like Fulham."
Why not settle for a league which is home to Marcelo Bielsa, Wayne Rooney, and AK47? Why not settle for a league system that's still less polluted by TV money and half-and-half scarves?
Leicester City is not going to happen again. So, don't hate the Championship. Love it, savour it, because it's probably the best we'll ever have.
The trick for Fulham this year is to do just well enough to ensure an entertaining season and just badly enough to avoid promotion. In Scott Parker, I think we've found the perfect man.