After a truly depressing Monday evening at the John Smith stadium, attentions now turn to our upcoming match at Anfield. Can we upset the odds and earn a result against high-flying Liverpool? Our man George Singer takes a look!
Last season, being the "previews" guy was sometimes a bit of a drag. When Fulham were playing so well, I had to spend my time writing about weaker opposition who we'd end up sweeping aside with ease. These days, it's a blessing in disguise, as I don't need to delve too much into the dispiriting hobby of following the Whites!
Sandwiched between a raft of 6 pointers for us lays the tough task of a trip up to Anfield. There's something inherently likeable about this Liverpool side, which is earning praise from neutrals across the country. Long gone are the days of a dour Kenny Dalglish dragging the club through a messy racism situation (who could forget the Liverpool players wearing t-shirts in support of Luis Suarez?!). Now they're full of young, exciting talent, and are knitted together by a charismatic manager in Jurgen Klopp.
Whilst they'd need a miraculous season to finish above strong favourites Manchester City (arguably the best side the Premier League has ever seen) it looks like they're set up to stay at the top of English football for a long time.
Recent results
February 2014 Fulham 2 – 3 Liverpool
November 2013 Liverpool 4 – 0 Fulham
May 2013 Fulham 1 – 3 Liverpool
December 2012 Liverpool 4 – 0 Fulham
May 2012 Liverpool 0 – 1 Fulham
Likely Liverpool lineup
In a setup that suits their possession style of football, Liverpool have favoured the 4-3-3 this season. The players at either end of the pitch have stayed pretty consistent – with in particular the front 3 of Salah, Mane and Firmino combining to create potentially the most dangerous strikeforce in the country.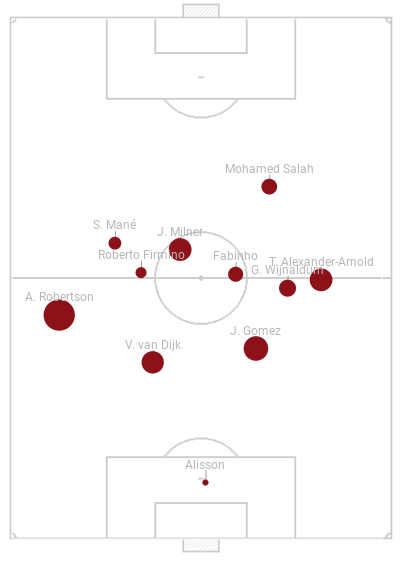 At the Emirates last week, the midfield trio of Fabinho, Wilnajldum and Milner started the match. Klopp, however, has a plethora of other options he can call upon in this area, and therefore may look to rotate after a tough midweek trip to Serbia. Perhaps a silver lining is that Jordan Henderson and Naby Keita (a personal favourite of mine) are struggling with Hamstring injuries, reducing a couple of Klopp's options in the middle of the park.
In attack, Liverpool boast the dangerous combination of comfortable midfield control with frighteningly quick wingers. Expect to see the midfield 3 pass the ball metronomically between themselves, and look to release Mane and Salah with balls through the channels. One of the key components of Liverpool's play has been the fullbacks of Robertson and Trent Alexander Arnold providing an extra attacking outlet, by overlapping and adding extra width in attack. Combine this with Liverpool's strong set pieces, and how they're even looking at specific throw-in training to gain extra advantages, you've got a team with an arsenal of attacking weapons.
When he took over Liverpool, a lot was made of the way Klopp likes to employ 'Gegenpressing' – a term for employing rapid pressing tactics as soon as the ball is lost. Essentially, it stops the opposition from transitioning into attack, and allows his side to win the ball higher up the pitch. When done correctly, it gives both attacking and defensive benefits to the team.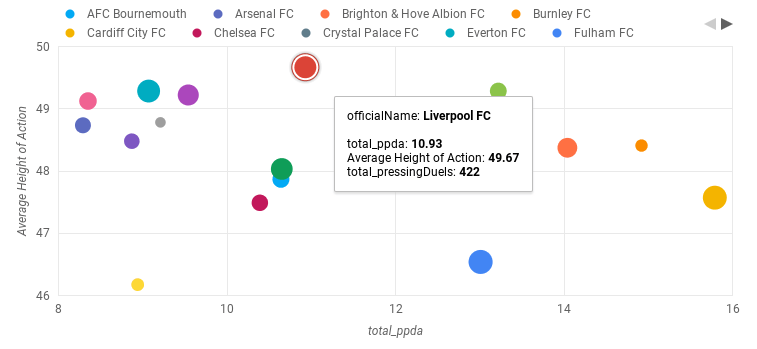 One way we quantify pressing statistically is to look at a team's "Passes Per Defensive Actions" (ie how many times a team let the opposition pass the ball before trying to stop them), and the average height of a defensive action (ie – how high up the pitch they press). Liverpool have an average ppda, but average the heighest defensive actions – suggesting they choose to press high up the pitch to destabilise defences. In particular, Roberto Firmino is probably the best pressing forward in the World right now – and will surely look to apply as much pressure as possible to our centre backs.
One to watch
To be honest, there are so many world class players in this Liverpool side it's hard to pick only one. Flying fullbacks flank a strong centre back partnership, and they even boast last season's PFA Player of the Year up front. However, I'll be looking out for a man who's perhaps underrated – and currently Liverpool's top goal scorer.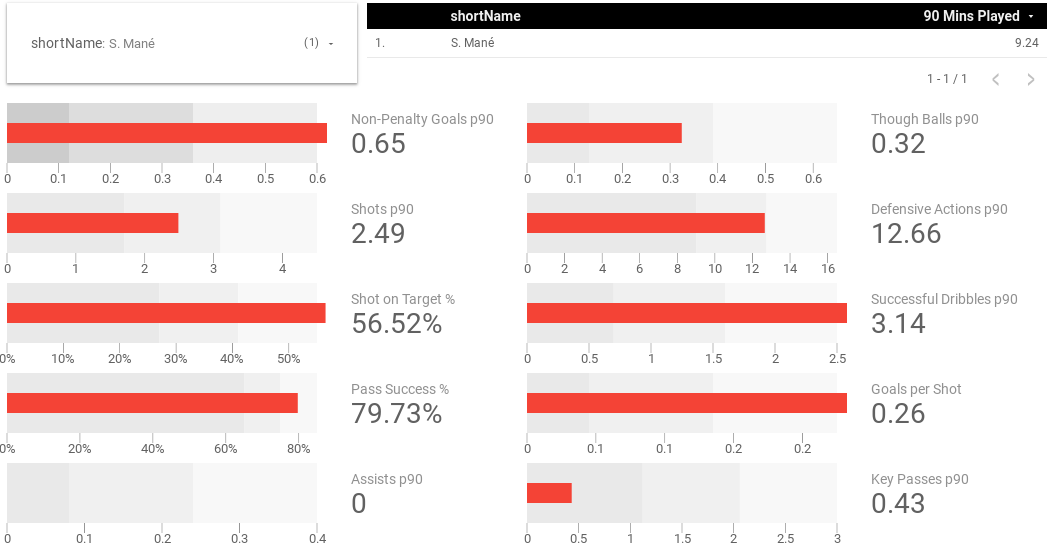 In a season where Salah has been judged to be underperforming (perhaps harshly considering he's scoring 1 goal every 2 games), Sadio Mane has stepped up to the plate to become the most potent spoke in Liverpool's attack. Since joining from Southampton, he's steadily improved every year on year, and is now potentially the strongest winger in the league. His electric pace makes him one the quickest players in the country, routinely making even the fastest fullback look sluggish (see how he created Milner's goal against Arsenal last week). This year he's added finishing to his armoury – and is on track for his highest scoring season ever.
Notes for Slav
There's probably 2 ways you could look at this game as a Fulham fan. An optimist would say that this is our prize for promotion: the chance to share the stage and go toe-to-toe with one of the best sides in the world. A pessimist would say simply that we're going to get smashed. In truth, both are probably right.
If I were Slav, I would treat this game as a bit of a free hit: a chance to give our team more time to bed together and attempt to try and knit together our currently disjointed side. I truly believe that the side we put out against Huddersfield is our best XI (you may argue Mawson could come in for Odoi), and they have the quality to stay up. However, as we saw on Monday, they currently look like 11 strangers on the pitch. Say what you want about Slavisa's tactics, but another 90 minutes of the same side playing with each other can only help.
The only trade-off with this, is the delicate balance of player's confidence. Many times this year we've seen heads drop when balls go in, and conceding a hatful would provide no help to this squad at all. Convincing the team to be competitive, but not get too dissappointed if we lose, will be a real test of Slavisa's leadership.
COYW!!
Data provided by data.wyscout.com