After the international break, the Whites are back on Premier League duty on Saturday in the South of Wales. Our man George Singer is here to summarise what can we expect to see at the Cardiff City Stadium on Saturday!
After a tough start back to Premier League life, a leaky defence has led Fulham to be teetering on the edge of the relegation zone. Our next opponents are the side currently propping up the table, Cardiff City, and it feels like a perfect opportunity for the Whites to earn the points required to get our season back on track. How will Colin's Bluebirds line up?
Expected lineup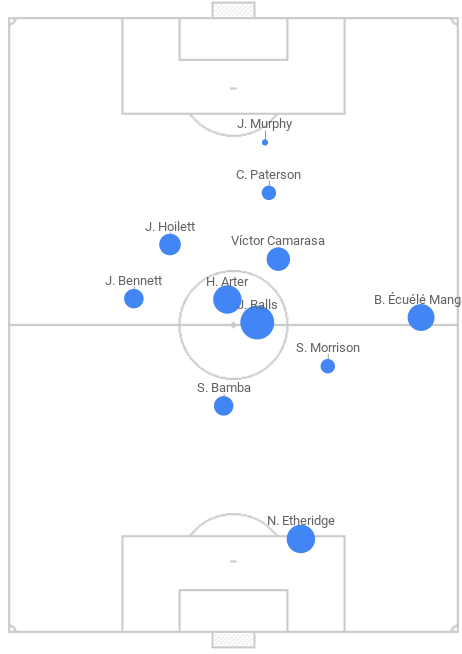 Across the season, Warnock has preferred setting up in some variation on a 4-5-1. Whether it's officially a 4-1-4-1, or a 4-4-1-1, Warnock will pack the midfield to stifle opposition creativity and use wingers who push up to support a lone striker.
Statistically, the Bluebirds have one of the tamest attacks in the League. Tending to play with just a lone striker, Cardiff have struggled to create chances, and they've scored the joint fewest goals in the league (4). Their attacking style can be defined nicely with two stats: Cardiff average less than 39% possession, and 25% of their passes are classed as long balls (a league high).
On Saturday they're going to sit back, let us have the ball, and attack on the break by pumping balls into our box. It's a style of play we should be well accustomed to after a few years in the Championship, but Warnock is the master of this – and will surely target our leaky defence in his bid for a first win of the season.
In defence, Cardiff will likely apply a low block and pack men behind the ball to condense the centre of the park. They will look to push us out wide, where their strong Centre Backs will comfortably deal with crosses all game long. If we are to break through this, we will need to pass and move continually, with energy, to engineer space for ourselves. Spurs did this well last time out, creating an impressive 14 shots to dominate the game.
With Ralls' red card last week, after his frankly ridiculous challenge to take out Lucas Moura, the side may be slightly weaker without his defensive presence – which should be to our advantage.
One to watch
In a side which plays soporific football like Cardiff City, it's hard to pick one player to get excited about. Aside from set pieces, where their physical centre backs thrive, in open play there aren't many players to write home about.
However, one of the few shining lights in their attack is the young winger Josh Murphy. After signing from Norwich in the summer, he's shown glimpses of clever work with the ball and is fairly comfortable in attack. Whilst he's playing a more restricted role in Warnock's side, he still causes danger with his pace and is comfortable shooting from far out – earning him a memorable goal for Norwich last year. Expect him to make late runs to support long balls up to Callum Paterson – a play which Cardiff have used a few times this year.
Notes for Slav
One of the main things I'd like to see us do on Saturday is attack with real energy, and for our front players to interchange quickly. Whatever formation and personnel we use, there will little space in the centre of the pitch for them to operate. Therefore, we will have to generate our own space by moving Cardiff around. If we don't do this, Cardiff will happily keep us at arms length for the whole game – which they are perfectly comfortable doing.
We also need to be prepared for a barrage of long balls. Cardiff focus a lot of effort on making their set piece routines as efficient as possible, exploiting the strengths of Bamba and Morrisson. If I was Slav, I'd run plenty of training sessions preparing for that this week!
This is the kind of game where I'd like to see us arrive with a positive mentality, and play confident football. We're still early in the season, and the lower table is still separated by a minimal amount of points. With a favourable run of games coming up, a couple of results will catapult us up the table, and relieve some of the pressure which is starting to build up.
COYW!!