Five Thoughts: Sheffield United 1-1 Fulham
Written by Marco De Novellis on 19th October 2020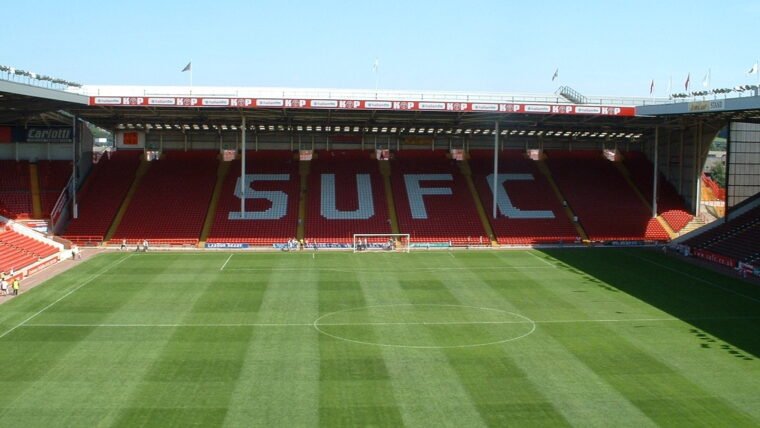 Mitro has a mare in the Premier League's first pay-per-view fixture, but it's not all bad news as new signings outshine the old guard and we actually register a point. Read on, as Marco steps into Cam's shoes in this week's 5 Thoughts.
Buffering, refreshing, and an impressive number of singles in my area – streaming football online is an unhappy experience, but with Sky and BT Sport subscriptions I was not about to pay an additional £14.95 to watch Sheffield United versus Fulham.
Unfamiliar with the dark world of VPNs, I resigned myself to watching Fulham on a shady BeIN Sports stream with a familiar sense of impending regret. This time though, I'm glad I did.
In true Parker fashion, we relied on a moment of magic for our first point this season. Ademola Lookman looks a player. We were relatively solid. We even have a competent centre-back. But for a couple of acts of Serbian subterfuge, Sunday could have been so much more.
We have improved and we need to improve again. If Wolves was the foundation for some form of participation this season, Sunday was another step in the right direction. If we're to stand any chance of staying up, we need to build on this with three points next week. To do so, we need to take a serious look at some of our former heroes.
Out with the old…
A lot has been made about us learning from the mistakes of our previous promotion. Pundits talk of Parker keeping our promotion-winning squad together. Yet only four of Sunday's starting line-up featured last season—and for good reason.
Cairney is shockingly left footed. You can't help but feel this makes him predictable. Already, he's been pushed back into a more defensive role. Bar one good shot, Cairney spent much of his Sunday lunchtime running backwards or sideways with the ball.
Mitrovic looked hungover. Ream is an accident waiting to happen. Cavaleiro is a liability. When our regular counterattacks broke down, it was typically one of our old guard who under-hit a pass, over-hit a pass, mis-controlled the ball, or failed to manoeuvre their body to reach it. When we gave the ball away, it was typically Cavaleiro.
This shouldn't come as a surprise. People forget how poor we were for periods last year. We lost 3-0 at home to Barnsley. We signed Anthony Knockaert. We scraped goalless draws and 1-0 wins. Our play-off final masterclass masks one of history's least inspiring promotion campaigns.
On Sunday, the difference in quality between our old Championship-level players and some of our new signings was clear to see.
Areola was exceptional. Adarabioyo commanded a backline alongside a defender 10 years his senior. Robinson was a consistent threat and defensively sound. Loftus-Cheek was strong in the challenge and consistently won the ball back in midfield. Lookman's strike should have won us the game.
These are positive signs. It makes sense that new signings improve the team. As the team gels together, we should improve. So let's ditch Cavaleiro and crack on with it.
Embed from Getty Images
Moments of magic
It's one of the core foundations of Parkerball—wait for a moment of magic to save your bacon.  Lookman delivered on Sunday.
In fairness, we were a consistent threat in the second half. The likes of Anguissa and Loftus-Cheek drove us forward. Lookman started his delightful jinking run from just outside the box before smashing a close-range finish into the top corner.
After game upon game of watching limited wingers with no end product, Lookman is a breath of fresh air. His aggression and dribbling ability is something we haven't seen for some time.
Still, Parkerball persists. But for Sheffield United and Ollie McBurnie's impotence up front, we could have been a few goals behind by half time. Areola made five excellent saves. We boss possession, but we lack a penetrating edge. When we get forward, there's a frustrating lack of quality at times.
With Parkerball, it seems we're still utterly reliant on individual wonder goals to get anything out of a game. With Lookman in the team, let's hope these moments of magic keep on happening.
Embed from Getty Images
A* for Adarabioyo
Calm, assured, excellent on the ball – it's everything Manchester City need in a defender. Tosin Adarabioyo's Premier League debut was my highlight of Sunday's game.
Tosin hasn't come from nowhere. He's been on the fringes of the City team and praised by Guardiola. He's even played (briefly) in the Champions League.
He represented England from under-16 to under-19 level. He's had two full Championship seasons at West Brom and Blackburn. Blackburn were so impressed they tried to sign him. While he may have been Tony Khan's seventh choice centre back, at £2 million his signing looks a very clever move.
Of course, this is just one performance. Sheffield United are perhaps the worst attacking team in the league. How Tosin will respond to a mistake or a battering remains to be seen.
But in a shaky backline, his confident presence relaxed Ream and others around him. With Joachim Andersen injured, a lot will rest on the future performances of Mr Adarabioyo.
Embed from Getty Images
Mitro's mobility problem
It's hard to win a Premier League football match when your best player for the last two seasons misses and concedes a penalty in the same game.
Mitro lost us three points on Sunday. We'll allow him this one. But could Mitro's flagrant lack of mobility be a more serious problem?
For all his qualities, Mitro is not a quick mover. The deeper he plays, the more ineffective he gets. Ask him to get involved with play, to pass, or create, and he usually gets found out pretty quickly.
What was most concerning against Sheffield United was his hold up play. The ball simply didn't stick and he lacked the mobility to get into areas where he was needed. On counterattacks, he struggled to keep pace with overlapping wingers. When he missed the penalty, he looked tired.
Mitro is still a Fulham legend. When he missed his header in extra time, he felt it. But with new players changing the dynamic of the squad, Parker needs to work out how to get the best out of him.
Embed from Getty Images
Pain per view
I once went to West Ham away for a quid. It was awful. There were kids (for a quid) everywhere. From our front row seats at Upton Park, you couldn't see to the other end of the pitch.
But it was only a quid. I could have gone to West Ham 15 times for how much the Premier League, Sky, and BT are charging to watch second-rate Premier League games on pay-per-view.
Here's some more things you can buy for £15:
A month of PureGym membership
More than two months of Netflix
A pair of decent wireless headphones
15 McDonald's cheeseburgers
Five pints in a university bar
Three Wetherspoon's breakfasts
1,500 penny sweets
We are in a time of economic crisis. Thousands of people are out of work. While coronavirus has instigated many acts of charity and kindness, the Premier League, Sky, and BT conspire to extort yet more money from football fans.
If a normal organisation behaved in this way during a global pandemic, it would cause irreparable damage to brand reputation. People wouldn't buy their products again.
But the Premier League and the broadcasters  know football is more than a standard commodity. They are not out of touch. They know the loyalty and passion of football fans can be exploited and they do so without consultation or remorse.
As long as pay-per-view continues, it's BeIN Sports, pop-up adverts, and Ray Hudson on commentary for me. I'll leave those singles for someone else, though.