In Profile: Ruben Lotfus-Cheek
Written by Cameron Ramsey on 7th October 2020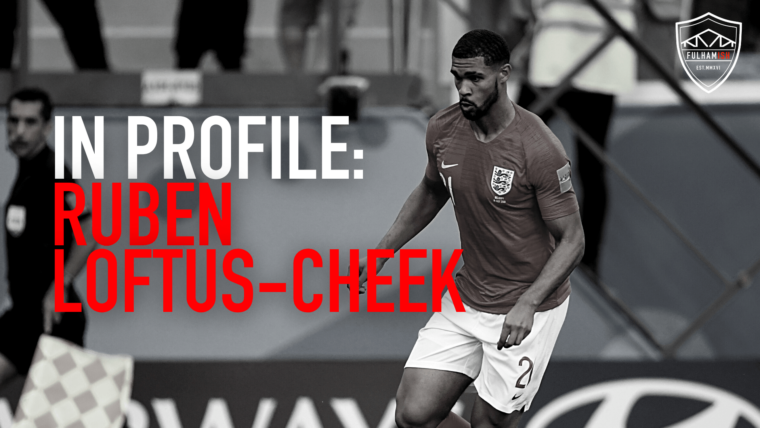 Cam completes our look at our deadline day trio, telling you everything you need to know about our Chelsea loanee.
Transfer Deadline Days are never humdrum for us Fulham fans and Tony Khan, having given in to our incessant bleating on the bird app and so on, decided to flop his weighty chequebook on the table, to lure three intriguing talents to Stevenage Road.
Senor Jarman's expertly covered Joachim Andersen, Monsieur Daly supplied the lowdown on Tosin Adarabioyo and now, last but by no means least, it's my turn to wax lyrical – while *trying* to be completely fair and frank – about our most exciting last-minute addition, Ruben Loftus-Cheek.
Fitness first
Moving to Craven Cottage on a season-long loan deal from Chelsea, our generous, yet loathed neighbours, Loftus-Cheek is determined to alter Fulham's fortunes this term but that, critically, hinges on his fitness.
A ruptured Achilles tendon banished the midfielder to 280 days on the physiotherapist's bench, a stretch where he subsequently missed 38 games for the Blues from May 2019 to February 2020 and since then, his longwinded recovery programme's been less that plain sailing.
There's a mental block to vanquish; the 24-year-old will need to overcome impending fears surrounding those confidence-sapping what-ifs. But two things are for certain: Loftus-Cheek has joined forces with Scott Parker to soak up all that he physically can from the former Three Lions stalwart and he also wants to enjoy his football again – all in the splendid white jersey from down the road.
Embed from Getty Images
Formative glories
Graduating from the Blues' revered youth system in July 2012, RLC's explosive reputation on the pitch soon propelled from fledgling wannabe to phenomenal prospect and those, including myself, that witnessed him dictate the middle third as a strapping teenager will say, fervently, that he was the brightest starlet in sight.
Propping up Chelsea's U21 fold with a brutish physicality that outweighed his opponents, Loftus-Cheek helped his side, which incidentally included fellow Fulham new-boy Ola Aina among others, claim the U21 Premier League title and that triumph spearheaded his eventual rise to the club's first-team proper.
A year later, he was an integral member of the Chelsea U19 squad that steamrolled their way to UEFA Youth League success, having beaten Ukrainian outfit Shakhtar Donetsk 3-2 in the final. Used primarily as a central defensive midfielder, Loftus-Cheek's solid enterprise won plaudits but his deceptive agility and vision also caught the eye of senior figureheads and in the same season, on 10 December, 2014, he made his professional debut in the Champions League against Sporting CP.
Three Premier League outings also came his way that year, as well as a league medal, and in the 2015-16 campaign, 17 first-team appearances ranging from cameos in the Champions League and starts in the FA Cup rewarded his exalted efforts at the club's Cobham training base and beyond.
Senior success
Loftus-Cheek's career has always seemingly been blighted by setbacks and injuries and, whilst he only mustered 11 appearances for Antonio Conte's Chelsea in the 2016-17 season, the flourishing all-rounder was a title-clinching team member for a second time, an experience that has moulded him into the driven, aspirational athlete he is today.
Frank de Boer, at the beginning of the 2017-18 campaign, recognised RLC's potential and the doomed Dutchman captured the youngster's services for Crystal Palace on a temporary basis. Roy Hodgson took the reins from de Boer in September 2017 and the boyhood Palace fan, who has a warm place in our hearts down by the river, handed the box-to-box anchor 25 appearances amid lengthy, frustrating spates of injury.
Regardless of fitness and contention, a reputable return of 2 goals and 5 assists, along with all the silky bits in between, brought the London lad international credibility in November 2017, a date that presented a first senior cap against Germany at the home of football, Wembley. So far, he has 10 caps to his name and he'll be hoping more will arrive this season, obviously.
Gareth Southgate purred over the youngster's originality, his diverse range of specialities, of course, makes him a valuable asset to both club and country. He may have only played 10 minutes in the 2018 World Cup, but his late emergence against Tunisia heightened England's tempo in the closing stages and, having pressed and probed the North Africans, football was dubiously coming home as Harry Kane butted home a last-ditch winner.
The 2018-19 season comprised 40 first-team outings for the Blues and a Europa League trophy, before a crippling affliction that kept him out of the game for almost a year, just before the Europa League Final. Nevertheless, he has a European medal on the mantle and that's to be admired – our historic 2010 tour is still the greater story, mind.
Last season, then, it was more or less back to square one for the debilitated maestro. Frank Lampard lauds Loftus-Cheek's services and once he regained strength, he returned to the "Pie Man's" plans in February 2020, with an inclusion on the bench against Tottenham Hostpur. COVID-19 struck not so long after, stunting the schedule, and once play resumed in June, he managed 55 minutes at left wing against Aston Villa.
Momentum is slowly building and after Villa, RCL clocked up eight more appearances and that's where we find the rangy midfielder to date. Deployed at centre-forward by Lampard on the opening day of the current campaign at Brighton & Hove Albion, Chelsea's somewhat forgotten prodigy was hauled off just after the hour mark and criminally, he hasn't been seen since. That is until now.
Embed from Getty Images
Great expectations
In reality, Loftus-Cheek has numerous questions to answer from his fans, critics and, vitally, himself. I've great expectations of our new loan star and while he's perilously brittle, a fresh start could be the inspiration he needs to kick on with his on-field ambitions.
I, for one, am not fazed by RLC's extensive injury record. I refuse to believe he's another Jack Wilshere; he's nowhere near as reckless as the former West Ham United man. Bad luck, as clichéd as it sounds, has plagued him so far, but this chapter's written for resurgence and atonement, I can feel it.
He's not ours for good, but we'll treat him as our own, an honorary representative of the better half of SW6. Beguiling sorcery, ingenious trickery, beneficial adaptability – expect it all from Loftus-Cheek, because he's honestly capable of unparalleled brilliance both on and off the ball.
6ft'2, 88kgs, and looks my girlfriend drools over, RLC is a poster boy and, when he's fully fit, he's a show-stopping magician of his trade. A pioneer, if you will, I actually can't think of any modern day footballer that conducts themselves in quite the same way Chelsea's unique product does. He is, what the enthusiasts call, a regista with the power of Clarence Seedorf in his prime – or at least I think so, anyway.
I'm not building Loftus-Cheek up only to see him fail, this is the chance he deserves. To become a nailed-on starter, week in, week out, in the top-flight is his intention and behind Aleksandar Mitrovic, while being supplied by Tom Cairney, he's destined for a stature-solidifying season by the Thames.
Andre-Frank Zambo Anguissa is the driving force we have, although Loftus-Cheek is the raw burst of inspiration desperately need. It's a bold claim, but in terms of capability, intelligence and awareness, the man is the most naturally gifted midfielder England has produced in the last decade and if anyone genuinely discredits his calibre, you're lost in Fabian Delph's mediocrity.