In Profile: Joachim Andersen
Written by Ben Jarman on 6th October 2020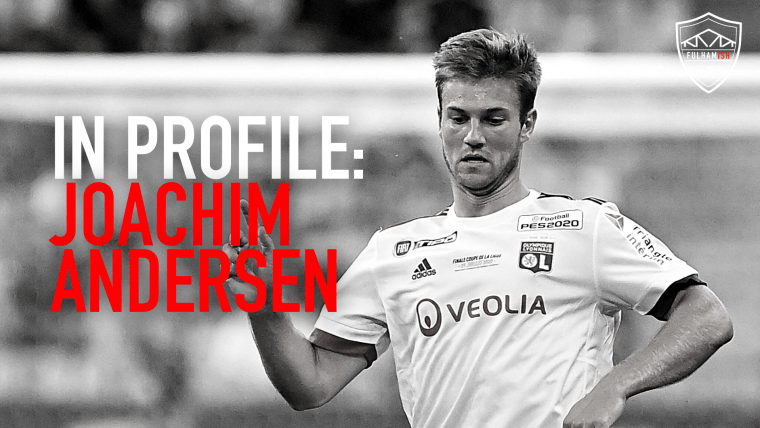 Sign a centre-back we said, and sign a centre-back they did. A big one in fact, 6 foot 4 Joachim Andersen arrived from Lyon on deadline day and, quite frankly, made all of our girlfriends swoon over him. Although another dreaded loan, this is an exciting signing for Fulham who have secured a young player with a bright future ahead of him.
For those of you who follow their European football, you will know how much Jean-Michel Aulas dislikes parting with his well earned cash. And for those of you who don't, well you do now. After a brilliant season with Italian side Sampdoria, Aulas and Lyon parted with €24M in initial payments to secure the services of Andersen, with a further €6M in ad-ons also coming the way of the Genoese.

Embed from Getty Images

Before his move to Lyon, Andersen was on the radar of a host of top clubs around Europe, with Arsenal and Everton trying to secure his signature. Being as tall as Joachim is, it's easy to see why he would catch the eye, but aside his presence in the air there are other facets to his game that make him stand out. His passing range in Italy was bettered only by Marcelo Brozovic and was recorded at 89%, very impressive for a man that does like a lengthy pass. This kind of passing range is going to be needed when launching counter attacks, or trying to play out of the back against weaker opposition.
What is also most notable about Andersen is that he comes as somewhat of a Swiss army knife in that he can play on the right or left hand side of defence, and has been deployed as a holding midfielder in his earlier days. Something that will encourage Fulham fans as left centre-half has been an issue for an extended period of time now. This comfortable deployment also points towards a good ability to read the game, and whilst his tackles per 90 is fairly low at 1.9 game in France, his ability to intercept and block chances is very encouraging.
Embed from Getty Images
Now, being that tall will have its draw-backs, and whilst 66% aerial duel rate is impressive over two seasons there is a worry about the lack of pace Andersen has in the Premier League setting. As covered by Jack and I during the deadline day podcast you can listen to HERE, there were struggles for Joachim with Lyon last year, notably when they changed to the three at the back style that bought them huge success in the Champions League. It was a strange old year for Lyon, who went so far in major competition but failed to match their form domestically, missing out on European qualification.
On the whole though, the bring in a centre-half with Champions League experience and such huge potential is an encouraging move for Fulham and alongside Tosin Adaraboiyo adds real quality and depth to the Scott Parkers defensive option. The only downside to this deal is that it wasn't done six weeks ago.