Positives and negatives: Fulham 0-0 Everton
Written by Cameron Ramsey on 30th October 2022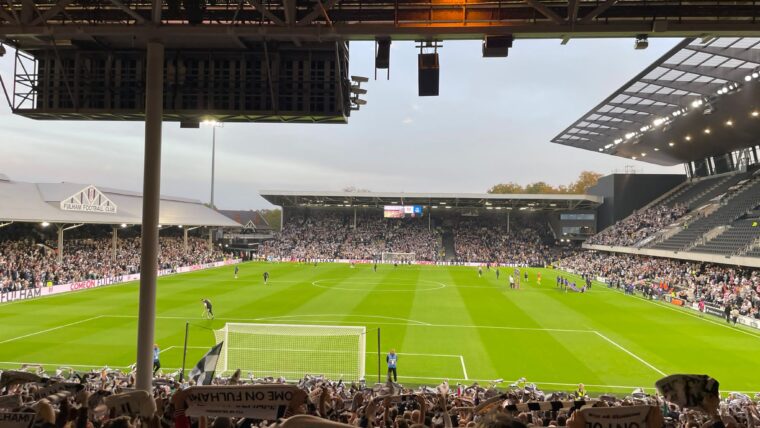 After a few weeks out of action, Cam's back to cover all the key talking points from Saturday's draw against Everton.
Honours even, spoils shared, Marco Silva's Fulham shunted Frank Lampard's Everton to the brink but on the banks of the Thames, the visitors ultimately hung on to leave SW6 unscathed. The Whites had scalped Aston Villa, they'd stunned Leeds United at Elland Road but on Saturday evening, the Toffees halted our victory procession but what a hugely engrossing encounter it was.
Scarves were swirled, Craven Cottage reverberated with what can only be described as white noise, the stage was set for a late October showdown and despite the result, it didn't disappoint.
This wasn't your typical 0-0, you see. It was 22°, shorts were worn with windbreakers and on the fringe of November, a period where Fulham would usually toil in the top-flight, the mighty Whites have 19 points and we're flirting with the Europa Conference League. Ladies and gentlemen, we move!
Positives
Life on the left
Embed from Getty Images
Once upon a time not too long ago, Fulham's left side was weak, feeble, culpable, but since Willian's introduction to matchday matters and Antonee Robinson's revitalisation, it's a secure safe haven and connections are strengthening. Both Willian and Robinson cooperated superbly, sparking counter attacks and stifling Everton's advancements as a pair and their partnership was constant.
Raking cross-field switches spun from the Brazilian's finely-tuned feet, Jedi's galloping surges amplified Fulham's momentum, the left channel was a hotbed of resolve and productivity and the Toffees simply couldn't stomach the diversity in our approach.
Of course, Halloween is upon us, and Willian's beguiling trickery is befitting for this time of year but make no mistake, his sorcery isn't seasonal, it's everlasting. The 34-year-old's intelligence is acute, he showed for the ball under restraint and still managed to rotate possession wisely, and when he'd isolated Seamus Coleman, a fullback of similar age, he flicked on the samba style to humiliate the Irishman, mercilessly.
Behind all great wingers is a great fullback, or so it should be, and fortunately for us, Robinson's performing at a rate which is absolutely awe-inspiring.
He was tougher and faster than Anthony Gordon, he was fearless whilst carrying the ball at breakneck speeds and with his head up, scanning for inroads and avenues, the USMNT international was a trustworthy distributor that made his passes stick.
There surely isn't a sturdier left-back in the Premier League at this given moment, and if there is, Antonee's definitely a pace setter, and that's not just in the athletic sense. Between the two, a cutting edge has been defined and they're destined to serrate touchlines for the foreseeable. The perfect match is often deceiving and with Willian's gainful experience and Robinson's combative intent, we're smitten.
Palhinha's so bloody good
I have never witnessed a player with the punch and poise Joao Palhinha hones so harmoniously. The man is a code breaker, a hacker that screams through firewalls and once he doused Everton's impetus, the Portuguese enforcer encouraged ingenious patterns to counteract the visitors' participation.
X-rated challenges, observant and aware, there are many strings to Palhinha's bow and I can't believe we purchased his otherworldly adeptness for a paltry £20m. It's honestly the steal of the century and it won't be long until Sporting CP report us to Watch Dog.
As Harrison Reed instigated stings, Palhinha's patrolled with the nightstick and Everton were held by the scruff. There was no salvation for Amadou Onana and Idrissa Gueye, they fooled themselves into thinking they'd escape undetected because once Palhinha picked up the scent, they were done for.
First balls, second balls, even third balls were ruthlessly claimed and quarantined by Joao, we could salivate over that incredible double tackle for weeks and yet, we'd never tire, he's a natural-born entertainer and for a defensive midfielder, the ability to enchant the masses is a rarity but he is just so bloody good at what he does.
In a matter of months, JPally has endeared himself to the fans, even opposing supporters laud his demonstrative involvement and to the blissful sound of Tequila, his very own rendition, a firm favourite's emerged. There's badge kissing, blue-faced clamour, big headers, big interceptions and even bigger net blasters to savour and while Fulham couldn't land a killer blow, our bustling No.26's attitude was on point and at the double. He's a comma, a colon, a exclamation mark and a full stop, all rolled into one footballer and this is just the beginning to Palhinha's eventful journey in the famous black and white.
The Diop effect
Embed from Getty Images
Midweek, our man George Rossiter published an article questioning Fulham's best central defensive duo and following Saturday's evening's outing, I think we can all conclude that Issa Diop has to factor into Silva's starting XI indefinitely. Since joining from West Ham United, Diop's inclusions have been sporadic, first impressions against Crawley Town were damaging but in recent appearances where he's started, his deeds at the back have been concrete.
There were moments where Diop maybe could've moved possession quicker but overall, I really like his calmness on the ball and he compliments our style excellently. He can ping it 50 yards, he can feed it through bodies accurately and most importantly, in the thick of the action, the 25-year-old defender's unshakably disciplined. He overshadowed Dominic Calvert-Lewin, he paralleled the England striker stride for stride and he was conscious of his surroundings. The Frenchman blanketed the back four, he won his battles comprehensively and if a player wriggled from his custody, he promptly restored order with an unerring command.
Gordon was a target, Calvert-Lewin was a victim, and alongside an equally assured Tim Ream, Diop threw his weight around to intimidate and neutralise the Merseysiders. That's two consecutive clean sheets for Fulham at Craven Cottage and Diop has graced the turf from the off in both meetings. Coincidence? I think not. A run of games, invaluable minutes is all Issa requires to truly reach his underlying potential and if he continues to demand a regular spot in the starting XI, Fulham's goal difference will grow healthier because he isn't just here to make up the numbers, to be a bit-part, throwaway defender – he's here to restore his reputation and that can only benefit the Whites in the long run.
Negatives
24 joyless efforts
Fulham peppered Everton's 18-yard box, Aleksandar Mitrovic's aim was wayward, and if it wasn't for Jordan Pickford, James Tarkowski and Conor Coady, one of the Whites' 24 joyless efforts would've nestled in the back of the net. A frustrating mixture of shanked strikes and outrageous defending denied us the victory, the game in terms of golden opportunities was monopolised by Silva's men but as it was against AFC Bournemouth a few weeks ago, we couldn't divert whilst in control and the Toffees can count themselves stupidly lucky to have scrounged a point.
I suppose, on the flipside, the fact we're actually creating a multitude of chances is comforting but we really should've been clear, at least 3 goals to the good, and while Mitro wasn't his usual self, it's a collective stumbling block that we have to overcome because we have to learn to kill games off when we're almost being begged to do so.
I won't pinpoint Mitro solely, his outing wasn't vintage but he did, in fact, manipulate Everton's defence to our advantage and it wasn't just him that hacked at clear-cut scoring opportunities. Sublime low blocks and fingertips impeded Fulham's strike force, it felt like Fulham were owed a winning goal but it simply wasn't to be and now, we have to dust down and move on with another vital point in the bank.
One final positive
Embed from Getty Images
Would-be penalties, should-be red cards, numerous near misses and botched balloons cannot dissuade us from admitting that for a 0-0, it was possibly the most enthralling scoreless game we've ever seen. It really was edge of the seat stuff, fingernails were gnawed to the bone and that's because Silva's Fulham are a delight. We're seldom run off the park, we aren't shy of asserting ourselves in affliction and that breeds fascinating football and we, since Marco's arrival, have been treated and spoiled basically every single matchday.
We've a tremendous shot stopper in Bernd Leno, Bobby Decordova-Reid's can-do outlook's is symbolic and win, lose or indeed draw in this instance, unity overrides doubt and uncertainty. This season, it's clicking for Fulham. We aren't resident whipping boys, we aren't nailed-on relegation fodder, we're holding our own in the Premier League, a division which swallows lesser squads whole, and our successes to date have been fully merited.
Two years ago under Scott Parker, the Whites would've submitted to Everton, we would've goaded them into inflicting a sorry thrashing however there's courage within this Fulham side and we're refreshingly unrecognisable, compared to the flawed Premier League eras of the past. This team has invention, it has solutions and heading into the games against Manchester City and Manchester United, we're sitting pretty in the top half of the table and we're not to be taken lightly, either.