Marco Silva's centre-back conundrum
Written by George Rossiter on 27th October 2022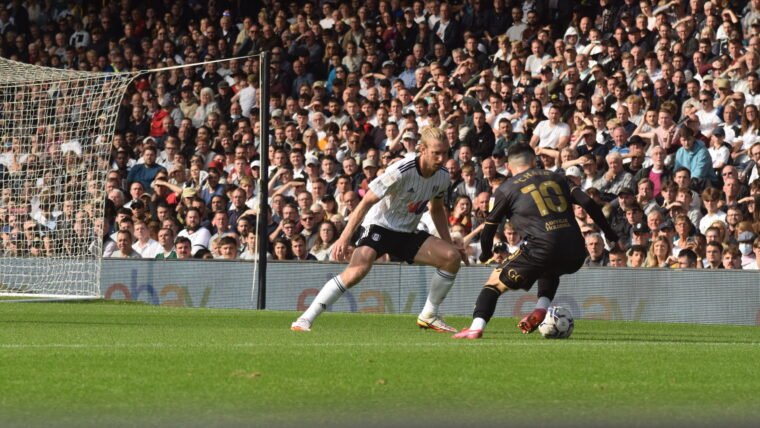 George Rossiter assesses our centre-back options and tries to figure out the best pairing.
Fulham's start to life in the Premier League under Marco Silva has been admirable. At the time of writing they sit in the top seven, with only three teams scoring more goals than the Whites. While performances have been brilliant and provided some noteworthy results in the process, one weakness still appears.
It would be fair to say that, in isolation, each of our centre-back options have shown themselves to be good Premier League options. Yet, here we are, also with the fourth worst defensive record in the league. With Tim Ream proving people wrong, Tosin and Diop rotating and Duffy continuing to come off the bench, it poses the question: does Marco Silva know his best pairing?
The stalwart: Tim Ream
Well into his third crack at the Premier League with Fulham, Ream had been written off by a large section of the fan base who had deemed him as simply not good enough. Thankfully, the American has proven any doubters wrong, playing all but three minutes of the Premier League season, and excelling in his role as the senior man at the back, even if called upon out wide at the City Ground.
While many continue to believe the future of this partnership lies in players who potentially have a higher ceiling, it feels impossible right now to even consider dropping a player who leads from the back, consistently performing at a level we didn't know Ream was capable of reaching, both defensively and in terms of ball progression.
Embed from Getty Images
The asset: Tosin
Unlike Ream, it appeared that Tosin would be the man to build the defence around following promotion. He's seen as one of Fulham's most prized assets; a young centre-back with brilliant defensive capabilities coming off two impressive seasons with the club. However, his performances have been below-par at times this terms, including the recent win at Leeds.
Despite a brilliant team performance and three points at Elland Road, it was worrying how little Tosin did to prevent both goals, especially the first from Rodrigo, which looped far too easily beyond him. Along with a worrying lack of progress in Tosin's ability on the ball, it appears to be his name most at risk of being rotated in the starting XI at the moment.
Embed from Getty Images
The new boy: Issa Diop
Signed for a hefty fee from West Ham, it may have been a surprise to fans how long it's taken for Diop to leave his mark on the side. After a shocking first display (admittedly not just from the Frenchman) on his debut against Crawley in the League Cup, Issa made a much better impression at the City Ground in the win over Nottingham Forest.
With Premier League experience and pedigree in the bank after his spell at West Ham, a large price tag and now a first goal against Bournemouth, Diop looks to be the man to force his way into this partnership and make it his to keep. At the same age as Tosin, there's every reason to believe he can reach an even higher level and be of huge value to the club for years to come, let alone this season.
Embed from Getty Images
The alternative: Shane Duffy
As of now, Duffy has been nothing more than a bench man, coming on in the closing minutes of four Premier League matches. Like Diop, the Irishman hardly covered himself in glory in the cup game with Crawley, but bar that, there's not much to go off in a Fulham shirt, leaving him as a little bit of a mystery. But we must not ignore what's already known. Duffy is an Irish international with 55 caps, a wealth of Premier League experience with parent club Brighton and Hove Albion, and has consistently proven in the past what a threat he can be at the other end with his aerial presence. If injuries arise or other players' forms dip, Marco has a very dependable alternative to rely on. Whether Duffy ever becomes a constant in the side, however, is another question.
Embed from Getty Images
So, what's Marco's best pairing?
Silva's decision to bring in Tosin against Leeds, despite Diop contributing to a clean sheet days earlier against Aston Villa, was confusing, and maybe further points towards the boss not quite knowing who his most reliable pairing are. It seems apparent that as long as Tim Ream continues to be a great leader who contributes well at the back, his place is set in stone, but with a World Cup break on the horizon, it's imperative Marco solidifies who partners Ream for the second phase of the season.
With none of our options seemingly going to Qatar unless the USA make a U-turn on Ream, the break will be huge for Diop, Tosin and Duffy to prove their point. As for the next three games before then, Diop appears to be the man performing at the best level, whether that results in a place in the side against Everton, Man City and Man United, who knows. Hey, if all else fails, we can play Bobby De-Cordova Reid in any position on the pitch… right?