How Fulham became the most prolific team in Europe
Written by Rhys Daly on 14th January 2022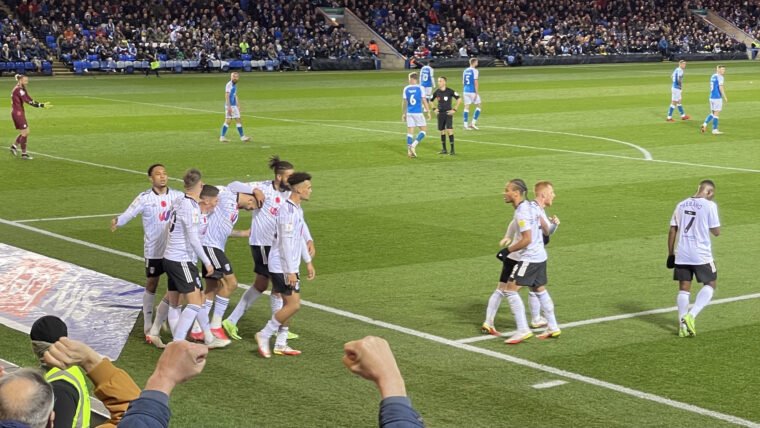 Rhys looks at how Fulham have outscored Manchester City, Liverpool, Paris Saint-Germain, Bayern Munich and, in fact, everyone else from Europe's top five leagues domestically this season.
Fulham added a magnificent seven to their already imposing goal tally with bulldozing victory over a feeble Reading on Tuesday evening – and are on course to demolish the Championship record.
Should FFC continue scoring at their current rate of 2.4 goals per game – Marco Silva's blusterous Whites would demolish Reading's 99 strikes from 2005/06 (the highest since the rebrand) with an astonishing 111.
I've taken a moment to delve into how Fulham have become so prolific since their summer of change – and speculate how things might progress across 2022.
Parker the bus
Embed from Getty Images
Scott Parker turned from hero to stranger before turning his back on Fulham following their relegation from the Premier League last season – and his last few months at the helm were far from engaging.
Over the course of the previous summer, Parker had doubled down on the cautious tactics that saw Fulham sneak their way back into the top flight – and it briefly felt like it might come good.
Parker's men earned a reputation for hanging onto one-goal leads during their fourth-place finish in 2018/19, reaching the playoff final by scoring only seven goals more than rock-bottom Hull City.
Their 64 strikes, and goal difference of +16, was of complete contrast to Fulham's free scoring spirit under Slavisa Jokanovic, a side who smashed home 79 goals and earned a positive difference of 33.
Embed from Getty Images
Parker, who had been seemingly been scarred by his time watching Fulham from the sidelines as they shipped 81 Premier League goals in 2018/19, immediately implemented a new plan on their top-flight return.
Following a sentimental starting XI in the season opener against Arsenal and two disastrous defensive displays against Leeds and Aston Villa, Fulham got wise at the back.
Despite managing only two wins across their opening 23 league outings, Fulham limited the opposition to only one goal or fewer on 22 occasions across their 35 fixtures between October and May.
However, their pragmatism came with a prodigious price at the other end, with only 27 goals scored in total and a run of 10 draws from 15 matches between December and February proving to be ruinous.
Silva signing
Embed from Getty Images
After Parker's June departure sparked a hunt for the right man to steady the ship, a personal visit from Shahid Khan did the trick to convince Marco Silva of a new challenge in SW6.
Although the drop in quality of opposition was always going to help his chances of a good start to life in West London, the change in system didn't take much time to implement.
Fulham averaged 57.6% of the ball during the promotion season under Parker, and on more than one occasion found themselves unstuck against a low block of often journeyman defenders.
Having abandoned that system in the top flight, at the direct expense of Aleksandar Mitrović, Silva is not as desperate to keep hold of the ball – as long as it is used wisely when they do have it.
While Fulham have averaged 59% of the ball per game so far this season, that is thanks in part to the 67% they managed in the 7-0 victories over both Blackburn and Reading.
It's also worth pointing out that Fulham had exactly half of the ball during the 3-0 victory at home to Stoke, 46% in the 4-1 battering of QPR and just 38% in the 3-1 win at home against Swansea.
Aleksandar, the wait
Embed from Getty Images
An arguably worse feeling than that of imminent relegation towards the end of last season was the uncertain future of Mitrovic, who didn't have a perfect relationship with the manager to say the very least.
I wrote back in May how the departure of our favourite striker in decades would've been by far the worst outcome of the upcoming summer – but his return to form has exceeded even my lofty expectations.
Despite a recent run of just one goal across four games, his double at Reading has taken his tally for the season to an unrivalled 24 (across the top five European divisions and top four leagues in England).
The 27-year-old has flourished under the guidance of Silva and assistant boss Luís Boa Morte, sitting only seven goals behind Ivan Toney's 31 from last season with 22 fixtures to play.
Mitrovic is also just two goals behind the league-leading return of 26 from the 2019/20 campaign – during which it took him 43 matchweeks to hit the same tally as from 23 this season.
Fulham have now scored 58 goals across 24 Championship outings 😳#FFC have won 7-0 away from home twice, scoring three or more goals on ten occasions ⚽️

Aleksandar Mitrović has 24 strikes to his name with 22 games to play 💪

This is Marco Silva's Fulham 💥 pic.twitter.com/DGfFoQQWqP

— Rhys Daly (@RhysDalySport) January 11, 2022
'I don't know about you, 2022'
Embed from Getty Images
Looking forward, it might not be wise to predict that the monstrous scoring rate of both Fulham and Mitrovic will continue at it's current level, but that's not to say it's impossible.
With Harry Wilson (9), Neeskens Kebano (5), Fábio Carvalho (4) and Rodrigo Muniz (3) all providing a goal threat so far under Silva, opposition defences don't seem quite sure where to look.
Should Fulham continue in the same vein and secure promotion either by league position or by the play-offs for the third time in six seasons, I doubt Silva would be quite so outright when adapting his team for the Premier League.
Trying not to get ahead of myself, there is still plenty of Championship football, for us more than most, before Fulham's fate is sealed – but if the opening half of the season is anything to go by… there is plenty more fun to be had.