Is there a space in our midfield for Josh Onomah?
Written by Sean Guest on 1st October 2021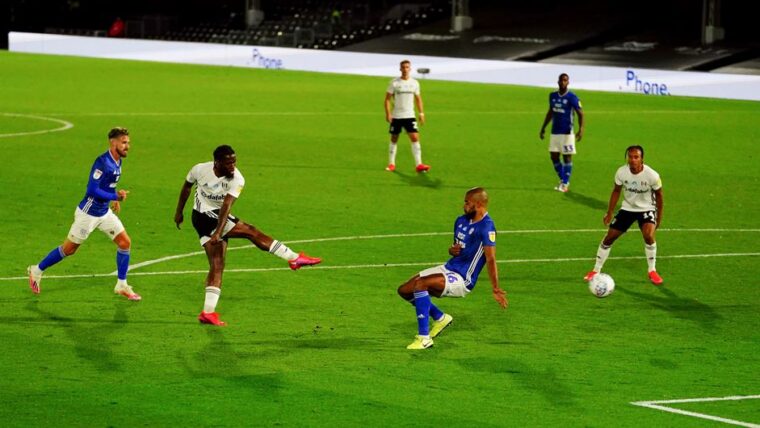 Sean gives his frank and honest assessment of Onomah's SW6 tenure so far.
In the space of the past year Josh Onomah's gone from missing out on Scott Parker's Premier League squad to starting in Marco Silva's.
Benefitting from our return to the Championship, the 24-year-old has, at times, looked worthy of the opportunity. Impressive performances against Middlesbrough and Huddersfield suggest he's grown as a player while sub-par outings against Millwall, Blackpool and Bristol City raise questions about his consistency in the middle of the park.
Following the arrivals of Domingos Quina and Nathaniel Chalobah and the return of Harrison Reed, Onomah faces increased competition for playing time in a midfield that also needs to accommodate a rejuvenated Jean Michaël Seri, the precocious talent of wunderkind Fabio Carvalho and, perhaps at some point, club captain Tom Cairney.
So let's take a closer look at Onomah's evolution during his time with the Whites and what he needs to do to keep developing.
Embed from Getty Images
Driving force
When Fulham acquired Onomah as part of the Ryan Sessegnon deal expectations were low. As Ben pointed out in July 2020, "The perception was that Onomah was a textbook Daniel Levy 'sweetener' in the deal" and that he "only joined the Whites because he was a player that Parker knew."
After a slow start underpinned by a lack of fitness and an inability to make an impact off the bench, Onomah began to find his rhythm as a starter in late November. The deciding goal he scored in our hard-fought home win against Leeds just before Christmas gave him a much-needed confidence boost as he carved out a role for himself in a midfield that Parker tinkered with all season long.
Playing alongside some combination of Harrison Reed, Tom Cairney, Stefan Johansen and/or Harry Arter, Onomah regularly attempted to drive us forward, averaging two take-ons completed per game (compared to second-best Cairney's 1.3) with a success rate of 68.75%, according to Squawka. His presence gave us glimpses of an attacking impetus that defied Parkerball, making it more back to front than side to side. It was his post-lockdown promotion to a more attacking role that offered even greater freedom that brought the best out of Onomah though, adding both goals (such as this off-balance strike against Birmingham) and assists (like this perfectly-weighted through ball against Sheffield Wednesday) to his repertoire.
And yet it was his Messi-esque worldie in the first leg of the play-off semi-final against Cardiff that really came to epitomise his potential, pointing to what felt like a bright future ahead.
Embed from Getty Images
Bouncing back
Onomah, of course, suffered a set back ahead of the 2020/21 season as injury kept him out of the squad for the first half of the season and hindered any hope he may have had of making a significant contribution in the second.
Determined to bounce back strong, he flew out of the traps this season, creating Harry Wilson's goal in our home opener against Middlesbrough following an intelligent run into the right channel. Operating, on paper, as part of a midfield three that saw he and, most often, Seri sit deep with Carvalho in the number 10 role, Onomah looked sensational at times through our first five games.
During that stretch he benefitted from the movement of Carvalho and the ever-present threat of Alexander Mitrovic, frequently drifting into attacking positions not dissimilar to those he occupied towards the back end of the 2019/20 season. His ability to cause problems for opposing defences was evident in the link up play with Kenny Tete that resulted in a headed opportunity for Neeskins Kebano against Middlesbrough as well as his driving run, which eventually led to the fourth goal against Huddersfield. He was also a source of key passes during that stretch too, averaging one per game, including this through ball against Stoke, which should have been converted by Wilson.
The toe injury sustained by Carvalho then changed our entire dynamic. With space at a premium against a stodgy Blackpool defence, neither Onomah or Quina, who replaced the teenager in the starting line-up, made much of an impact. Onomah did produce one of Fulham's better chances – a left-footed shot from just over 20 yards out that went just wide – but otherwise struggled to get into the game, recording just 46 touches – 10.4 less than his season average to that point.
His performance that day was reminiscent of his lacklustre outing against Millwall earlier in the season, where he registered just 42 touches, and was repeated more recently against Bristol City (30 touches), where his impact was so minimal that he was hooked at half time. Somewhat unsurprisingly, he was then benched for Wednesday night's game against Swansea as Silva looked to inject some life back into his ailing midfield to great effect.
Embed from Getty Images
Room for Josh? You bet
While Onomah's time at Fulham has been a rollercoaster to date, he's clearly evolving as a player. At just 24, he possesses a rare combination of poise and power that allows him to influence games in a way that other members of our current crop cannot.
Clearly, there are opponents and situations that suit him better than others and it's important that Silva – as he did on Wednesday – recognises that, particularly over the long, hard slog of a Championship season. If utilised against opponents who come out and play us, Onomah can be hugely influential. He is, after all, a willing ball carrier who's never afraid to have a crack (see his two long-range efforts against Leeds in the Carabao Cup) in addition to being the kind of player who benefits from having a license to roam.
From a developmental perspective, it's important that he keeps getting playing time though, and if he can learn to adapt his game to opponents that sit back and soak up the space and become a more effective contributor off the bench, that shouldn't be an issue.