It's time to grade our loanees
Written by Jack Stroudley on 4th May 2021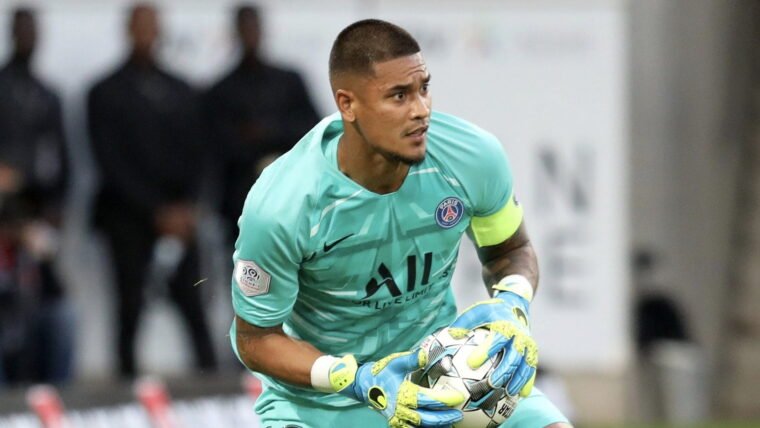 Jack Stroudley dissects the impact our loan signings have had throughout the season.
As another Premier League season comes to a close, the prospect of relegation once again seems to be a damming reality. The recruitment process has once more been dubious and questioned by many of the Fulham fanbase.
Despite our Director of Football previously stating "I can't be in the business of developing other people's players when they don't have time to play them", we've once again seen a heavy reliance on the loan market to fill our squad out with the quality needed to attempt to stay in the Premier League.
So overall, how have each of these players done? Has each individual loan been a success or a failure, I am going to be grading each loan signing based on their impact at the club and how they've benefited the team. 
Alphonse Areola
Embed from Getty Images
When we signed Areola in September there was a collective level of concern on how this would affect Marek Rodak, who'd been phenomenal during our Championship campaign, and many believed he'd earned an opportunity at the top level of English football. However, barring the odd mistake, Areola quickly silenced all doubters.  
Marek was unfortunately dropped to the bench after one game. While we'll never know whether he could have made the step up, his ability in the Championship suggests he would have been a valuable keeper for us this season if given the time.
Alphonse has shown why he has had spells at Real Madrid as well as his current parent club PSG. His shot stopping is second to none and I believe next season he will get a permanent move to the Premier League as he seems settled in England.
Despite making occasional mistakes throughout the season, it is evident that Areola has gained us more points than he's cost us. 
Grade: A-
Joachim Andersen
Embed from Getty Images
When the great Dane signed for Fulham on the October deadline day, I don't think many fans expected Joachim Andersen to be as remarkable as he has been. Despite only being 24, he's been a calming, reassuring leader in defence, leading the reinvigoration of a sloppy, mistake-ridden backline into a cohesive and sturdy defensive unit.
According to whoscored.com, Joachim Andersen's busy defensive leadership has resulted in him being in the top 5 centre backs for clearances per game in the Premier League this season, scoring an average of 5.1 per game. His consistent performances and willingness to drive the team to do better has drawn keen interest from more lucrative clubs in England with the likes of Tottenham and Manchester United allegedly keen to make the Danish international a permanent signing in the summer.
Overall, despite the season looking very bleak for Fulham, the loan signing of Joachim Andersen has been a success and has been dubbed by some fans to be the best centre-back we've had at the club since Brede Hangeland. 
Grade: A 
Ola Aina
Embed from Getty Images
After his dismal debut against Brentford in the Carabao Cup, the signing of Ola Aina looked like another poor piece of recruitment. But as the season's gone on I've been relatively impressed with Ola. His main attribute for Scott is his versatility, with his ability to operate anywhere across the backline at a good level. 
He has shown a competency to bring the ball forward from wing-back/full-back when necessary as well as having the defensive capabilities to slot into a back five predominately alongside Andersen and Tosin. While it hasn't been plain sailing for Ola – and alongside the majority of this Fulham team he's made mistakes throughout the season – I think overall he's given a good account for himself in a black and white shirt. 
Grade: B-
Mario Lemina
Embed from Getty Images
Similarly to Aina against Brentford, when Lemina came on away at Leeds and completely slowed the game down while we was in the ascendancy I wasn't too optimistic for Mario. However throughout the season he has shown promising performances and given us magical moments (most notably at Anfield). There's no doubt that Mario Lemina cares about Fulham, he cares about the process and wants to keep Fulham in the Premier League no matter how bleak that currently seems. 
Mario's ability to play as either the deeper midfielder in the team or in a more box-to-box role has offered Scott more freedom when selecting the Gabonese international, Mario's versatility has enabled him to feature on a frequent basis throughout the season as both a regular starter or an impact sub.
My only issue with Mario has been a lack of consistency, it's tricky to pick out a point in the season where he has continuously delivered the top level performances we have needed in order to give us a better chance of survival. He's clearly a decent caliber Premier League talent with West Ham and Newcastle both interested in signing him next season, he's done ok for Fulham.
Grade: C
Ruben Loftus-Cheek
Embed from Getty Images
I'll keep this one short and sweet as there's been a whole article recently analysing Ruben Loftus-Cheek's season for us. But I think it's safe to say he hasn't reached the heights we all expected when we signed him on deadline day. It was apparent very quickly that we needed some more attacking impetus in the side and RLC was meant to be the one to drive us forward and steer us to safety. 
Throughout the season I've struggled to work out what his main attributes are. He can drive the ball fairly well to the edge of the box, but then lacks the correct decision making to create anything menacing from the attack, his mentality to help the team defensively lacks as well and I personally can't see him being near Thomas Tuchel's Chelsea team next season.
Grade: E
Ademola Lookman
Embed from Getty Images
Lookman joined Fulham at potentially the worst time. We'd just lost 3-0 to Aston Villa and the club seemed to be in disarray. If you look back at the reaction to his announcement tweet it's bleak viewing. Little did we all know he would be our brightest creative spark all season. His ability to take on a man, drive with the ball, deliver a good cross and be composed in-front of goal is something we was in desperate need of. 
However as the season progressed we've become more and more one dimensional, with the vast majority of play coming through Ademola, which has resulted in opposing players marking him more vigorously. This ultimately reduces his contribution to the team; he's only got two goal contributions since February.
Ademola is clearly more skilled than our other attacking options. If we had more attacking players of Ademola's caliber, maybe we'd have seen him be more expressive on a regular basis in the second half of the season.
Grade: B-
Josh Maja
Embed from Getty Images
I'll be honest, when Josh Maja signed on deadline day in January, I wasn't too optimistic. It seemed evident he was a young striker trying to prove his worth at a struggling Premier League club in order to force a move to a bigger club in the summer. His loan tenure started spectacularly, as he picked up both goals at Goodison Park in a 2-0 victory over Everton. Sadly, since then he hasn't been able to maintain that level of performance. He's shown glimpes of promise with his ability to hold the ball up and bring other players into the game, but it's not been enough. 
As well as this, he's also been quite unlucky not to get a few more goals under his belt. His goal was disallowed against Tottenham for a ridiculous handball on Mario Lemina, as well as missing glaring opportunities against Crystal Palace and Leeds. Overall I think he's a promising young player who could benefit us if we managed to keep hold of him for next season. I don't think that will happen though.
Grade: C-
The future
Embed from Getty Images
As the season draws to a close, it's becoming harder to label it anything other than a failure. The dependence on the loan market over the last few years has not been a welcome sight, with players coming in and out far too quickly to build a stable side for the long term. 
Next season, instead of signing another right-back on loan, why not try Stevie Sess? Instead of signing wingers or attacking midfielders on loan, put some trust in Jasper and Carvalho? We've got to find a way of using the loan system to our advantage, while building from the inside, so we can grow and develop as a football club.