Fulham, Jaguars or Wrestling. Time to pick.
Written by Sammy James on 29th September 2020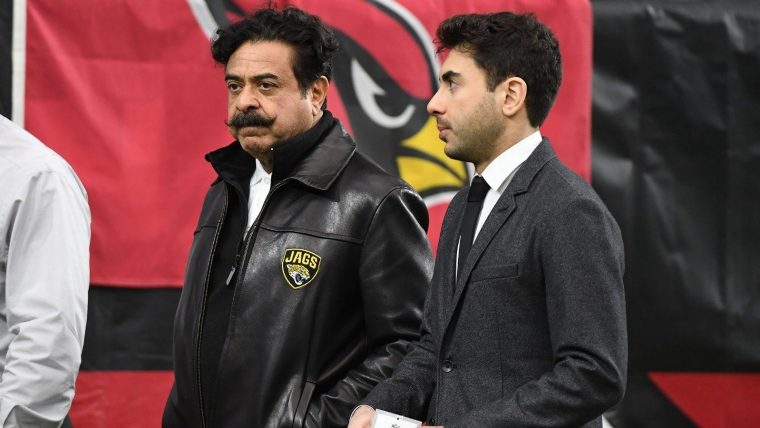 3 games, 3 defeats, 10 goals conceded, the latter of which was a humiliating, pants-down display for the whole world to chew over live on Sky's Monday Night Football. As Premier League starts go, it's pretty horrendous.
Don't forget that two of those three defeats were against sides who finished 1st in the Championship and 17th in the Premier League last season respectively. Leeds and Villa aren't bad teams, but Fulham will face much, much tougher games this year.
As expected, the knives are out online for Tony Khan. This is a pattern at many football clubs now, as managers are so vulnerable in their position, that it's almost not worth placing too much blame at their door anymore. Arsenal fans hate Kroenke, Barca fans hate Bartomeu and United fans hate Woodward so much they nearly set his house on fire. It's very much de rigueur amongst football fans these days.
Embed from Getty Images
Tony Khan has had a tumultuous time at Fulham. He likes to point out that he joined the club when we were 20th in the Championship, has overseen two promotions and he's probably pretty likely to add a second relegation to his CV by 2021. He said last night on Twitter that "we would've absolutely killed to be a yo-yo club" when he took over, which was probably not the smartest thing to tweet, just minutes after the final whistle in such a joy-sapping match. Jamie Carragher went as far as to call him "a clown" for what he tweeted post-match.
I'll save you much more of the TK back story, as you probably know it. His 18/19 recruitment was a disaster, but even his greatest cynic would have a hard time arguing that he hasn't done a decent job in our last two championship campaigns. What's done is done, and there's not a lot of point going over his track record.
What we needed
Embed from Getty Images
Looking at this summer, this is what Fulham absolutely needed, at a bare minimum, in order of priority.
1) A centre-back.
2) Harrison Reed signing permanently.
3) A right back.
4) A PL level, back-up centre-back.
The lack of a centre-back in this window is glaring, a gaping chasm in our football club. We have stone-cold evidence of what happens with Tim Ream and Denis Odoi at Premier League level; it's conceding 80+ goals.
One of Tony's tweets last night said "We've looked to add centre-backs since Wembley, I'm sorry we haven't yet as 2 got COVID + we lost a Free we thought was close + had another issue with a 4th CB."
If true, then on the face of it, it sounds like a stinking run of bad luck. No doubt, clubs will have known how desperate we are for defensive cover and tried to exploit that too. It's a tough ride for even the most experienced Director of Football to deal with, especially in a situation where Fulham only had 5 weeks between winning the play-offs and the first game of a Premier League season.
A gigantic responsibility
Embed from Getty Images
This for me is the crux of it, because it's a monumental ask. It's the kind of task that would keep you up at night, tie you to the phone 17 hours a day trying to negotiate contracts, wading through shitbag agent after shitbag agent desperately trying to find a diamond in the ocean of mess that is the football transfer market. It's why, in nearly all cases, being a Premier League Director of Football is all-encompassing. I would guess that for most of them, it's all they have the mental capacity to think about.
For Tony though, Fulham is not his sole focus. He, quite publicly, has two separate ventures. His analytics involvement with the Jacksonville Jaguars and his presidency of All Elite Wrestling. It's something myself and Jack asked Tony when he was on the podcast in the summer of 2019, to which he said "even when I'm in Jacksonville or at an All Elite Wrestling show, please, please, please know that I'm always thinking about Fulham, and I'm constantly looking for players for this club".
In hindsight, I'll admit that Jack and I maybe didn't press him hard enough on this response, as now you just have to wonder, how can one man do it all? I certainly got the impression from meeting Tony, that he is a workaholic, who will only stop for five hours a day to sleep. This is admirable, but at what point though, does everyone at Fulham, have to sit up and realise, it isn't feasible? For most of us, holding down a 9-5 job and having a hobby simultaneously is difficult enough, let alone running three major sporting franchises.
I completely understand, that Tony will have a team at Fulham that are doing the dog work for him, and that in essence his role will be looking at the bigger picture and evaluating the work of others. There are many successful business people the world who run empires much larger than what Tony oversees, and trust that their staff in respective quarters to maintain their division of responsibility to the highest standard.
As a result, that's why I and so many Fulham fans were in favour of Javier Pereira's introduction as Assistant Director of Football, it seemed to make sense that his role would be to make the day-to-day decisions that Tony can't because of his hectic schedule. However with Javier now gone (some time before the club hastily announced it), you have to ask the question of what is really happening behind the scenes?
Spread too thin?
Embed from Getty Images
Accuse me of being simplistic, but I think Fulham needs a full-time Director of Football, somebody who's only focus is the operations surrounding Fulham Football Club. If you take Tony on his word about the centre-back situation this summer, then surely there could be no time in your life to do anything else? How can you organise wrestling shows, oversee american football data and be in constant dialogue about signing players for Fulham?
I'm more than happy for either Fulham or Tony himself to prove to me why this is wrong, I'm just an outsider looking in, but right now it seems like the most obvious flaw. As Jack said in the latest podcast, Fulham "were caught between a rock and a hard place" this summer over recruitment, because on the one hand you don't want to spend £100 million again and rip up the team like we did in 18/19, but on the other hands, many parts of the squad are evidently not good enough for this level and need upgrading.
So certainly from my side, there is sympathy, because it's a bloody hard job to keep Fulham in the Premier League this year. Arguably, keeping Fulham up given the circumstances of our promotion, would be one of the greatest survival feats in top flight history. Therefore, we surely have to take every advantage where we can, and one of those is a man at the top who is solely focused on one job.
Ultimately, it all might be too late for this season – even if we sign two world-beating centre-backs the damage may already have been done. I also don't believe that a full-time Director of Football solves all our problems, and I know many Fulham fans have many legitimate criticisms such as the nepotism of his role and use of social media. Many accusations have been thrown at Tony, and they will inevitably continue to be, but in my opinion, he has to pick his lane in order for Fulham to have a fighting chance of remaining in the top flight for the foreseeable future.