Why Kevin McDonald is massive for Fulham
Written by Marco De Novellis on 5th February 2020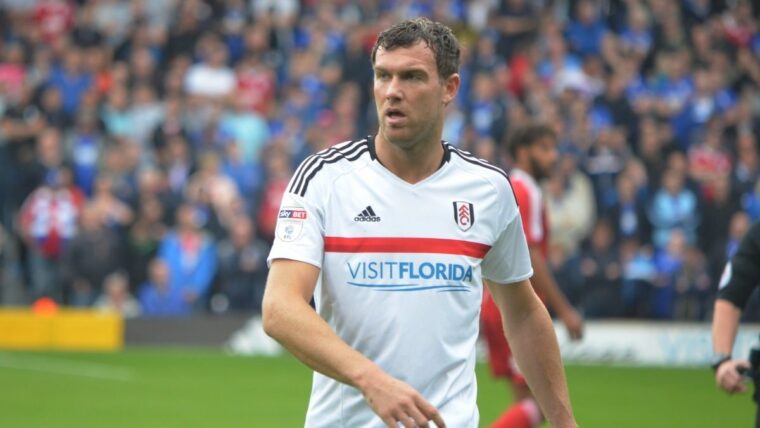 Kevin McDonald is 31 and has three league starts. He's also signed a new contract until 2021 for basically being a good lad. Marco De Novellis explore the man, myth and legend that is KMac.
In an age where the connection between fan and footballer is about as distant as Felix Magath's Stakhanovite training regime is from the Instagram addicts who inhabit the modern day dressing room, Kevin McDonald's contract renewal at the end of last month should bring a warm fuzzy feeling to all Fulham fans.
For Kevin's extension is not based on his outstanding fitness levels or recent upturn in form (he's only started three times in the league this season). Instead, it seems, the club have signed Kevin up for what he does when he's not playing football.
It all started in Vegas…
---
Waking up in Vegas
Picture the scene. You're sat by the pool in Las Vegas. On your left, Tony Khan swigs champagne on a sun lounger. On your right, Lucas Piazon revs up the Europop. Marcelo Djaló has just given you a bearhug. Fredericks was around, but he's just snaked off somewhere.
You've played a bit of pool. You've played a bit of table football. You'll be on the golf course later. Then, the blackjack table. Maybe another club night. You sunbathe; you swim. You drink; you dance; you bubble.
You've just won promotion to the Premier League after a win at a sun-drenched Wembley. You've played very well, in fairness. You scored a 25-yard screamer in a crunch game at Millwall. You've been the core of the Fulham midfield all season. When you close your eyes, you can still see John Terry cry.
Now, your eccentric director of football has flown you and the boys out to the US and it's your time to shine. This is your moment. Can life get any better than this?
Embed from Getty Images
It does. After the Las Vegas trip, there's another Las Vegas trip; a stag do; a wedding; golf; more golf; countless Fortnite sessions and nights out in Wimbledon with Stefan Johansen. But then, like a shot from an angry AK47, the post-holiday blues hit.
It's August 11th; it's the Premier League; it's Crystal Palace at home; it's 25 degrees.
You can't run anymore; you can't track back. You've got a yellow card; you're playing next to Jean Michael Seri. You're hot and tired. You've just been called up to play for bloody Scotland.
All you want to do is be back on that sun lounger.
Hangover cure
The McDonald Vegas hangover was a heavy one. The shakes, the self-doubt, and the lethargy lasted long after the splitting headache of post-playoff final day.
It continued throughout the 2018-19 season. It continued at Barnsley at the start of this campaign. But, despite his struggles, there'll be no referendum on McDonald's Fulham tenure in 2020.
The boy from the Barry Burn, the kid from Carnoustie, the sesh leader, the man with more than 100 Fulham appearances under his belt, Kevin David McDonald, is here to stay.
"I'm delighted," Kevin said on his recent contract extension. "I had a good chat with Tony [Khan], Alistair [Mackintosh] and Scott [Parker] and we worked out where we wanted to go." Presumably to the Golden Lion for a round of Jaegers and a cider black.
"They were keen for me to stay around," he continued, "And, although I've been out with a little knock recently [lengthy hangover], they know I'm a big influence off the pitch and in this dressing room [aforementioned sesh leader].
"The main thing for me is that the team is doing well. And if that happens—with or without me in the team—then I'm happy."
Kevin's words are a testament to the man himself—a selfless Scottish legend who is quite happy to take our money and live out his days on the bench. And who can blame him?
For from those taunting celebrations, slow turns on the halfway line, laboured runs, and constant piss-taking of his colleagues at work, comes the strong realisation that, really, he's just like one of us.
Embed from Getty Images
Glorious future
At the time of writing, we've just beaten Aston Villa in the FA Cup, and got a pair of clean sheets in 1-0 wins at Hull and at home against Middlesbrough. Kevin is back: imperious, faultless, smiling and waving his arms around in the air. Finally, he's brought some semblance of Championship normality back to our midfield.
But the story of the Kevin McDonald contract renewal has another protagonist to it. Outside the negotiation room, as Kevin pens his contract, there's a young man waiting in an oversized baseball cap.
"Pourquoi moi?" He ponders, thumbing his phone nervously. "Did I speak out of turn to Mitro again? Was there something wrong with my lotus pose? Is my ridiculous French music too loud? Do I need to absolutely stop using Instagram?"
It's a relief when he enters. Tony is smiling. Aboubakar Kamara, a professional footballer who was arrested, banned, and transported to Turkey last season, grasps the pen from Tony's outstretched hand and signs a new Fulham deal until 2024.
And, with that pen stroke, Fulham re-sign two players who have both proved themselves singularly unable to cope with the demands of the Premier League. With that, we prepare ourselves, not for promotion, but for the impending, glorious inevitability of another year in the Championship.