Sunday marks 100 years since Armistice Day, and at 11am Britain will fall silent to pay its respects. The war affected everything, including football and even our own beloved Fulham Football Club. Ben Jarman takes a look at the Great War's impact.
A century ago, 6 million soldiers gave their lives to secure the liberty of others in a war that changed the World forever. World War One is the bloodiest battle of modern history, a conflict that encapsulated all four corners of the globe and mobilised over 20 million men. One that accelerated the progression of humanity to levels that had never been dreamed of before 1914 – advancement in technology, medicine but most devastatingly the weapons that countries employed to kill or fatally harm their fellow man. The Great War was a battle that was to be defined by extremes, a devastating cauldron of dehumanising violence that leaves the imagination unable to process the reality of the situation.
To mark the centenary of Armistice Day, Fulhamish recorded a special podcast with historians Morgan Phillips and Ian McMullen to understand how World War One affected Fulham, the link is at the bottom of this article.
Initial predictions that the Great War, as it was then known, would be over by Christmas were quickly put to rest as the Western Front became bogged down in stalemate. The Football Association had mirrored the initial predictions of the Government by proceeding with the 1914-15 season, something that their cricketing brethren had decided against on the outbreak of war. At the time of declaration, there was an estimated 5,000 professional footballers registered from teams across the United Kingdom. By Christmas 2,000 of them had enlisted to aid the war effort both at home and across fronts that spanned France, Malta, Greece and in to Northern Africa.
As the tides turned against the Allies and their illusions of a quick and painless war evaporated in front of their very eyes in a suffocating cloud of thick mustard gas, a hail of bullets and bayonet charges, football quickly became a mechanism by which to converse with large numbers of society. During the early 1900's Fulham was a small club that "survived", much like today. Backed by local businesspeople and averaging gates of around 10,000 before the war, as detailed by historian Morgan Phillips as part of Fulhamish's special commemorative podcast. During the war, however, Craven Cottage was to be used as a rallying point to muster players and spectators alike to enlist and join the effort. Football has always had an influence in modern society, and coupled with the growth of the national game at the start of the century, acted as a large platform to convey popular opinion. For example, the Harlem Globetrotters of that time, Newcastle United, averaging above 50,000 per official records which provided a huge canvas for influence.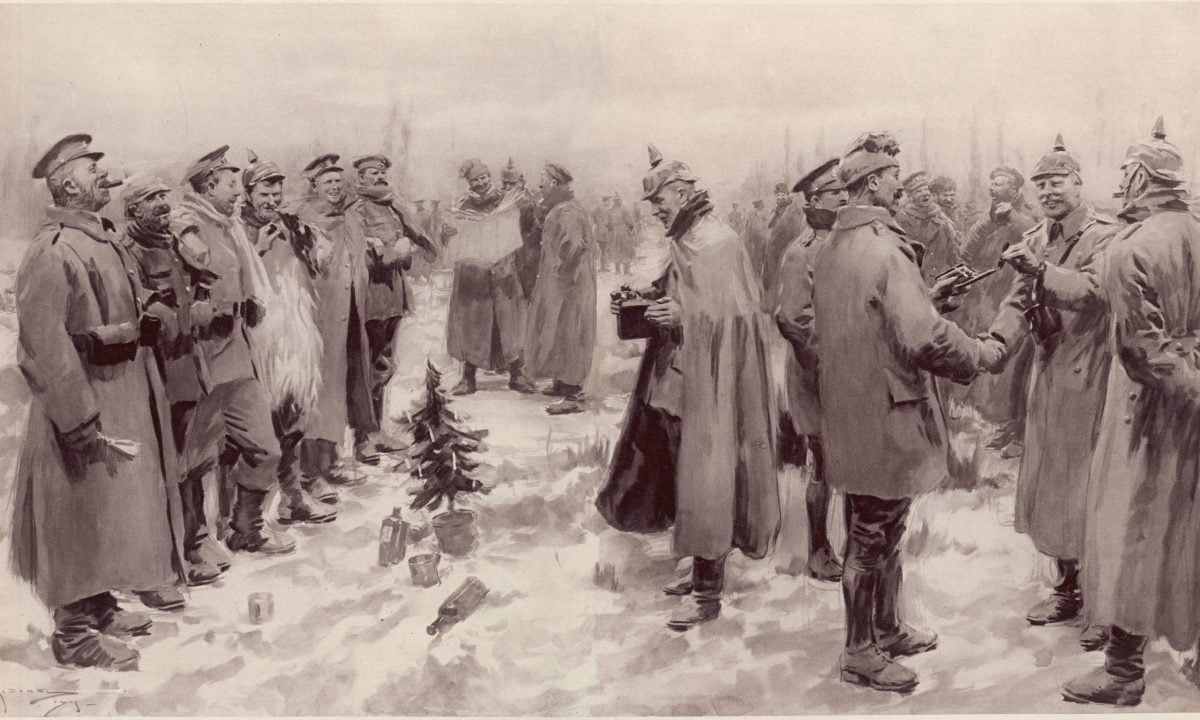 One of the most famous war-time stories centres around football, and the famous match between Allied and German troops on Christmas Day 1914. It is well documented that both sides reached a cease-fire during the Holiest of days to set aside their differences for well-contested matches along the front lines. These skirmishes resulted in the trading of goods; chocolate, tankards, smokes and, in rare cases, weapons such as knives. This fairy-tale use of football wasn't the only time that troops had the opportunity to use the beautiful game as a way of relaxing and utilising their down time between shift rotations. Officers soon realised that keeping troop morale up was vital to the war effort, and deep behind the front-lines huge matches would last for hours on end to keep soldiers fit and happy.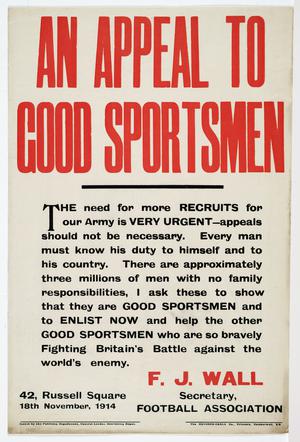 Football, however, wasn't always a joyous story. Those at home who had not enlisted to fight, but had continue to play professionally through exhibition matches and regional tournaments arranged by the FA after 1915 were subjected to a barrage of abuse. Morgan touches upon this briefly in the podcast, but footballers were often seen as a cowards and often accused of dodging responsibility by large sections of society who believed it was their job to protect King and Country. Football Association Executive Secretary, Frederick Wall implied that a leading footballer, Jimmy Hogan, was a traitor for continuing to play whilst the country was at war. Wall was also famous for distributing large numbers of posters throughout the country encouraging the enlistment of "Good Sportsmen" and to aid other good sportsmen in fighting against the Germans.
The devastation of conflict runs deep, even to this day. There are towns, villages and cities along the French/Belgian border that have official populations of 0 which result from a combination of unexploded arsenal, shelling and unrelenting killing/raping of their inhabitants. Football was also affected hugely as a result of the war; it is estimated that 3,000 footballers were killed with teams, such as Bradford Park Avenue, losing as many as 9 senior players from their squads. Fulham lost 8 senior players in total. The Swiss National Football team suffered such devastation that matches were abandoned until 1920.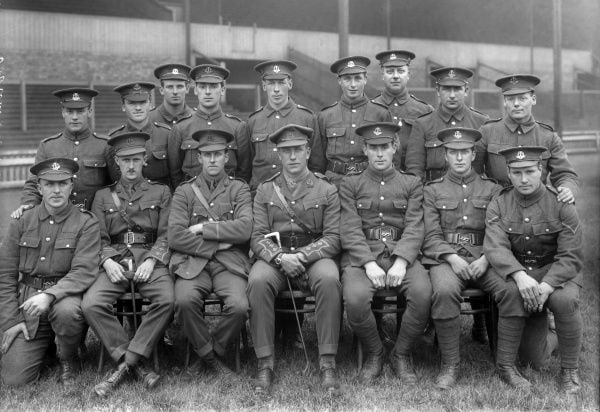 The Football Battalion, as Morgan introduces in the podcast, was a 600 strong division made entirely from footballers that fought during the Battle of the Somme in 1916. Over 500 were killed in action.  Today, memorials stand across the battlefields to remember those who gave their liberty to protect ours. One stands in Delville Wood, on the Somme, to commemorate the footballers who gave their lives during the First World War.
Eight Fulham players gave their lives during the bloodiest of battles. We will remember them.
To mark the centenary of Armistace Day, Fulhamish has teamed up with renowned artist Paine Profitt to commission some limited Fulhamish Remembrance Prints – available to buy here. This glossy A3 poster commemorates those Fulham players who lost their lives in World War One. ALL profits from the prints will go to charity. In addition to the print, Fulhamish also recorded a special commemorative podcast alongside club historian Morgan Phillips and Ian McMullen of Football and the First World War – available here: