Positives and negatives: Aston Villa 3-1 Fulham
Written by Cameron Ramsey on 13th November 2023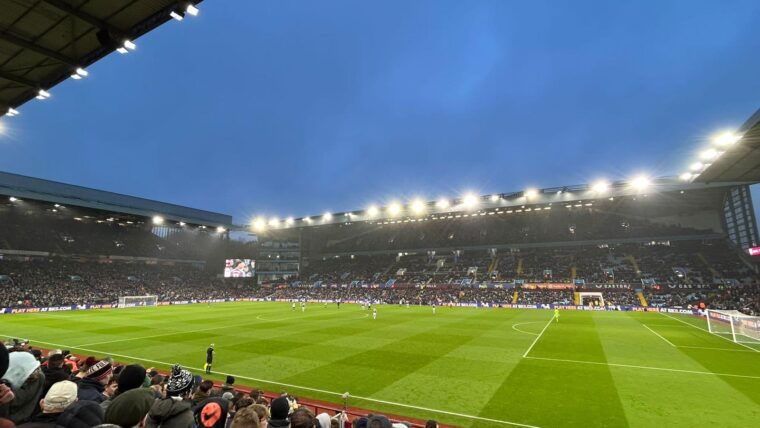 The November international break is absolutely needed. Cam doesn't like writing about losses but here we are. Dust down and press on, that's all we can do.
We're not quite at panic stations just yet, a defeat at the home of an excelling Aston Villa side on Remembrance Sunday isn't a major cause for concern because nobody triumphs there, but we have to wake up, pronto. With each fixture that passes us by, as "weaker" teams around us pick up vital points, we are going to be dragged into a dogfight and at this stage of the season, having scored a measly 10 goals, we are rightly flirting with jeopardy.
Unai Emery's claret and blues are a well-oiled machine. Villa Park is a fortress where the hosts always score three or more and if we allowed them to run the rule, they would decimate. We were much better in the second half but our ineptitude in each department heading into the interval was our undoing. Blame it on Marco Silva's starting selection or individual blunders, as a collective, we didn't offer enough whatsoever and in defeat, we will see just how unified this squad of ours actually is.
Silva said that Fulham deserved nothing after the final whistle, a mini revolt after half-time doesn't change the cold reality that we weren't prepared for a 90 gruelling minutes and if we're going to clamber to safer rungs on the ladder, we have to get mean. Really mean. We were easily taken advantage of, prone to errors and now we've a fortnight to regroup, redemption when Wolves come to town is essential. Three points, a clean sheet, nothing else will do.
Positives
Raul off the mark
Some 18 long, arduous months in the making and Raul Jimenez, the forgotten marksman of a bygone era, broke his duck to score his first Premier League goal and in all fairness, his overall performance was probably his best in the same barren timeframe. He rifled a low sizzler off the foot of the post before he ended his forbidding goal drought in the 70th minute, it was actually a by-product of a smart Emiliano Martinez save but it was the closest he'd come to opening his Fulham account. It wasn't to be his one and only chance, though, another sighter to add to a sorry string of misses that had gone before. Not this time.
A summer signing of Silva's, Jimenez was purchased as a low-risk squad member, or so it should've been. As we didn't replace Aleksandar Mitrovic at all, it transpired that until January at the very least, the Mexican would be our first-choice number nine. He isn't the trigger-happy executioner that ripped it up for Wolves all those years ago, but there was still hope that a fresh start would reinvigorate his disrupted career and truthfully, he's been more of a hindrance than cost-effective asset.
His confidence had been affected by his horrific injury. He'd shift into prime scoring areas, goal at his mercy and he'd choke. It's not as though he was starved up top, he just couldn't finish his dinner and while we were patient with him, tolerances were running thin. We'd named Rodrigo Muniz ahead of him, that is a gruesome indictment of his importance in Silva's set-up but nobody wanted him to fail. He has to change things for the better because he's had more than enough time to adapt. One goal, that's all it takes for a striker to reawaken themselves and as Antonee Robinson squared it in the penalty area, the relief felt across the club will be liberating to all, not only to Raul himself.
A weird, unfamiliar feeling of disbelief washed across the timelines as the 32-year-old's name was accompanied by the word 'goal'. He still has so much to prove in a Fulham shirt, one goal doesn't discount the fact he's been well below par for us since joining in the summer but I genuinely hope he can kick on and rediscover his appetite for bulging nets across the country. This goal has to be significant, a striker of his age shouldn't be over the hill just yet and now, he has to demand even more from himself.
Wilson's energetic input
Along the right before half-time, Bobby De Cordova-Reid couldn't influence things whatsoever and at the interval, he was swapped for Harry Wilson and what a difference the Welshman made. De Cordova-Reid could barely roll a simple pass into feet and he was robbed of possession far too easily and this just wasn't the case for Wilson, who was energised from the moment he burst into action.
Wilson's insistence disturbed Villa's fullbacks. Both Matty Cash and Lucas Digne were unfazed before Harry was introduced but they were both put to work immediately after the break. Wilson carried possession aggressively, he wasn't perturbed by the thought of being clamped and his fearlessness constrained Villa out wide, because they had to be mindful of Wilson's problematic ambition.
Consistency hasn't been, well, a consistency of Wilson's game of late but when his tail's up, he is exceedingly difficult to pin down and he will manufacture promising opportunities. We really need players like Wilson to step up as the festive season nears, the schedule's going to thicken up in a flash and there's no time like the present for a goal-laden purple patch. We'll have to wait a few weeks, seeing as we've another international break to endure, but I fully expect him to start against Wolves. Given his contributions on Sunday, it's a no-brainer.
Traore's welcome return
Fetch the baby oil! Adama Traore was back in the matchday squad for the first time since the end of September and while we only caught a 10-minute glimpse of the Spanish man mountain, we're buzzed for him. Our attack is in need of intensity, especially in the closing stages of games and that is precisely where Traore comes to life. Lobbing him into the mix against tiring fullbacks is going to be a gigantic release for us and the former Villa winger's return was welcomed by the travelling masses at his old stomping ground.
I've always said that you'd much rather have Adama in your team that not and we're yet to witness what he can really offer us on the counter. He sat William Saliba down at the Emirates (even if certain outlets are informed otherwise) and he is capable of humiliating any foolish defender that dares to stand in his way. Digne was understandably guarded, once Traore opened his stride there wasn't any stopping him and he actually chucked a few decent balls into the box as well. Keep him fit, wind him up and watch him cause mayhem.
Negatives
John got to Joao
A titanic duel between Joao Palhinha and John McGinn was evident throughout and it was compelling. Two versed shithouses going toe-to-toe for the heavyweight belt, elbows primed for a tussle of the ages and as our Portuguese antagonist found out the hard way, Villa's Scottish piss boiler edged the judges' cards. Palhinha was suckered in by McGinn, they were entangled almost every single time they got within five meters of one another and after picking up his fifth caution of the season, Joao will subsequently miss our next outing against Wolves and that will prove to be a massive, massive blow.
Being the visiting gladiator, one with a world-renowned reputation, Palhinha was the pantomime baddy and McGinn, buoyed on by a baying crowd, benefitted greatly when they got a little too close for comfort. Joao trod a tightrope, McGinn sensed altercations and collisions coming a mile off and he was braced to win fouls by hook or crook.
Palhinha was powerless to stunt the Villa skipper's black magic, he obviously wasn't aware of his opposite number's dirty tricks and he charged blindly into traps time and time again. Yeah, it's safe to say Joao was played like a good'n by Villa smirking midfield bandit, John got a tune out of Joao and even if our man's perceived to be the of the division's finest, lessons will be learned and pointers will duly noted because McGinn's also a master of his confrontational craft.
Avoidable Villa goals
No matter how you want to spin it or dress it up, all of Villa's goals were avoidable. If we were sturdier as a unit, we would've lessened the hosts' joy in front of the target but Emery's men ultimately punished us because we made poor decisions in crucial periods of the game. There's absolutely no reason why Bernd Leno couldn't have fielded the cross better for the opener. Robinson was thrust into an awkward position because the German 'keeper misread the flight of the ball and for a stopper that rarely puts a glove out of place, it smacks of indecisiveness and miscommunication which is wildly out of character.
Their second came about because we struggled to clear our lines and the slightest of feigns from McGinn was enough to offset an entire defensive line which didn't regroup swiftly enough. That on top of the fact Palhinha was sent to the offy for a couple of lukewarm cans, too. Tetchiness, disorganisation, desperate headers that would have you believe the ball was actually a 100kg anvil, it could've been prevented but punting the sodding thing as far as possible just isn't the Fulham way.
The winning goal was a gift, frankly. With more or less the entire squad in Villa's 18 for a corner, which was cleared, the ball was collected by Robinson and as the USMNT international's right foot is non-existent, possession was quite literally passed to Villa and they countered, devastatingly. We were the architects of our own downfall, we always seem to contribute towards losses in one way or another but three times at Villa Park? A ground which is already ridiculously unforgiving? We knew we were going to be put right up against it but our defending was naïve, gullible and we paid a hefty price.
Just couldn't capitalise
The second half was far more convincing than the first and there was a 15-minute spell just after the break where the Whites were on top. We were very much in the ascendency, chances were carved out as a result of Villa's high line and while we eventually bit back, it was after we'd spurned multiple opportunities to impose ourselves on the score line, earlier in the second 45.
We were revitalised once play resumed, Villa were camped in as Fulham's stranglehold of possession strengthened but we simply couldn't capitalise on our newfound momentum and impetus. If we'd have pegged Villa back before they registered their third, with a one-goal deficit to relinquish, we would've pulled level. We turned the screw, we counteracted Villa's offside trap to an extent but we still had a goal scrubbed off, we still scuffed at strikes which bobbled wide of the mark and we were regularly half a yard behind low crosses which flashed across the penalty area.
Five shots on target were registered, four of which were without venom and conviction and when we worked ourselves into decent areas, we just didn't make the most of the chances that could've potentially emerged and that, purely, was the difference between us and Villa. They stuck their key opportunities away with lethal intent, whereas we required visit after visit to finally alter proceedings and by then, it was all too late.
Robinson's incriminating faults
This is a game Robinson will want to forget about very, very quickly indeed, even with an assist to his credit. With Fode Ballo-Toure breathing heavily down his neck, Robinson will know that he cannot conduct himself in the manner in which he did at Villa Park and though he hasn't been a weak link for quite some time, he was completely out of sorts on Sunday afternoon and his mistakes were damaging. Loose passes, burnt at virtually every opportunity by Moussa Diaby, his vulnerabilities were pinpointed and he didn't do himself any favours either.
He now has two own goals for the campaign, in a parallel universe that makes him our joint top scorer and for Villa's opener, while it's harsh to blame him entirely, of course, he still diverted into his own net and it's becoming a highly undesirable trait of his. It wasn't a kind circumstance for Jedi, I can sympathise with that, but he does have a habit of getting himself on the wrong side of defensive scenarios and if netting an OG wasn't unflattering enough, he was solely culpable for Villa's third of the afternoon and that cannot be pardoned.
It's inexcusable, Antonee gave possession away cheaply and within seconds, from one end of the pitch to the other, Villa pulled even further ahead. Vintage Robbo sloppiness. You could argue he also played an incriminating part in Villa's second of the afternoon, too, so from a defensive standpoint, his performance was riddled with faults. Glaring ones. Defects in Robinson's game occur far less frequently than they used to but when they do crop up, they carry embarrassing trademarks.